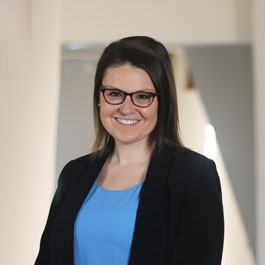 Assistant Director, Student Career Advising
Weinberg College of Arts and Sciences 

Pronouns: She, Her, Hers
Maggie is a career adviser for students in the Weinberg College of Arts and Sciences, helping them connect their Northwestern experience to professional opportunities. She guides students through the process of applying to jobs, internships, and other experiential learning opportunities.
Maggie earned her Bachelor's degree in Psychology from Miami University, her Master's degree in Higher Education and Student Affairs from The Ohio State University, and a Coaching Certificate. Maggie has more than 11 years of experience in higher education including leadership development, fraternity & sorority life, and 8 years in career services. Maggie spent 7 years at Northwestern and recently re-joined NCA.
Maggie lives in Cleveland, OH and enjoys cooking, college football, and spending time outside with her family.
Her advice to students: Don't be afraid to say "yes" to new opportunities or new ideas. When you're considering career options, making connections, and applying for opportunities, put yourself out there and take advantage of options that come your way - you never know where they might lead! It may not always be the direction you initially had in mind, but it could be something better!