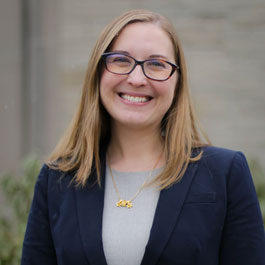 Assistant Director of Professional and Career Development
Student portfolio: PhD Students in The Graduate School
As an Assistant Director of Professional and Career Development, Aubrey works with PhD Students in The Graduate School.
Additionally, Aubrey works collaboratively with NCA, TGS and other campus partners to support doctoral students in their professional and career development. 
Aubrey joined NCA in 2022.
Aubrey earned her Bachelors of Arts in French and International Studies from the University of Illinois at Urbana-Champaign, Masters of Science in Teaching English to Speakers of Other Languages (TESOL) from Fordham University, and a PhD in French Literature from New York University. Before joining NCA, Aubrey taught French language and humanities courses, developed curriculum, and advised and mentored undergraduate students at both New York University and Sarah Lawrence College.
In another life, Aubrey might have been a travel writer, trip planner, or chef. Aubrey also likes spending her time playing with her daughter, cooking, and exploring new cities.
Aubrey's favorite advice for students: "Think holistically about your goals and remember--there's more than one job market."