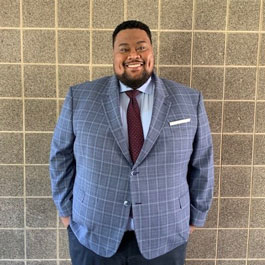 Assistant Director, Student Career Advising
Student portfolio: BIPOC and FGLI students
As an Assistant Director for Career Advancement, Allen works with students who identify as BIPOC or FGLI. Allen joined NCA in 2022.
Allen earned his both his B.A. in Interdisciplinary Studies and M.Ed. in Higher Education and Student Affairs from Loyola University Chicago. Before joining NCA, Allen worked in Middle School Special Education, in Non-Profit and Mentoring, and in Academic Advising, Student Retention, and Student Success.
In another life, Allen might have been a chef, child life specialist, or comic book store owner. Allen also likes spending his time playing Dungeons & Dragons, cooking, and watching Chicago sports.
Allen's favorite advice for students: "Find your passion and do what brings you joy. Life is too short to spend time doing something that doesn't bring out the best in you. So do something that sparks your passion."