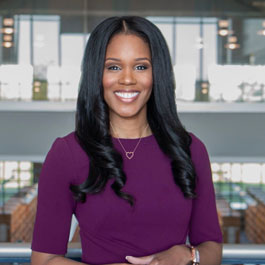 Director of Employer Recruitment and Engagement
As Director of Employer Recruitment and Engagement at NCA, Ashley oversees the employer relations program including outreach, on-and off-campus recruiting, marketing, social media, and technology.  She strives to increase visibility of Northwestern while optimizing the recruiting experience for employers and alumni as they seek talented Northwestern students.  Ashley supervises the Employer Relations team and the Operations team and serves on NCA's leadership team.
Prior to joining NCA, Ashley worked in Early Career Programs at State Farm corporate headquarters in Bloomington, Illinois.  There, she led the coordination and development of the intern program, with over 700 interns working out of four locations across the United States.  Prior to joining State Farm, she worked at Illinois State University.  Her most recent position was the Assistant to the Dean for Student Services in the College of Business. In this role, she oversaw career development initiatives, experiential programs, student leadership development, employer relations, and enrollment management.
Ashley holds a Ph.D. in Higher Education Administration from Illinois State University.  She earned a Bachelor of Science in Journalism from Bowling Green State University, and a Master of Arts in Student Affairs Administration in Higher Education from Ball State University. When she's not at work, she enjoys spending time with family, reading, and practicing yoga. 
In another life, Ashley may have been a yoga instructor and a contestant on CBS Big Brother. 
Ashley's favorite advice for students: "You don't have to figure out the rest of your life now.  Just focus on your next step.  Life rarely unfolds as you planned.  As you learn, grow, and explore new interests, make room for possibilities beyond your imagination."