Norris Promotional Space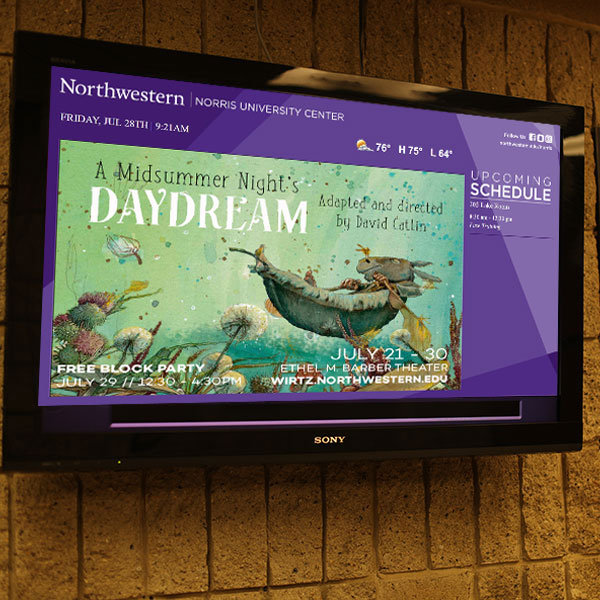 The Norris University Center is excited to offer new promotional opportunities for University Departments. We now offer print advertising in three locations throughout the Norris University Center. The three new print promotional spaces are:
Passenger Elevators (2) 11" x 7"  
South Ground Entrance Poster frame 36" x 24"
Sandwich board outside ground floor elevator 22"x28"
University departments are responsible for printing and delivering the promotional material to the Norris center.
As always both University departments and student organizations can advertise on Norris TVs.
Norris is pleased to continue offering one free week of Norris TV advertising to recognized student organizations. 
University Departments  can advertise for up to three weeks for the cost of $25 per ad per week.  Video (motion) advertising has additional costs. 
As of July 2017, the University is switching digital display providers.  The new provider (REACH) has different resolution requirements than previously.  The new format is 16:9.  The new size is 1009 pixels by 567 pixels.  
Best practices for creating Advertisements for Norris TV and Promotional spaces:
File format need to be JPEG.  16:9 ratio.  1009 pixels by 567 pixels.  
Use a graphic program to create your ad, we recommend Adobe Illustrator, InDesign, or Photoshop.  Please avoid Powerpoint and Word.
If available check with your departments marketing department to create your ad.
Make sure your ad connects to any current campaigns
Don't clutter your ad with too much text or images- remember you have 8 seconds to make an impression.
Double check for accuracy (dates, times, places, spelling).
Keep in mind

 

Northwestern's branding standards
Submit a Norris Promotional Space request
Once you submit a request you will receive a confirmation email with a link to an Northwestern OneDrive folder.  Please upload all advertising material with your department name and name of ad as the file name.  
If you have any questions please contact NUCPromos@northwestern.edu.