Previous Exhibits
A Year of Creative Confinement
Artwork of Marcia Babler
This Virtual Exhibit will visually depict how Art recorded History during the global health crisis of 2020 - 2021.  No matter what challenges are faced, life (though altered) will not stop and neither should Art.  As a mouthpiece for history, Art provides a permanent record of our times - documenting so we never forget.  We build on what we learn in order to move forward. 
Fine Art artist Marcia Babler (and Northwestern University graduate) saw the restrictive confinement as an opportunity to express the role Art plays in our lives. Starting in July 2020, Babler used headlines as a foundation to develop visual stories of fear, frustration, and hope. Babler is grateful to the Dittmar Gallery Selection Committee for the honor to be selected for this exhibit.
Pictured- "In This Together" by Marcia Babler
Exhibits Dates: September 23rd to October 25th, 2021              
---
After Thought

2021 ATP Senior Show
'after-thought' surrounds themes & ideas of the life after NU, the space of thought past a four-year education, and what the space might be or might become as these Artists graduate.
 Exhibits Dates: May 20th to June 18th, 2021
---
Renaissance Forged
Community Exhibit
The Renaissance Forged points us to look toward a new world, birthed from the labor of collectivist and individual struggle. With these works, our community's artists will remind us of the experience of forging that new world in the fire of communal pain and loss, but so too, in the passion of new community bonds and of the act of creation itself.
Exhibit Dates: April 7th to April 30th, 2021
---
Stranger than Fiction: This is America
By: Henry Sandifer, Nguyen Tran
Is the truth stranger than fiction? These emerging artists bring interesting perspectives to contemporary America.  According to Artist Henry Sandifer, truth happens at different points for all of us with a moment of clarity. It's a significant moment in being able to speak truth to power.  The images in his work juxtaposed on canvas, tell truths via parables, allegories, suppositions, and facts that are stranger than fiction.
Artist Nguyen Tran tells stories about the life he experiences around him, what he sees on a train ride commuting to work, and on social media. His relationship with America, presented in his work, takes different shapes, forms, and colors.  His illustrations can offer another way for us to reflect, to see the strangeness, and to agree and find beauty in the differences.
Exhibit Dates: September 25th to November 15th, 2020
---
Images of My Experiences
By: Eduin Fraga
Eduin Fraga's intention is to represent the complex realities of daily experience in Cuba. His work focuses on social themes and uses mixed media collage with acrylic, charcoal, and other materials. It is a unique form of art that includes article excerpts and images from various Cuban and American newspapers on canvas or cardboard as a means of capturing dynamic fragments of the societies in which he lives. Through this approach, he tries to create within each painting a historical register of past events, processes, and experiences that have shaped society today.
Exhibit Dates: February 13th to March 18th, 2020
---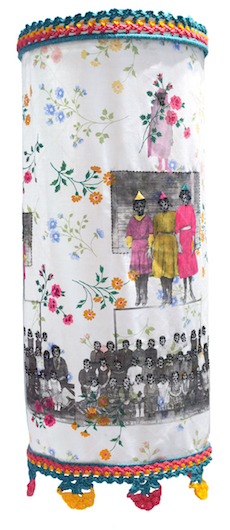 Oya: Borders of History
By: Hale Ekinci
Referencing the tradition of oya, the exhibition explores the complexity of transcultural communication and translation–translation of culture, identity, tradition, and gendered labor. Similar to the way identity is constructed, through a heavily additive process of layering old photos adorned with a mixture of patterns, Oya: Borders of History showcases painted and embroidered colorful, transcultural family portraits.
Exhibit Dates: January 9th to February 9th, 2020
---
reevaluating "a"

By: lewis lain
"10 years ago, i painted a burning letter "a" on one side of a salvaged window whose glass looked-into another world.  On the other side, the letter appeared in the sky above a deep valley where its unique light fired the rods and cones in the eyes of a typeface designer named 53947. The sublime vision "opened his mind to the possibility of everything" and granted him newfound omniscience. 10 years later, he attempts to capture the essence of this enlightenment in a new design, inspiring a journey that will encourage him to re-evaluate his perception of what is known." - lewis lain 
Exhibit Dates: October 18th to December 8th, 2019
---
Narrative Botanics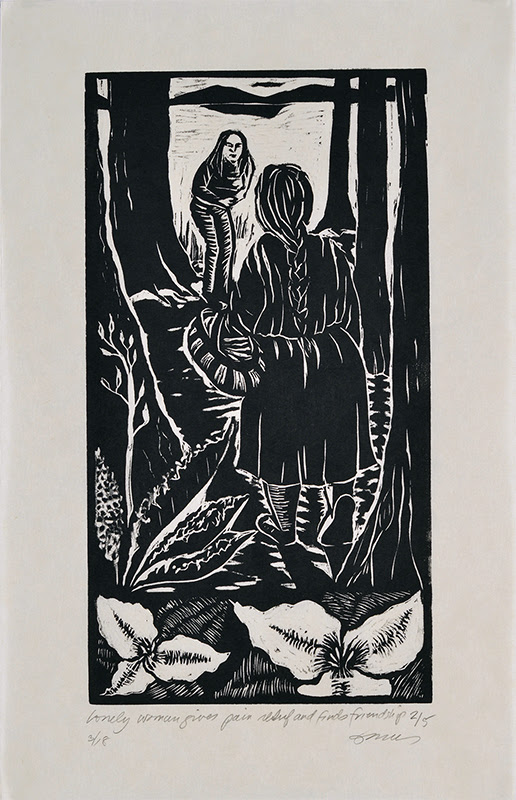 By: Gabriella Boros
Gabriella Boros's love for narrative is derived from the rich heritage of her European parentage, Israeli childhood and American Influences. The inspiration for Narrative Botanics is her love of nature and science. These five bodies of work integrate narrative elements to show the inextricable tie between plants and humans. Each series highlights plants as both visual element and utilitarian agent. The structures of woodblock printmaking in black and white results in complex graphic images. Her prints are almost always created as a series. The truths she narrates are very personal, but the resulting images have a universal appeal. 
Exhibit Dates: September 6th to October 13th, 2019
---
Elsewhere
ATP Senior Show
Elsewhere is a group exhibition that showcases the work of 5 graduating seniors in the Art Theory & Practice Department. Through the execution of myriad individual practices each artist creates their own space, alternative to the one we exist within here and now.
Opening Reception: Thursday, May 16th 5-7pm
Exhibit Dates: May 16th to June 11th
---
TRACES FROM OFF THE BEATEN PATH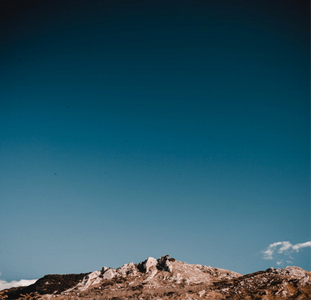 Traces from Off the Beaten Path offers a glimpse into the guarded aspects of identity; how every experience, instance of doubt, or moment of pain defines who we are today. These experiences are meant to be difficult. We tried to hide them growing up, grappled with them our entire lives, and still struggle with how to either embrace these aspects or completely shut them out. We all have that story inside of us, with each day a new page engraved into our essence. What makes us, us.  
Though we all have individual means of communicating our stories, Traces from Off the Beaten Path aims to explore those chapters we oft-not wear on our sleeves; how every stroke on the canvas, bend in the sculpture traces its roots from deep down the artist's self. It reveals something, everything, about who we are. This exhibit invites you to tell your story, investigating the past and exploring each artist's unseen identity.
Closing Reception: Friday, April 26th 4-6pm
Exhibit Dates: April 5th to April 28th
---
WAR GAMES
By: Céline Browning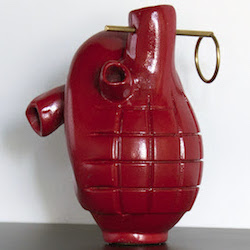 War Games began in 2014, the same year that 12 year-old Tamir Rice was shot and killed by police while playing with a toy gun in a public park. This tragedy and the national conversation surrounding it sparked a series of unsettling realizations. While childhood play is often seen as a safe space, it is clear that real violence and play violence overlap and influence one another, creating a murky line between safety and danger.
Each work of art in War Games combines children's toys with state-sanctioned violence, commenting on the insidious ways that threats of violence impact American domestic life. The surreal toys presented here seem disconcertingly new, disturbingly familiar, and vaguely threatening. A question hangs over the work - what will keep us safe?
Exhibit Dates: February 20th to March 25th
---
SOCIAL REGARD
By: Paula Henderson

In Paula Henderson's "Social Regard," one branch of these works is concerned with gender specific social constructs shaped by the ubiquitous commercial and cultural representations of women internalized in the development of our sense of worth.

Dissimilarly, Henderson's regard is echoed in the second series in this exhibition, Groundwork(s), wherein her interest in abstraction is in its post-modern possibilities. In contrast to the self-contained formalism of modernist abstraction, she focuses on prosaic, schematic patterns of visual appeal, that operate simultaneously as social signifiers.
Exhibit Dates: January 11th to February 13th
See a video preview of the 'Social Regard' exhibit here.
---
YOU PROMISED ME POEMS
By: Chris Kienke
Ideas about representation, citizenship, and sexuality are represented by images, which are themselves reflective of race, class and gender. These ideas and images shape our beliefs about what American values are, who is represented in those beliefs and who gets to share in those values. What people watch or listen to; music, news channels and radio stations, newspapers, social media and images on television and film have a strong influence in shaping common belief.
Chris Kienke is especially interested in images that express ideas about cultural identity and who exactly those images apply to and to whom they don't apply to. The continuing discussions about these issues filtered through social media, film and television in the United States are a dialogue that demands visual rendering.
Exhibit Dates: October 25th to December 13th
---
IMPLICATION OF COLOR
By: Elisa R. Boughner
Color has always played a part in the depiction of the human spirit. It has been found to express spirituality and affect emotion. You can see the use of this in churches through the use of stained glass windows. Artist Elisa Boughner's goal is to inspire those who view her work, to look more carefully at the  world and to discover beauty in everyday objects around them.  She creates objects within her paintings  that are recognizable and imperfect.
Elisa uses color as a vocabulary of feelings and encourages the viewer to have a physical emotional reaction to the piece. Although she starts with some type of concept in mind the work builds into a character and a personality of its own. When it is finished it keeps on changing according to the state of mind of the viewer. Elisa believes that color reveals the soul of the artist and can affect the viewer in a similar way.   
View a video of this exhibit here.
Exhibit Dates: September 17th to October 18th