Previous Exhibits
I Love You. I Love You? I Love You!
Matthew Cortez
Love is a sentiment that many of us are familiar with, often through familial and romantic relationships. We are told that love is a warm fuzzy feeling, an emotion that is only felt with the strongest connections. With the complexities of people and their lives, love is often expressed through a wide range of actions, objects, and words. These expressions can range from pure affection to the spiteful weaponizing of love. Love is as varied as the people who utilize it are; in perception, in fervor, and in truth.
From the mythological Cupid to the complications of parental relationships, investigating love is of prime importance as Cortez acknowledges a deficiency in understanding and experience with love. To unravel the ever-changing landscape of love, both externally and internally, he embarks on an endeavor that encompasses history, language, philosophy, and culture.
Exhibit Dates: September 8 - October 15, 2023
---
c.a.v.e out: 2023 
Art
Theory
 and 
Practice
 Senior Show
c.a.v.e. out showcases the work of four graduating artists in the Department of Art, Theory, and Practice at Northwestern University: Victoria Gomez Gil, Ellie Odom, Catie Moore and Ashley Schultz. This group exhibition is the culmination of their studio work and the artists warmly invite the campus community to celebrate with them at the opening reception Tuesday, May 16, 6:00-8:00p.
This exhibition and associated events are co-organized by the Department of Art Theory and Practice and Dittmar Memorial Gallery at Northwestern University.

Support provided by the Myers Foundations.
Exhibit Dates: May 16 – June 12, 2023
---
When Homeward You Turn

When Homeward You Turn is a meditation on how we are shaped by our complicated relationships to the abstraction of home.  In this exhibit, members of our community will grapple with their own personal definitions of home and what it means to experience home as an ever-evolving concept.  Through a plethora of mediums, each artist is invited to unravel the intricacies of their own stories and what home has meant to them both throughout their life and now.  For after all, who are we if not a constellation of the people, places, and things that we call home?
Participating Artists
Abby Stahr, Community Member

Annette Mambuca, Community Member

Audrey Clarendon, Northwestern Class of 2026

Ismael Corral, Northwestern Class of 2026

Ellie Odom, Northwestern Class of 2023

Greg Jue, Community Member

Hannah Boruchov, Northwestern Class of 2023

Jack Austin, Northwestern Class of 2023

Jeorgie Miller, Community Member

Jiahe Wang, Community Member

Joe Ellison, Community Member

Kathy Halper, Community Member

Linda Iverson, Community Member

Liv Clark, Northwestern Class of 2025

Maelea Tan, Northwestern Class of 2024

Matthew Cortez, Community Member

Matthias Neumann, Northwestern Class of 2024

Melanie Deal, Community Member

Nancy Zwick, Community Member

Priscilla Ambrosi, Northwestern Graduate Student

Q.R. Williams, Community Member

Rachel Mars, Community Member

Richard Gessert, Community Member

Skye Garcia, Northwestern Class of 2025

Spencer Allan, Northwestern Class of 2023

Stephen Murphy, Community Member

Virginia O. Roeder, Community Member

Ysa Tenko Quiballo, Northwestern Class of 2025

Zara Hasnani, Northwestern Class of 2024
Exhibit Dates: March 31 - April 30, 2023
---
Radiant Compositions ll

Dr. Tracy L. Vaughn-Manley and Sister Quilters; Betty Joy Bonds and Melissa Blount
Quilting has long been recognized as an important facet of American history, and individual quilts have themselves been sought out as important historical documents. Making quilts was predominantly a domestic chore done by women. It was not only a way to provide warmth for a family, but also an opportunity to practice household economy through the repurposing of fabrics. Quilts became in effect relics of a family's life over time, pieces with a wide variety of cast-off textiles like outgrown clothing, worn linens, or remnants left over from sewing projects. In addition, quilting was often a group activity; affording women the chance to work together, exchange ideas, and share stories and information. The multi-generational aspect of quilting, with techniques typically taught to younger women by their elders, allowed the legacy of a family or even a community to be preserved. Thus, to look at a quilt today is to behold history.
The lush quilts featured in this exhibition were made by Dr. Tracy L. Vaughn-Manley, an Assistant Professor in the Department of African American Studies here at Northwestern University, Mrs. Bettye Joy Bonds of Chicago, and Evanston's Dr. Melissa Blunt. For Vaughn-Manley, Bonds, and Blunt, these quilts represent the resilience and progress of Black Americans in general and Black American women in particular. The beauty of these quilts then is that they pay homage to their domestic, traditional, utilitarian roots, while at the same time are formal expressions of enduring artistic themes: the beauty of spontaneity; the energy of motion; the importance of remembrance, and the imaginative use of color.
Two of the primary characteristics that distinguish the quilts made by these Sister Quilters are their use of non-traditional materials and the improvised methods in which they use them. Rather than being pieced together by hand from fragments of rough, leftover fabrics, as was originally the tradition, they are crafted from the finest cotton, silks, velvets, and wools available.  They are spontaneous compositions sewn without patterns or--in many cases--sewing machines. Dr. Vaughn-Manley's quilt artistry is done primarily by hand, relying on color and fabric pattern to determine what goes where until the quilt "feels" complete. "Quilts are more and more frequently being presented in museums and exhibition spaces as high art," says Dr. Vaughn-Manley. "In this context, the quilts are no longer useful, intimate bed coverings but are rather transformed into objects that invite one to reflect on their beauty and the ways in which quilts are also representative of American cultural expression overall."
Like all forms of expressive arts, quilts have a life of their own and have played an important role in the history of Black American folk art specifically and American folk art in general.  However, for Vaughn-Manley, Bonds, and Blunt, quilts and the process of quilting have been and will continue to be literal and figurative cultural signifiers for protection and warmth; creativity and community; and the brilliance, resilience, and radiance of Black American people.
Exhibit Dates: January 12 - March 4. 2023
---
The Story of Ka'Makana o' ka
Trotter Alexander
The story of Ka Makana o' ka is an exhibit about a boy from Chicago going into a new world of Hawaii, experiencing numerous different lifestyles, vegetation, and people. Artist Trotter Alexander's works address topics such as drug use, depression, infatuation, self-hate/love, racial identity, existentialism, and insanity. With a surrounding body of influences around him, Trotter has found his voice utilizing the forms of pop-art, street-art, doodle-art, and comic book /manga aesthetics surrounding him to create an explosive motif within every piece produced, taking these influences and reinventing them for his own story.
Growing up, Chicago-based artist Trotter Alexander turned to drawing and doodling as the only form of his catharsis: Art gave him the power to create a world outside of the one he was living in. As he further honed his craft, his habit of drawing soon turned into his passion, and he began directing his artistic visions to the world. Trotter felt as if his voice wasn't heard as a child, so he wanted to create a new voice through art because that was how he now expressed himself. 
Since the beginning of his career, Trotter was always ambitious using every opportunity, to boost his career exponentially in the early stages. In doing so, he has grown a support base that includes Hebru Brantley, Raymond A. Thomas, Czr Prz, as well as private art collectors and young art followers.  In 2020 he created posters responding to the social protest surrounding the murder of George Floyd.  With so much positive feedback, the posters sold out in the first week of release.  Trotter donated 50% of the poster sales revenue to multiple black-led, non-profit organizations such as "My Block, My Hood, My City."  Artist Trotter Alexander continues to maintain a passion and fresh perspective on every new project or painting.
For more information - check out trotteralexander.com
Exhibit Dates: 

October 27 - December 7, 2022
---
Being Bipolar in a Polarized World
Kelly Mathews
This exhibit created by Chicago artist Kelly Mathews, exemplifies how the personal is political within the context of art. Having been diagnosed with Bipolar Disorder after years of destructive behavior, Mathews understands the meaning of the "edge" and often steps close to it when creating art, resulting in bold and fearless work. Her power lies in the purest form of honesty. There is no pretension or art speak. What we see is what she feels.
Kelly Mathews is an artist from Chicago, IL.  She was born in small town Iowa where she pursued two things, art, and Arabian horses.  After receiving her BFA from the Kansas City Art Institute, Kelly spent the next 22 years professionally training and showing Arabian horses.  Her students have won numerous top National honors in the United States and Canada.  Retiring in 2014 from professional riding, Kelly has returned full-time to her art. Her history with addiction, rehab, recovery, and Bipolar disorder lends her a unique perspective on the world around her.  Primarily using encaustic and photography, her work deals with social and political issues and erasing the stigma of mental illness
Exhibit Dates: 

September 16 - October 20, 2022
---
2022 Art, Theory and Practice Senior Thesis Show 9* "I do art because I'm ugly and there's nothing else for me to do."

Northwestern Department of Art, Theory, and Practice invite you to celebrate and support the Artists featured in this year's Senior Thesis Show.

The theme is 9* "I just do art because I'm ugly and there's nothing else for me to do."

Artists featured in this year's exhibit are:

Libby Chung Apley, Connie Deng, Lauren Fujishima, Wendy Li, Meagan Newlin, Nathanial Ortiz, Marcelo Quesada, Geena Vetula, and Moyan (Iris) Wang.

 
Exhibit Dates:
May 19
th
- June 14
th
---
Wordless Creatures
Wordless Creatures provide a space for us to contemplate the objects that shape us. Often forgotten and taken for granted, the objects that we use in our daily life mean much more to us than we realize. Our belongings reflect our values, beliefs, interests, and experiences – they become part of our identity. They live and breathe alongside us; they reveal the way we think, behave, and interact with the world around us. By displaying and considering the objects most dear to them, the artists exhibit their individual identities while simultaneously exploring one of the threads we hold in common: our objects.
Artists:
Spencer Allan          Leo Dultsky Gilman      Carolina Romo
Lesly Alonso            Madison Gondreau       Amy Schuman
Yaritza Chavez        Cheryl Harris                  Becky Shuman
Matthew Cortez     Greg Jue                         Elizabeth Tuckwell
Dawn Duan             Xena Lopez                     Jiahe Wang
Joe Ellison               Angela Lyonsmith          Orman Ward
Clarissa Galaviz      Matthias Neumann        Samantha Younis
Juan Gerena           PERCENT                       Kayla (Jiaxuan) Zhang
Richard Gessert     Virginia Roeder            Yuxin Zhang
Exhibit Dates:
April 5
th
- April 30
th
---
"You've Got Somewhere Else To Be"
Ambrin Ling
Through a range of approaches to drawing— including paint and graphite on large sheets of paper that unravel the seamless surfaces of Renaissance figure paintings and American landscape paintings; fragmented installations of text and images that become all-over, architectural comics— You've Got Somewhere Else to Be explores art as a mediator between individuals and their worlds. Drawing, with its focus on touch, gesture, and traces, serves as the primary form of mediation and relationality. From traditional charcoal renderings to digitally altered images, the works in this show utilize drawing's historical and contemporary, aesthetic and social, intimate, and alienating qualities in order to examine how their representations of subjectivity are premised on openness and fluidity rather than knowability and determinateness. You've Got Somewhere Else to Be locates art and drawing as sites of erasure, reinvention, and engagement that have acquired renewed significance amidst global pandemic and a complex network of related social upheavals that reveal how individual selfhood is shaped by and itself shapes larger perceptions of power, value, labor and being human in complex, interdependent, not-just-human environments.
Exhibit Dates: January 22nd- March 18th 
---
Anthro-obscene: What We Choose Not to See
Installation by Stefan Petranek

This exhibition presents a selection of works from The Future is Broken, which addresses anxiety for the future of our planet. Seeking to create a dialog with the viewer about the true status of our beloved places, I overlay climate science data onto landscapes of personal significance. Sometimes beautiful and other times already disfigured, the spaces in the photographs are infused with personal connections which ground the often alarming and abstract nature of global climate change statistics. Turning to laser etching, CNC milling, and LED light mapping processes allows me to visualize what is often hidden from plain sight and creates a conversation about what is personally at stake for us in the age of the Anthropocene. Together, the work reflects on a deeper truth that the camera alone isn't capable of revealing
Exhibit Dates: October 29th - December 8th
---
A Year of Creative Confinement
Artwork of Marcia Babler
This Virtual Exhibit will visually depict how Art recorded History during the global health crisis of 2020 - 2021.  No matter what challenges are faced, life (though altered) will not stop and neither should Art.  As a mouthpiece for history, Art provides a permanent record of our times - documenting so we never forget.  We build on what we learn in order to move forward. 
Fine Art artist Marcia Babler (and Northwestern University graduate) saw the restrictive confinement as an opportunity to express the role Art plays in our lives. Starting in July 2020, Babler used headlines as a foundation to develop visual stories of fear, frustration, and hope. Babler is grateful to the Dittmar Gallery Selection Committee for the honor to be selected for this exhibit.
Pictured- "In This Together" by Marcia Babler
Exhibits Dates: September 23rd to October 25th, 2021              
---
After Thought

2021 ATP Senior Show
'after-thought' surrounds themes & ideas of the life after NU, the space of thought past a four-year education, and what the space might be or might become as these Artists graduate.
 Exhibits Dates: May 20th to June 18th, 2021
---
Renaissance Forged
Community Exhibit
The Renaissance Forged points us to look toward a new world, birthed from the labor of collectivist and individual struggle. With these works, our community's artists will remind us of the experience of forging that new world in the fire of communal pain and loss, but so too, in the passion of new community bonds and of the act of creation itself.
Exhibit Dates: April 7th to April 30th, 2021
---
Stranger than Fiction: This is America
By: Henry Sandifer, Nguyen Tran
Is the truth stranger than fiction? These emerging artists bring interesting perspectives to contemporary America.  According to Artist Henry Sandifer, truth happens at different points for all of us with a moment of clarity. It's a significant moment in being able to speak truth to power.  The images in his work juxtaposed on canvas, tell truths via parables, allegories, suppositions, and facts that are stranger than fiction.
Artist Nguyen Tran tells stories about the life he experiences around him, what he sees on a train ride commuting to work, and on social media. His relationship with America, presented in his work, takes different shapes, forms, and colors.  His illustrations can offer another way for us to reflect, to see the strangeness, and to agree and find beauty in the differences.
Exhibit Dates: September 25th to November 15th, 2020
---
Images of My Experiences
By: Eduin Fraga
Eduin Fraga's intention is to represent the complex realities of daily experience in Cuba. His work focuses on social themes and uses mixed media collage with acrylic, charcoal, and other materials. It is a unique form of art that includes article excerpts and images from various Cuban and American newspapers on canvas or cardboard as a means of capturing dynamic fragments of the societies in which he lives. Through this approach, he tries to create within each painting a historical register of past events, processes, and experiences that have shaped society today.
Exhibit Dates: February 13th to March 18th, 2020
---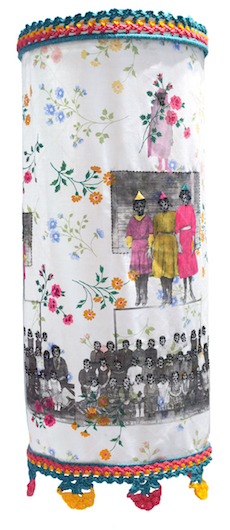 Oya: Borders of History
By: Hale Ekinci
Referencing the tradition of oya, the exhibition explores the complexity of transcultural communication and translation–translation of culture, identity, tradition, and gendered labor. Similar to the way identity is constructed, through a heavily additive process of layering old photos adorned with a mixture of patterns, Oya: Borders of History showcases painted and embroidered colorful, transcultural family portraits.
Exhibit Dates: January 9th to February 9th, 2020
---
reevaluating "a"

By: lewis lain
"10 years ago, i painted a burning letter "a" on one side of a salvaged window whose glass looked-into another world.  On the other side, the letter appeared in the sky above a deep valley where its unique light fired the rods and cones in the eyes of a typeface designer named 53947. The sublime vision "opened his mind to the possibility of everything" and granted him newfound omniscience. 10 years later, he attempts to capture the essence of this enlightenment in a new design, inspiring a journey that will encourage him to re-evaluate his perception of what is known." - lewis lain 
Exhibit Dates: October 18th to December 8th, 2019
---
Narrative Botanics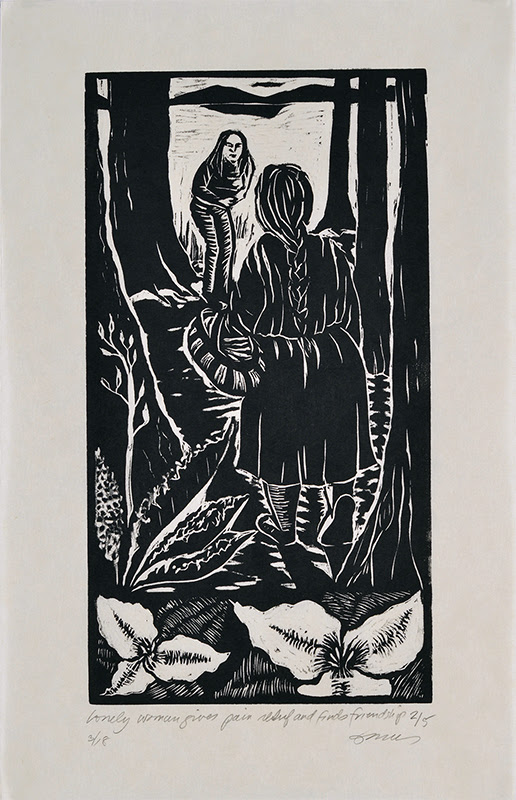 By: Gabriella Boros
Gabriella Boros's love for narrative is derived from the rich heritage of her European parentage, Israeli childhood and American Influences. The inspiration for Narrative Botanics is her love of nature and science. These five bodies of work integrate narrative elements to show the inextricable tie between plants and humans. Each series highlights plants as both visual element and utilitarian agent. The structures of woodblock printmaking in black and white results in complex graphic images. Her prints are almost always created as a series. The truths she narrates are very personal, but the resulting images have a universal appeal. 
Exhibit Dates: September 6th to October 13th, 2019
---
Elsewhere
ATP Senior Show
Elsewhere is a group exhibition that showcases the work of 5 graduating seniors in the Art Theory & Practice Department. Through the execution of myriad individual practices each artist creates their own space, alternative to the one we exist within here and now.
Opening Reception: Thursday, May 16th 5-7pm
Exhibit Dates: May 16th to June 11th
---
TRACES FROM OFF THE BEATEN PATH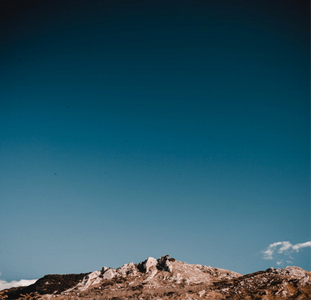 Traces from Off the Beaten Path offers a glimpse into the guarded aspects of identity; how every experience, instance of doubt, or moment of pain defines who we are today. These experiences are meant to be difficult. We tried to hide them growing up, grappled with them our entire lives, and still struggle with how to either embrace these aspects or completely shut them out. We all have that story inside of us, with each day a new page engraved into our essence. What makes us, us.  
Though we all have individual means of communicating our stories, Traces from Off the Beaten Path aims to explore those chapters we oft-not wear on our sleeves; how every stroke on the canvas, bend in the sculpture traces its roots from deep down the artist's self. It reveals something, everything, about who we are. This exhibit invites you to tell your story, investigating the past and exploring each artist's unseen identity.
Closing Reception: Friday, April 26th 4-6pm
Exhibit Dates: April 5th to April 28th
---
WAR GAMES
By: Céline Browning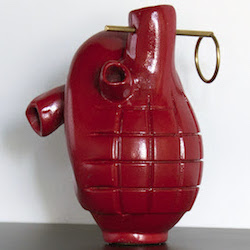 War Games began in 2014, the same year that 12 year-old Tamir Rice was shot and killed by police while playing with a toy gun in a public park. This tragedy and the national conversation surrounding it sparked a series of unsettling realizations. While childhood play is often seen as a safe space, it is clear that real violence and play violence overlap and influence one another, creating a murky line between safety and danger.
Each work of art in War Games combines children's toys with state-sanctioned violence, commenting on the insidious ways that threats of violence impact American domestic life. The surreal toys presented here seem disconcertingly new, disturbingly familiar, and vaguely threatening. A question hangs over the work - what will keep us safe?
Exhibit Dates: February 20th to March 25th
---
SOCIAL REGARD
By: Paula Henderson

In Paula Henderson's "Social Regard," one branch of these works is concerned with gender specific social constructs shaped by the ubiquitous commercial and cultural representations of women internalized in the development of our sense of worth.

Dissimilarly, Henderson's regard is echoed in the second series in this exhibition, Groundwork(s), wherein her interest in abstraction is in its post-modern possibilities. In contrast to the self-contained formalism of modernist abstraction, she focuses on prosaic, schematic patterns of visual appeal, that operate simultaneously as social signifiers.
Exhibit Dates: January 11th to February 13th
See a video preview of the 'Social Regard' exhibit here.
---
YOU PROMISED ME POEMS
By: Chris Kienke
Ideas about representation, citizenship, and sexuality are represented by images, which are themselves reflective of race, class and gender. These ideas and images shape our beliefs about what American values are, who is represented in those beliefs and who gets to share in those values. What people watch or listen to; music, news channels and radio stations, newspapers, social media and images on television and film have a strong influence in shaping common belief.
Chris Kienke is especially interested in images that express ideas about cultural identity and who exactly those images apply to and to whom they don't apply to. The continuing discussions about these issues filtered through social media, film and television in the United States are a dialogue that demands visual rendering.
Exhibit Dates: October 25th to December 13th
---
IMPLICATION OF COLOR
By: Elisa R. Boughner
Color has always played a part in the depiction of the human spirit. It has been found to express spirituality and affect emotion. You can see the use of this in churches through the use of stained glass windows. Artist Elisa Boughner's goal is to inspire those who view her work, to look more carefully at the  world and to discover beauty in everyday objects around them.  She creates objects within her paintings  that are recognizable and imperfect.
Elisa uses color as a vocabulary of feelings and encourages the viewer to have a physical emotional reaction to the piece. Although she starts with some type of concept in mind the work builds into a character and a personality of its own. When it is finished it keeps on changing according to the state of mind of the viewer. Elisa believes that color reveals the soul of the artist and can affect the viewer in a similar way.   
View a video of this exhibit here.
Exhibit Dates: September 17th to October 18th