Reservations: Paint Projects
Reserving Paint Projects at ARTica
Reservation Information
 Use this form to reserve our spaces and kits for Rock Painting*, Window Painting, and Banner Painting.
Find pricing on our home page.
*The Rock Painting Kit reservation is just a reservation for materials, not a reservation for your group to paint The Rock. 
Rock Painting
Choose one base color and three additional colors from red, yellow, green, blue, purple, white, and black.
ALL materials must come back cleaned and in the caddy provided or we will charge a $25 cleaning fee
The Rock Kit rental period is 24 hours
Reservations must be made at least 72 hours in advance
Window Painting
If you are painting the windows of Norris's Ground Floor, you must first

 

reserve the ground floor windows. 
Once you have your reservation you're welcome to make a reservation on the form above for washable tempera window paints!

Kit includes six washable tempera paint colors, brushes, and paint palettes. 
Banner Painting
We provide a

 

66 x 96 in cloth 

banner and 6 jars of paint, along with brushes and paint palettes. 
String and grommets are sold separately at ARTica
We do not print banners; that service is located on the Third Floor of Norris (SOURCE).

 

Find out more about printing banners here.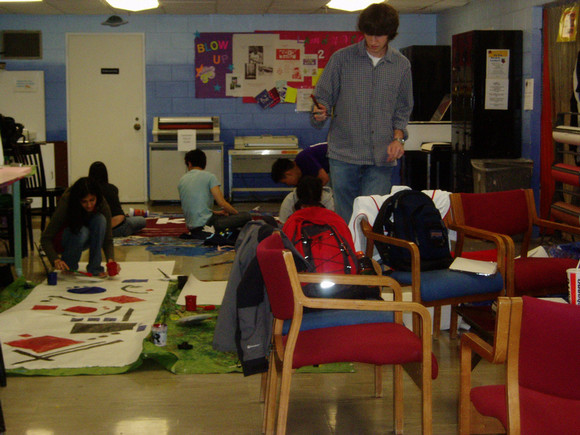 Cancellation
For Rock Painting, we will need at least a 72 hour notice prior to pickup. Failure to cancel on time will result in a $25 fee.
If you have any more questions please contact us via e-mail at articastudios@u.northwestern.edu or call (847) 491-2344.