Norris at Night 2019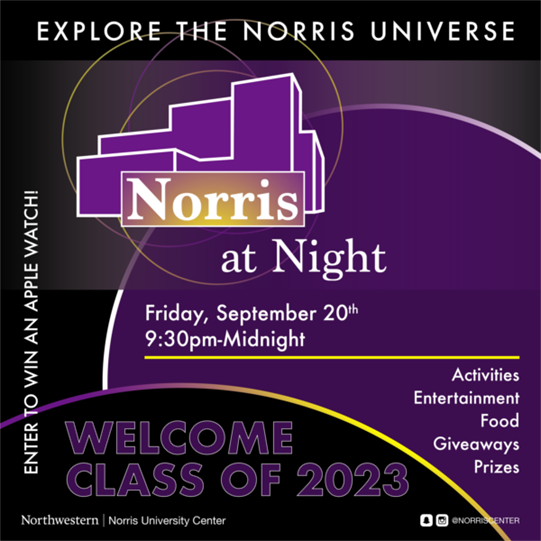 Each fall during Wildcat Welcome we host Norris at Night as a fun-filled event that introduces you to all that Norris University Center offers. With activities throughout the building, you will learn where to go to relax, meet up, eat, and get more involved at NU.
Activities and entertainment were on every floor! This is the event you don't want to miss!
Fall 2019 Norris at Night will be on Friday, September 20, from 9pm - Midnight!
The 2019 Norris at Night will feature: 
In the Underground
Pool Trick Shots
Games
Art Activities
S'mores
Music
Athletic Team Posters
Free Popcorn
On the Ground Floor
Poppin' DJ Music
More Games - Win Prizes
US Bank and the Bookstore - Swag
Free Food from over 12 Venues
On the First Floor
Performances by The XFactors and Boomshaka
Starbucks - Free Product Samples
Cash Cube - Win Prizes
Pork Chop Speedway - Win Prizes
Ultimate Smash Tournament in McCormick - Win Prizes
Caricature Artists in Dittmar Gallery
On the Second Floor
Norris Idols - Live Band Karaoke in the Louis Room - Sing for Prizes
Coca Cola Big Chair - Free Product
Students Publishing Yearbook - Swag
Mini Demos by Mini Courses - Pottery, Cartooning, Dancing
Free Glowsticks
Lucky Ducky - Win Prizes
Alumni Giving - Free Reusable Straws
Roving
Willie the Wildcat
Professional Balloonists
Prizes
All students who have a wildcard swiped or scanned with be automatically be entered into the Big Drawing for Prizes

Grand Prize - Apple Watch, donated by Barnes and Noble
Over 100 Game Prizes
10 Big Prizes for the Drawing
3 Fuji Cameras
$50 Target Gift Card
4 $25 Visa Gift card, donated by US Bank
$200 Barnes and Noble Gift Card
All students will get a free drawstring bag*
*While Supplies Last!