Norris Outdoors
(Updated October 4, 2022)
Fall 2022 Hours
Monday - Friday: 12:30 - 6:00p.m.
Closed Weekends 
Get Outside this Fall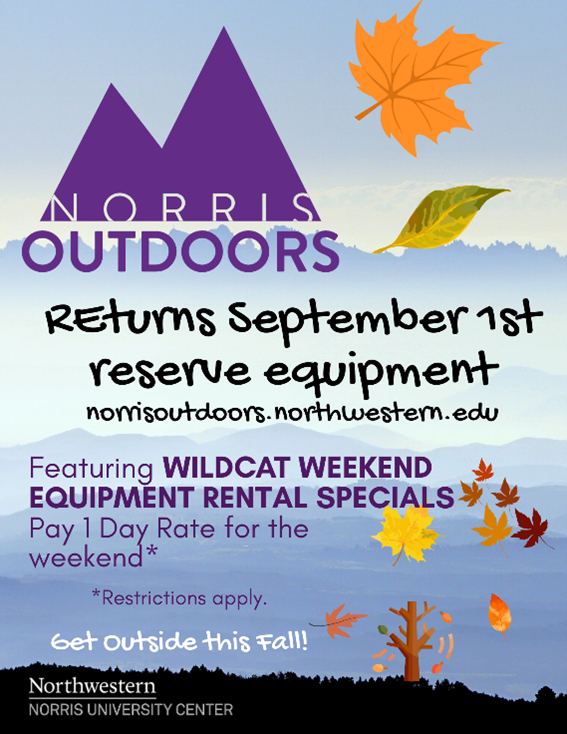 NorrisOutdoors has the fun for your outdoor recreation.  Backpacks cookits, foam pads, lanterns, sleeping bags, stoves, and tents for your camping outings.
A variety of outdoor games, basketballs, croquet sets, frisbees, footballs, soccer balls, volleyball sets, cornhole sets, and spikeball sets to play outside.
Captain chairs, coolers, grills, hammocks, and smores kits for just chillin by the lake or gathering with friends.
Wildcat Weekends- Pay 1 Rate for the Weekend
Get Outside this Fall on the Weekends- Reserve equipment by Wednesday 5 pm for the weekend.  Pick up on Friday by 5 pm and return Monday by 5 pm.
Ask for a Free Bag when you rent any equipment!
Contact Us
Phone: (847) 491-2345
Email: norrisoutdoors@u.northwestern.edu
Staff
Mckenna Troy - Student Supervisor
Allison Rauch - Interim Student Supervisor
Available To Rent:
Camping Equipment to Rent

| Camping Essentials  | Price Per Day |
| --- | --- |
| Backpack (internal frame) | $13 |
| Sleeping Bag 20-40 deg F | $20 |
| Tarp | $2 |
| Foam Pad  | $3 |
| Flashlights | $2 |
| Lanterns | $5 |
| Cook Kit - 2-4 person | $7 |
| Stove - 1 Burner | $10 |
| Stove - 2 Burner | $15 |
| Tent - 2-Person | $13 |
| Tent - 4-Person | $20 |
| Propane Fuel Tank for Stoves | $5.50 |
---
Recreation Items to Rent

| Recreation Equipment | Price Per Day |
| --- | --- |
| Table - 4 x 2 | $6 |
| Table 6 x 2.5 | $7 |
| S'mores kit - sterno included | $8 |
| Captain Chair | $6 |
| Hammock - enu doublenest | $10 |
| Grill - 14 inch Weber | $6 |
| Grill - large Weber  | $20 |
| Grill - small propane | $10 |
| Grill - 3 x  2 Big John | $35 |
| Grill - 5 x  2 Big John | $55 |
| Cooler - Small  | $3 |
| Cooler - Medium  | $5 |
| Cooler - Large  | $6 |
| Picnic Basket | $5 |
| Shelter Tent - summer only | $12 |
---
Sports Equipment to Rent

| Sports Equipment | Price Per Day |
| --- | --- |
| Basketball/Football/Soccer Ball/Volleyball | $2 |
| Baseball or Softball Set | $5 |
| Cornhole Bean Bag Toss | $6 |
| Croquet Set | $6 |
| Frisbee | $2 |
| Megaphone | $5 |
| Spikeball Set | $12 |
| Volleyball Set - net, poles, boundary | $15 |
---
Winter Gear to Rent

| Winter Gear | Price Per day |
| --- | --- |
| Ice Skates | $7 |
| Skate guards | $2 |
| Cross Country Ski Set* - boots, poles, skis | $12 |
| Snowshoes | $10 |
*No online rental reservations accepted - rent only in-person
---
Pick Up and Go Equipment to Rent

| Pick up and Go | Price Per Day |
| --- | --- |
| Light Hand Truck | $3 |
| Medium Hand Truck | $4 |
| Platform Cart | $5 |