Wellness Features
Wellness Features cover timely and pertinent college health and wellness topics in an effort to keep you informed on how to better your overall well-being. Features focus on a specific issue each time like safer sex practice or the importance of getting quality sleep. They often are connected to awareness weeks/months and highlight resources and new programs and events taking place on or around campus whenever possible. Overall, the goal is to provide information for everyone and keep things fresh!

New features typically come out every week or two, so be sure to check back to see what is being covered! You can easily be notified of new features through the Paw Print and by following HPaW on social media @nuHPaW via Facebook, Instagram, and Twitter.

Vocational Wellness: How to Foster the Leader in You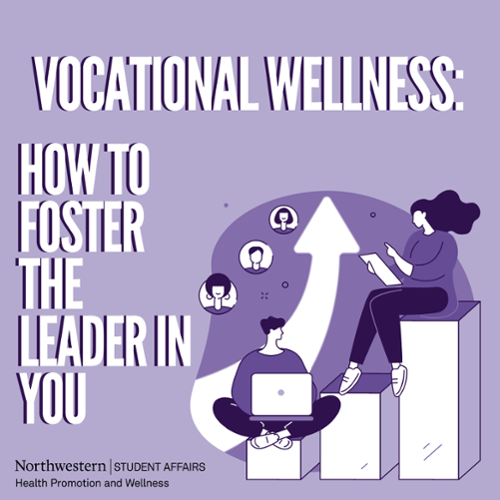 As the school year comes to a close, you might be searching for summer internship opportunities, full-time jobs, or anything in between. While it's important to jazz up your resume and show your future employers that you are well qualified and a top candidate for whatever role, it is just as important to focus on your vocational wellness. Vocational wellness is defined as gaining personal satisfaction and enrichment from one's work (i.e. a job after graduation).  
There are a couple of key goals of vocational wellness, such as: 
Increase your awareness of the wide variety of major/career opportunities available to you

 

Challenge societal sex role and other barriers that limit major/career choices

 

Explore your interests, skill, and values and needs and how they relate to major/career choice

 

Choose a major/career direction that reflects your values, preferences, interests and skills

 
Understand the relationship between your major/career choice and other parts of your life such as with your family, spouse/partner, leisure activities, friends.

 

Develop effective job-related skills in assertiveness, confrontation, feedback, time management, active listening, motivation, etc.

 

Understand how many people change their major in college and their career directions many times throughout their lives

 
As you can see, vocational wellness is multifaceted and involves a lot of self-reflection regarding what it is that would be a good fit for your personal goals, which can be overwhelming at times. However, the HPaW team is here to help you with some simple tips to begin fostering the leader in you! 

Reflecting often 
In order to best understand your professional goals and what role or opportunity would be a good fit for you, it's important to engage in self-reflection. This allows you to better understand where you find joy and meaning in your life. Where do you find yourself being the most engaged in an academic or work setting? Do you find joy in helping others through your role or do you prefer an opportunity that isn't as focused on civil service? What sort of field is the most interesting to you and would ensure your enthusiasm for a long time? While self-reflecting, it can be helpful to connect with someone already deep into the professional sphere, as they might have a better understanding of additional things to consider during that self-reflection period.  
Exploring different career and/or volunteer opportunities 
Upon engaging in self-reflection, you might find that you have a myriad of interests and potential roles you might want to explore further. This is where the research comes in and the Northwestern Career Advancement Office (NCA) is a great first stop to visit during this process. NCA is great at meeting students where they are in their career exploration journey and supporting their growth along the way. Taking advantage of their robust resources and knowledgeable staff can truly help your success and calm any nerves you may have throughout the process. Whether you're looking for a summer job, internship, or are a recent graduate and are looking for your first full-time job, the NCA has just about everything that you need to best prepare you for the journey ahead. 
Keep an open mind 
Keeping an open mind during your search process is good practice for when it comes time to actually work in your first role. Being open-minded typically makes you more adaptable to a unique work environment and job, as well as other employees, according to The People Development Magazine. Employers usually want to hire someone they can mold into the type of employee who fits well in their organizational culture. Additionally, you never know what sort of role or hidden opportunity would end up aligning well with your goals and current skill set; you lose nothing by trying different things and seeing what ends up working well! 
Participate in internships and research opportunities 
Especially if you are early in your professional journey, perhaps still an undergraduate, participating in internships and research opportunities is your best bet at not only adding great experience to your résumé, but also having first-hand knowledge of what it's like to work in a role within a specific field and seeing if it aligns with your own interests and goals. Many times, participation in those roles can lead to other learning opportunities or even a full-time offer, so don't look past applying for positions like these and take advantage of the wide array of internships and research positions available.  
Reaffirming self-confidence 
As you participate in each of these steps in your vocational wellness journey, you may find yourself being hesitant or uncertain that you have what it takes to succeed in the professional sphere. We're here to tell you that confidence is a muscle that you need to take care of and that grows stronger each time you exercise it. In a nutshell: don't give up on yourself. Keep reaffirming your self-worth and self-esteem and let it radiate in what you do. Don't let disappointment sabotage your self-confidence. You have what it takes to do work that you love and thrive in any work environment you're interested in, but it's a matter of believing in your capabilities and being patient with the journey ahead of you.  
Final Thoughts 
Vocational wellness is a journey, not a destination, so take our helpful tips and implement them into your professional journey at any point in time. We here at HPaW know that our Wildcats are well-equipped to succeed in whatever professional spaces they enter and are excited to see you all continue to foster the leader within each of you! 
Additional Resources 
BORG Around and Find Out... What You Really Need to Kow About BORGs
The Value of Maintaining Quality Sleep
Accessible Achievement: Wellness Resources That Won't Break the Bank
New Year, New Me... Right?
The Same but Different: What You Need to Know About the Updated 988 Suicide & Crisis Lifeline
Financial Literacy as a Student
Support Your Mental Health by Getting Outside!
Accessibility at Northwestern and Beyond
It's OK to Talk About Suicide
#MentalHealthAwareness | MIND, Body, and Spirit
#AlcoholAwarenessMonth | Alcohol's Impact on Wellbeing and the New AOD Resources Website
#SAAM | Sexual Assault Awareness Month
#BrainInjuryAwareness | A Brain Injury Can Happen to Anyone
#NationalNutritionMonth | One Size Doesn't Fit All; Personalize Your Plate!
#CondomMonth | The Condom: King of Contraception and STD Prevention
#DentalHealth | Good Oral Hygiene is Important to Your Health and Wellbeing
#Refreshed | The Importance of Quality Sleep
#DitchJUUL | Understanding the Risks of Vaping and Nicotine Use