CAPS Virtual Workshops & Gathering Spaces
CAPS Virtual Programming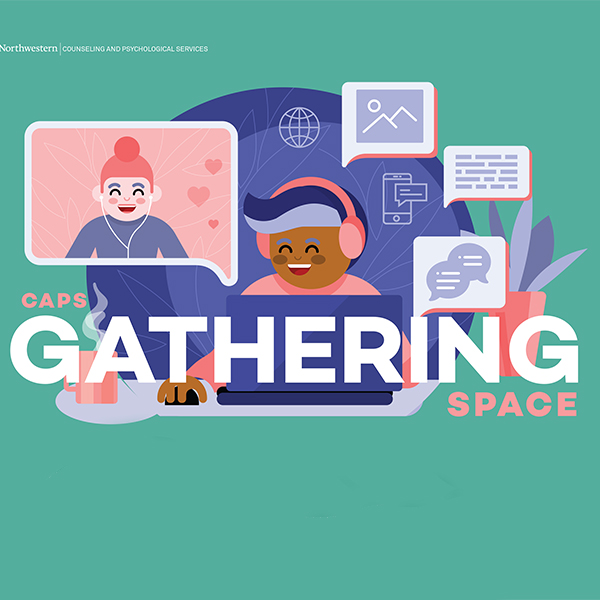 Virtual Workshops and Gatherings Spaces are for currently enrolled NU students. The workshops are designed to help you learn how to best navigate stressful times, get unstuck from negative thoughts and feelings, and find meaning in the midst of chaos. The virtual gathering spaces are an opportunity to connect to peers and to share experiences, support, and resources. CAPS staff serve as facilitators in those spaces.
Workshops and gathering spaces are not therapy groups and they are not intended as a treatment for mental health concerns. If you are interested in therapy services, please click here to schedule a consultation with a CAPS counselor.
Winter 2021 Virtual Programs
Coffee Talk: Support and Connect Across Cultures
Coffee Talk is a year-round workshop + dialogue series tailored for graduate and undergraduate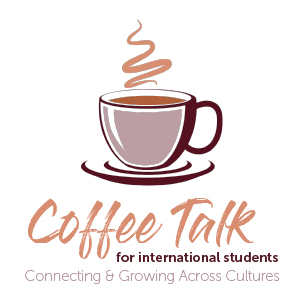 international students and those who have international experiences or are interested in international students' experiences. 
We hope to provide international students with a welcoming space where they can:
Learn important information and development intercultural skills, leading to success and meaningful adjustment
Connect and interact with other international students
Exchange and learn about available resources
Build self-confidence and ease in intercultural interactions
Improve your cross-cultural communication skills
Take a break from your studies!
Coffee Talk: Be Your Best Self  |  Winter 2021
Join us for our winter quarter Coffee Talk series! We invite all international students to come together to catch-up with old friends and meet new ones. Let's engage in conversation about being your best self in the year to come.
Bring your own hot beverage and join our discussion!
All times CST
Fridays 10:00-11:30 AM 
January 15: Empowering Your Best Self
Join us as we discuss setting goals for the New Year, share strategies to increase your motivation, tackle common barriers, and create a plan to make this quarter your best one yet! 
January 29: Becoming Your Best Self in Relationships
Let's connect with one another and discuss all things relationships! We'll touch on developing relationships with yourself, friends, romantic partners, and how to build community in a virtual world.
February 12: Your Best Professional Self: Strategies for Navigating Job Search Uncertainty
Connect with our colleagues at Northwestern Career Advancement about navigating your internship or job search amidst a pandemic and U.S. political landscape.  We will discuss the internship and job search process, leveraging resources, building a strategy, as well as how to manage the stress and anxiety associated with the job search experience.
February 26: Your Calm & Playful Self         
End the quarter with a meeting focused on connecting to your calm and playful self! Join us as we discuss how to incorporate mindfulness and meditation into your routine, explore the benefits of play and laugher, and share strategies for coping with stress and worry.
Quarantine/Isolation Support Spaces
This support space is a drop-in gathering space for NU students who are in quarantine or isolation, on or off campus, who are looking for support from other similarly situated students and from CAPS. This informal supportive gathering space—facilitated by NU CAPS—will allow participants to connect to peers and to share experiences, resources, and support.
WHEN: Wednesdays 3:00-4:00pm
Group Starting February 3rd
Cope & Connect: A Space for Undergraduate Students
Join us in this virtual space to connect with other undergrads at NU and discuss strategies for coping with distress and building well-being.  We will talk about how to cope with a variety of difficulties, including the COVID-19 pandemic, online learning, and academic stress, sleep concerns, challenging sociopolitical climate - and building overall well-being. 
When: Every other Wednesday 4:00 pm-5:00 pm February 3rd,  February 17th,   March 3rd  
Register: tinyurl.com/CopeConnectRegistration
Press Pause: Support for Graduate Students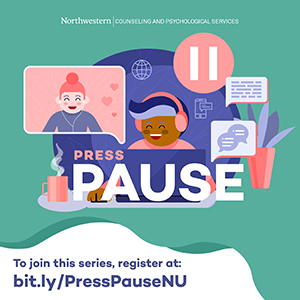 Graduate and professional students are busy. Balancing academics, work responsibilities, relationships, and current events can feel like a lot!
Press Pause is a space to slow down and connect with others around topics specifically related to graduate and professional students.
 
We invite you to join us for our bi-weekly Monday virtual lunch series (12:00-1:00 PM CST)! Each of our meetings will center on a different topic, including:
 


January 25th - All Things Academics
We'll break down healthy striving vs. perfectionism, discuss Imposter Syndrome, tackle burnout, and share strategies for increasing motivation
February 8th - Relationships
We'll connect with one another, discuss ways of creating and maintaining virtual relationships, focus on setting healthy boundaries, and explore "being alone vs. being lonely"
February 22nd - Mental Health & Well-Being
We'll share common experiences of stress, anxiety, and depression, help you identify what you need, and help you help others
March 8th - Self-Care Wrap-up
We'll learn how to "zoom in" and "zoom out" your self-care routine, discover new strategies for building wellness, and brainstorm solutions to common barriers to creating a sustainable well-being plan
 
Press Pause is facilitated by NU CAPS staff, including Rachael Collins, Ph.D., LCP (staff therapist and liaison to Feinberg School of Medicine, Chicago CAPS), and Plamena Daskalova, Ph.D. (postdoctoral fellow, CAPS Evanston).
 
To learn more about us, click here. To join this series, register using your NU email account. We hope to see you soon!
Drop-in 30 minute Meditation
Surviving Covid-19 over the last ten months has taxed our capacities for coping and resilience. Meditation is a highly effective tool for managing stress and anxiety.  Meditation calms the mind and the body adding energy, focus and well-being. 
CAPS Virtual Drop-in  Meditation Group will provide you with an opportunity to learn and practice a simple yet very effective way to manage ongoing stress. Sessions will begin with a brief introduction and simple instructions followed by a 20-minute meditation.
When: Every Tuesday at 12:00pm (Tuesday, Feb 23rd session is canceled)
No registration needed, just join us: https://tinyurl.com/Tue-Meditation
Recognizing Collective Trauma: A Support Space for NU Community
Collective Trauma Support Space for Faculty and Staff
Acknowledging the collective traumas of a global pandemic as well as civil unrest and brutal systems, we're holding space for NU faculty and staff to receive support for themselves and to learn more about the impact of trauma.
When: Feb 24, 2021, 10:00 AM Central Time (US and Canada)
Register in advance for this meeting.
And Still We Rise: Strategies for Resilience and Hope
Resilience is the quality of recovering quickly from failure and adversity, and not only returning to the status quo but actually using the opportunity to grow. Resilience is not something we are born with but something that can be learned and developed at any age. 

Join CAPS, Women Center and HPaW for a panel discussion on how to build resilience and cultivate hope
WHEN:  Coming Up Spring Quarter!  TBD
Other Online Resources
Breathe: Mindfulness and relaxation exercise for Northwestern Students: helps with sleep, anxiety,
and stress.

Welltrack: WellTrack is an interactive, self-educational, online program that uses Cognitive Behavioral
techniques to help you address a range of issues, including anxiety & stress, depression, and public speaking. It also includes a mood tracking tool, mindfulness and relaxation exercises, a scheduler/calendar, and a wellness assessment, among other resources.
Crisis Support for Students
Monthly Gatekeeper Suicide Prevention Training
Help strengthen our safety net for students in distress. Learn how to recognize signs of suicide and how to ask a question about potential suicidal thoughts, persuade someone to get help, and connect them to appropriate resources. We offer trainings for students as well as for faculty and staff. QPR is not therapy or a crisis service.
QPR for All NU Students
The next QPR for students will be held in April.  Please check back for specific date/time later.
QPR for Faculty/Staff
Follow us on Instagram and Facebook @NorthwesternCAPS