CAPS Workshops & Gathering Spaces
CAPS Programming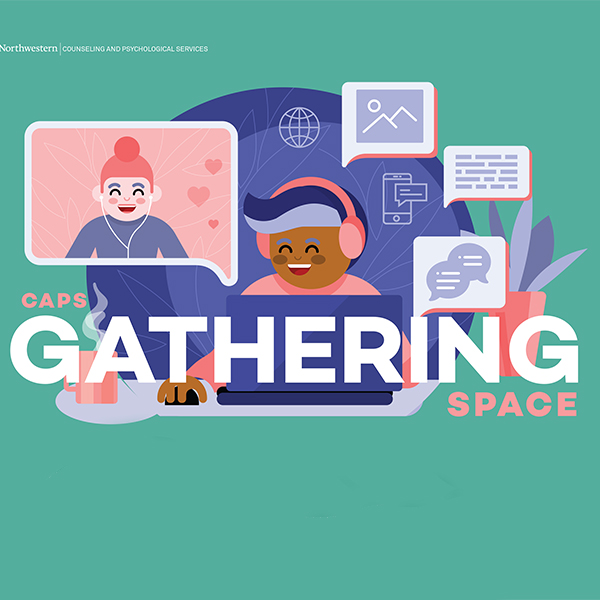 CAPS is here to support you every step of the way!  Our Winter Quarter programming focuses on building resilience, cultivating authentic connection with others, and moving towards collective healing.  
Workshops and gathering spaces are not therapy groups and they are not intended as a treatment for mental health concerns. If you are interested in therapy services, please click here to schedule a consultation with a CAPS counselor.
Winter 2023 Programs
Coffee Talk: Connecting and Growing Across Cultures
Coffee Talk for All International Students
Welcome to Coffee Talk Winter 2023!
This is a community support space tailored for international students, those who have international experiences, and/or those who are interested in international students' experiences. Both undergrad and grad students are welcome!
Coffee Talk is a welcoming space where attendees can: share and connect around the study-aboard experiences; support each other in navigating academic stress, overcome imposter syndrome, homesickness, etc.; grow self-confidence and cultivate a sense of belonging on campus; and take a break from studies!  
We meet every other Fridays at 3:00PM, starting on Jan. 20th.
Meeting dates:  Jan 20th, Feb 3rd, Feb 17th, and March 3rd
Location: In person, at the Office of International Students & Scholar Services (630 Dartmouth Place, Evanston, IL, 60208)
Registration is encouraged but not required: https://forms.office.com/r/t8eq4Jq3x2
For questions and inquiries about the program, please contact: Dr. Manisha Rustagi manisha.rustagi@northwestern.edu
We are also offering Mandarin-speaking Coffee Talk gatherings this winter over Zoom. To find out more and sign up, please visit: https://bit.ly/W23CoffeeTalkMandarin
Coffee Talk for Mandarin-Speaking (中文) Students
Coffee Talk for Mandarin-Speaking (

中文)

Students
By popular request, We are offering a Mandarin-speaking virtual space in Winter 2023, co-hosting by Drs. Qianhui Zhang and Angel Cheng. All NU students and scholars from both campuses are welcome to attend!
This is a welcoming space where attendees can: 
Share and connect around the study-aboard experiences and navigating cross-cultural adjustments in academics, career, relationships, and homesickness, etc.;
Learn effective coping skills and share resources;
Cultivate a sense of belonging and connection on campus; 
and celebrate the pride and resilience of international students!
Time: Every other Fridays, 3:00-4:00PM
Dates: 1/27, 2/10, and 3/10 (skipping 2/24)
Location: Zoom
To receive the meeting link, please sign up here: https://bit.ly/W23CoffeeTalkMandarin
For any inquiry, please contact Qianhui at qianhui.zhang@northwestern.edu.
Children of Immigrants Support Group
 Children of Immigrants Gathering Space (PDF)
This community support space is developed with the hope to provide a welcoming atmosphere for Northwestern students, who identify as children of immigrants (COI) to share their experiences and connect around mutual support. In their journeys growing up in the US and navigating their NU lives, children of immigrants navigate unique experiences developing their bicultural identities in their environment, and their experiences are often different from their parents and peers.

This support space is an opportunity for students to explore and process their bicultural identities, connect around shared challenges, celebrate resilience that comes with their experiences, and find a sense of belonging and community with their peers.

Relevant Themes for Discussion:
-Navigating Parent-Child Conflict
-Cultural dissonance/confusion
-Parentification
-Understanding and developing a healthy bicultural identity
-Strengths and resilience associated with navigating two cultures
 
Time: Monday from 3p-4p starting on April 3rd.
Meeting dates: April 3rd, April 17th, May 1st, May 15th
Location: Zoom

To receiving the meeting link, please register here: https://forms.office.com/r/dXArsw47UQ
**Please note that attendees need to connect from a private space to protect the confidentiality of this support space; we are not able to admit late attendees beyond 3:05pm to respect group time and process.**


For any questions or inquiries about the program, please contact: Elizabeth Nellamattathil (Elizabeth.nellamattathil@northwestern.edu)
SANA SANA Gathering Place
Multicultural Student Affairs (MSA) and Counseling and Psychological Services (CAPS) presents, SANA SANA, a monthly gathering space and series centering Latina/e/x/o-identifying students to make, feel, and just be with one another. SANA SANA is a healing phrase used when remedying pain or a wound that honors connection across geographies and generations. SANA SANA will include conversation, creative workshops, and space for rest, joy, and sustenance in relation and support with one another. In facilitating and co-creating this space with students, we hope to support community building, themes related to wellness, intersectional identities, and lived experiences. Food will be provided. Graduate and undergraduate students welcome.
Please RSVP by Jan 22nd so we can have an accurate headcount for food and the space: https://forms.dosa.northwestern.edu/view.php?id=2046282 
Meeting Location: Women's Center-Community Room at 2000 Sheridan Rd, Evanston, IL 60201 
Meeting dates: We will meet the last Friday of every month from 11:30AM-1:00PM. Come join us on the following dates: 
January 27th  
February 24th 
March 31st 
April 28th  
May 26th  
For any questions about the program, please contact: Laura Sevilla at laura.sevilla@northwestern.edu . Gracias!