Stick to Your Limits with Alcohol
Stick to Your Limits with Alcohol
BAC isn't rocket science. Smart Dillos stick to their limits and don't drink at warp speed. Reduce negative outcomes from drinking by keeping your BAC under .06.
Utilize the online BAC Estimator to gauge your level of intoxication based on factors including weight, sex, amount consumed, and how long you have been drinking.
More information on understanding limits and reducing negative outcomes can be found on the AOD Resources website.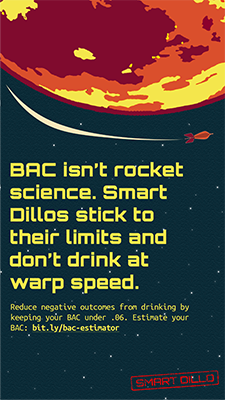 Click to View/Download Full Image