Current News
This page provides procurement-related news including featured stories from our Dollars & Sense newsletter, current updates related to our Preferred Vendors, and upcoming events. You can also view News Stories By Year or view Back Issues of our newsletter for more information. 
Featured Stories
Regular Features
New Contracts
Procurement and Payment Services (PPS) conducts many Invitations to Bid to establish contracts for use by departments and schools. These contracts may be for use by all departments and schools, which are Preferred Vendors, or they may be contracts for use by specific departments and schools. Contracts are established based on the results of a formal, competitive Invitation to Bid process. See the Preferred Vendor List for more information on all vendor contracts.
Recent Contracts Established by PPS
Recent Contracts Established by PPS
Campus Moving Services
After a formal bid was recently conducted for campus moving services, Reebie was re-awarded the contract. For more information about Reebie, visit the PPS preferred vendor list.
Relocation Services
A formal bid was recently conducted for relocation services. Allied Van Line – Reebie was re-awarded a contract, and Wheaton – Bekins was also awarded a contract. Visit the PPS preferred vendor list for more information about Allied Van Line – Reebie and Wheaton – Bekins. When preparing for relocation services, be sure to reference our helpful best practices guide.

New Preferred Reseller for Software
Based on a competitive bid process, Northwestern has selected CDWG to be our new Preferred software VAR/reseller. As of June 1, 2022, the SHI catalog in iBuyNU has been deactivated, and end users should utilize the CDWG catalog for software purchases such as Microsoft Select (Visio, Project, SQL Server, etc.), SPSS, and SAS. Additionally, requests for software titles not in iBuyNU should be directed to angieandbrian@cdwg.com. 
Guest Supply iBuyNU Catalog Coming Soon
Guest Supply provides a full spectrum of quality hospitality products, including hospitality amenities, personal care items, linens, etc., to help support your operational needs. PPS is working with the vendor to include a new Guest Supply punchout catalog in iBuyNU. Stay tuned for a future announcement when the catalog is up and running.
SupportLinc Coming Soon
PPS along with the Office of Human Resources recently awarded a Preferred Vendor contract to a new Employee Assistance Provider (EAP) provider, SupportLinc. SupportLinc is a free and confidential resource that helps individuals address a variety of personal and/or work-related concerns. More details will be provided by the Office of Human Resources in the upcoming weeks.
Additional new contracts:
Web Design Services
Northwestern IT Operator Services - Parlance
Northwestern IT Data Center Storage – Dell
Student Affairs – Rave Guardian
Existing Contract Updates
Updates to existing contracts established by Procurement and Payment Services (PPS) may include new contact information for dedicated representatives, service updates, and newly available products. For questions about these updates, please view the individual vendor pages on the Preferred Vendor List or contact PPS at 847.491.8120 or procurement@northwestern.edu.  
Recent Changes Made to Contracts Established by PPS
Recent Changes Made to Contracts Established by PPS
Office Depot is now ODP Business Solutions
Office Depot has changed their name to ODP Business Solutions. The name change does not impact end-users. The office supply catalog is still available in iBuyNU and our dedicated representative Gerilyn will continue to assist you with your questions. The updated ODP Business Solutions webpage can be found on the PPS preferred vendor list.
New T-Mobile Account Representative
The main Northwestern account representative for T-Mobile has changed. Omar Andrabi can be reached at Omar.Andrabi2@T-Mobile.com or 630.292.7223.
Contracts We're Working On
Procurement and Payment Services (PPS) is always working to establish Preferred Vendor contracts that best serve the needs of all Northwestern departments and schools. These are a combination of new contracts and timely rebids of current contracts. For questions about these or other bids, please contact PPS at 847.491.8120 or procurement@northwestern.edu.
Northwestern IT Secure Enclave Services RFP
Adobe Enterprise Agreement Renewal
Evanston and Chicago Hotels
Staffing pre-qualified list
Printing and distribution for the Kellogg Magazine
Travel Related
Travel Related Updates
Travel Related Updates
Get to Know Northwestern's Travel Agency Options
Travel is back! Now is a good time to re-familiarize yourself with Northwestern's travel agency options. Northwestern University's preferred methods for booking travel for faculty, staff, and guests include our online booking tool Egencia, and T100 Group, our brick-and-mortar travel agency.
Egencia is owned by American Express Travel and offers Northwestern travelers discounted airline and hotel rates. The options on the site are designed to show the best travel values to help you stay within your travel budget, which include showing discounted rates for our preferred hotel and airline vendors. United Airlines is currently our only preferred airline vendor and, as with our preferred local hotel vendors, the more often we book them, the better positioned we are to negotiate even deeper discounts in the future. Also, booking through Egencia allows you to bill your travel directly to a chart string, which streamlines the billing process, which means less paperwork for the traveler or the traveler's admin. Booking your flight through Egencia allows you to accumulate airline miles, just not credit card points. If you need personal assistance, Egencia has agents on hand to assist.  There is a fee for personal assistance but may be worth the cost knowing whatever issue/change you have is handled quickly and completely. 
The T100 Group is a travel agency located in Northfield, IL. T100 agents have a wealth of knowledge about airline regulations and destinations. Our discounted United Airlines rates are loaded into their reservations system, which ensures that you get a great deal, stay in budget, get your airline miles and contribute to lower rates in the future. Working with the same agent can be helpful as they are familiar with your travel preferences. T100 group is also a great option if you are traveling with family as your travel can be billed to your chart string and your family's travel billed to your personal card. T100 Group charges a fee per each ticket booked.  For agency fees, please refer to the Agency Fee section of the PPS Travel website: https://www.northwestern.edu/procurement/travel/agencies/fees.html. 

Please help us save money for the University by booking travel through our preferred Travel Management Companies.
Boarding Passes No Longer Scanned at Some Airports
The Transportation Security Administration (TSA) is now using Credential Authentication Technology (CAT) to confirm the identify and flight information of travelers. In airports that use CAT, boarding passes will no longer be scanned, as the new technology will scan a traveler's ID against the Secure Flight database. To learn more about Credential Authentication Technology and what airports utilize it, visit the TSA website.
New "Agent on Demand" Technology from United
Now available everywhere! To speak with a United agent, Travelers will not need to hold on the phone or wait in line at the airport. Just use the link below to chat with a live agent. You may use this feature from any airport or outside the airport (from taxi, from home before leaving for airport, etc.).

Please note, this is for day of travel, up to 24 hours before departure. Travelers will need to input their confirmation number and last name before they are connected to an agent. Agent on Demand site: www.united.com/travelhelp 
What's New in Egencia
All guests must now be registered in Egencia. Egencia has a new policy requiring guests to be registered in Egencia.  This means creating a profile for each guest in-order-to book their travel. 

For those of you with "legacy" (guest) profiles, and you know who you are, you may still use these profiles to book travel for guests without registering them.  Egencia is phasing out these coveted profiles and will no longer issue new ones. 

To register guests in Egencia, you must be designated as an "Arranger" and a "Guest Manager (New)" in your profile.  A "Travel Manager" can update these roles for you in Egencia. If none of your department admins have that designation, please send a message to travel@northwestern.edu and we'd be happy to do it for you. 

There are three options for registering guests.  Two of them involve inviting the guest to help complete their profile. This is convenient when you are registering grad students who will be booking their own travel, for instance, or for guests who may have sensitive information to input, like a passport number, who may prefer to add it themselves.  The third method is to register the guest on your own without the assistance of the guest.  This is great when registering VIPs, where it might be awkward to ask them to participate the registration process.

Steps for Registering Guests in Egencia

1)    Go to the "Tools" heading on the Egencia home page. 
2)    Under "User Management", click on "Guest Booking". 
3)    When that page opens, click on the "Create New Template" button in the upper right-hand corner. 
4)    When this page opens, complete all mandatory fields.  Skip "Approver" fields.
5)    Once complete, scroll to the very bottom of the page where it says, "Create Guest User Profile" and click on it.

Please contact Kathy Koestring at kathy.koestring@northwestern.edu if you have any questions.
Northwestern Medicine Purchases the Hyatt Centric Hotel Downtown Chicago
Northwestern Memorial HealthCare purchased the Hyatt Centric Hotel in Chicago in February to give patients and families an option to stay overnight when receiving care, as well as to host Northwestern Medicine conferences and events. The Hyatt Centric will still offer discounts to Northwestern University guests as a preferred vendor and it is still open to the public.
Sustainability Highlight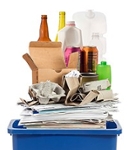 Did you know recycling is a critical element to Northwestern's sustainability efforts? Recycling reduces the amount of waste sent to local landfills and conserves natural resources by making products from existing materials. But putting the wrong items in the bin breaks down this effort. Please be sure you recycle it right by knowing what is, and is not, acceptable  in campus recycling collections.