Current News
This page provides procurement-related news including featured stories from our Dollars & Sense newsletter, current updates related to our Preferred Vendors, and upcoming events. You can also view News Stories By Year or view Back Issues of our newsletter for more information. 
Featured Stories
Regular Features
New Contracts
Procurement and Payment Services (PPS) conducts many Invitations to Bid to establish contracts for use by departments and schools. These contracts may be for use by all departments and schools, which are Preferred Vendors, or they may be contracts for use by specific departments and schools. Contracts are established based on the results of a formal, competitive Invitation to Bid process. See the Preferred Vendor List for more information on all vendor contracts.
Recent Contracts Established by PPS
Recent Contracts Established by PPS
Northwestern IT Operator Services - Parlance
Northwestern IT Data Center Storage – Dell
Technotrix - Commencement Staging
Existing Contract Updates
Updates to existing contracts established by Procurement and Payment Services (PPS) may include new contact information for dedicated representatives, service updates, and newly available products. For questions about these updates, please view the individual vendor pages on the Preferred Vendor List or contact PPS at 847.491.8120 or procurement@northwestern.edu.  
Recent Changes Made to Contracts Established by PPS
Recent Changes Made to Contracts Established by PPS
New Stockroom Hours
Fisher Scientific will be adjusting the hours of the Stockrooms at all three locations to be more accommodating to shoppers.  The storerooms will be open Monday through Friday from 8:00A.M. to 12:00P.M., closed for half hour during lunch and reopen at 12:30P.M. until 4:00P.M.  The new hours began in January 2022.
New SHI Email Address
The main email address for SHI (Preferred software reseller) has changed. The teamshi@shi.com email address has been replaced with illinoisEDU@shi.com. Please direct all inquiries to the new address effective immediately. Our main sales rep for SHI has also changed. Scott Fee can be reached at scott_fee@shi.com or 630-703-3073.
Qualtrics Renewal
Procurement and Payment Services has recently renewed the University-wide agreement with Qualtrics for their software research suite. This three-year agreement is funded via collaboration by over 20 different departments and schools at Northwestern, and provides unlimited access to all faculty, staff, and students. Additional information about accessing the Qualtrics survey tool can be found on the Northwestern IT website.
Mark Vend Coffee and Pantry Supplies
As mentioned in our previous newsletter, please purchase all of your coffee and pantry supplies from Mark Vend, who is our preferred vendor for these supplies.  Mark Vend offers competitive pricing on not only coffee services, but also pantry items such as chips, sodas, juices, flavored water, and sweets.  They also provide and maintain coffee equipment at no extra charge.  They also are a small business with local ties.
If you have any questions, please contact Julie Maul at julie.maul@northwestern.edu or 847.491.5321.
Contracts We're Working On
Procurement and Payment Services (PPS) is always working to establish Preferred Vendor contracts that best serve the needs of all Northwestern departments and schools. These are a combination of new contracts and timely rebids of current contracts. For questions about these or other bids, please contact PPS at 847.491.8120 or procurement@northwestern.edu.
Northwestern IT Data Center General Contractor RFP
Preferred Software VAR RFP
Northwestern IT Secure Enclave Services RFI
Pre-Qualified AV Vendor List Refresh
Digital Marketing Services
Stemcell Technologies
Pre-Qualified vendors for Web Design
Laundry machines for residence halls
Recycling – computers & electronics
On-Campus Moving Services
Relocation, Household, Labs Moving Services
Staffing pre-qualified list
Evanston and Chicago Hotels
Travel Related
Travel Related Updates
Travel Related Updates
Egencia's Mobile App: Access to Your Travel Information in the Palm of Your Hand!
The powerful Egencia mobile app puts the efficiency and flexibility to book, manage and view business trips — all in the palm of your hand…for business travelers, travel arrangers, and approvers.
All you need in one app. Access your itinerary, receipts, cancel or exchange an item, get assistance and more.
Book your perfect option with personalized searches, easy filtering and a clear display of available amenities.
Navigate any city. Compare ground transport options and find the best way to get where you need to go.
Business expense tracker made simple. View and streamline payments with mobile expense reporting and receipt management.
Help is only a tap away with the app's dedicated AssistMe button, so you or your travelers can easily connect with our customer service team, wherever they are.
More information is available on the Egencia site under the "Tools" tab. To log-into Egencia, visit our website.
The Egencia Mobile App is available through your Apple App Store and through the Google Play Store. Also available on Android Wear and Apple Watch.
Egencia Can Help You Book Group Travel
Are you hosting a meeting in or sending a group to a city with which you are unfamiliar? Egencia can help. Egencia has a team of dedicated professionals that can assist with meeting/hotel site selection, contract negotiations, group hotel and airline reservations, etc.  Egencia charges $125 per hour plus their regular per reservation charge for these services and can do as much or as little of the legwork as you need. 
Do you have a group that is flying to one destination under one chartstring? If so, you can set-up a travel group on your own with a distinct URL-link that participants can use to book their own airline reservations, which will be billed to one corporate card or chartstring. Regular reservations fees apply.
To get started with either of these scenarios, select the "Book" tab on the Egencia homepage header and select "Meetings" from the drop down.
For more detailed instructions, please click here for the Discover Egencia Groups & Meetings "how-to" videos.
United Airlines Offers Refunds for Most Non-refundable Tickets through the End of the Year
If you need to cancel a non-fundable ticket from United Airlines or if you book a new itinerary with a significantly lower fare, United will refund your ticket less a $100 cancellation fee through December 31, 2022.
Eligibility
Travel agency-issued tickets (from either Egencia or T100 Group) that meet all the following criteria are eligible:
Wholly unused, unexpired, and open coupon status
S. point-of origin travel (includes 50 U.S., Puerto Rico, U.S. Virgin Islands; excludes Guam)
Travel dates: Travel on/after March 3, 2020
Fare types: Premium cabin and Standard Economy published fares, including:

Corporate discounted tickets that follow published fare rules
Ticket with another airline's flight as long as there is at least one United fare on the ticket.

Ticket issue date: Any, as long as the ticket is wholly unused, unexpired, and open coupon status and meets all criteria
Ticket must be refunded by December 31, 2022.
This applies to previously issued and new tickets that meet all the criteria that are refunded by December 31, 2022.
Not eligible:
Basic Economy, includes U.S. and worldwide
Some private contract and fixed fares
Bulk and group fares
Note: Fully refundable fares are still offered. Check tariff and fare rules. In 2020, United eliminated change fees for most Economy and premium cabin fares for flights with travel originating in the U.S. for tickets issued on/after March 3, 2020.
United Break from Business Promotion - Extended!
United Airlines is currently offering a 10% off discount for mileage plus members for personal travel.  This offer has been extended until December 31, 2022.  To learn more about the promotion and how to book, please review this flyer.
Sustainability Highlight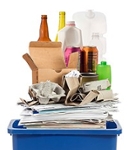 Did you know recycling is a critical element to Northwestern's sustainability efforts? Recycling reduces the amount of waste sent to local landfills and conserves natural resources by making products from existing materials. But putting the wrong items in the bin breaks down this effort. Please be sure you recycle it right by knowing what is, and is not, acceptable  in campus recycling collections.
General Updates
Spring 2022 General Updates
Spring 2022 Updates
Office Furniture Repairs
Northwestern's Preferred Vendors for office furniture provide more just furniture. Many departments dispose of chairs and other office furniture items due to broken arms, wheels, etc. However, furniture can typically be repaired (or even replaced) for little to no cost if the item is still under manufacturer warranty. If you have items that are in need of repair, please be sure to first reach out to the Northwestern vendor representative to discuss.
For repair needs, contact:
PPS Customer Service Update
PPS is implementing a new customer service unit.  The new customer service unit will be your first line of communication for all inquiries, questions, and concerns for Purchasing, Accounts Payable, Vendor File Management, Corporate Card, Travel, etc.  We are in the beginning stages of training, but you may have already had the pleasure of speaking to one of our Procurement Customer Service Specialist. This team includes Donna Stewart, Allison Buiser, and Patrick Nelson.  New software will also be implemented to assist us in answering questions in a consistent and timely manner.
We are excited to be able to increase our level of Customer Service.  Note that there are no immediate changes to how you currently communicate with the various units within PPS, so please continue with business as usual.  Any future changes will be communicated via email or through upcoming PPS newsletters.  For questions about this new unit, contact Keith Paddy at k-paddy@northwestern.edu.