Current News
This page provides procurement-related news including featured stories from our Dollars & Sense newsletter, current updates related to our Preferred Vendors, and upcoming events. You can also view News Stories By Year or view Back Issues of our newsletter for more information. 
Featured Stories
Regular Features
New Contracts
Procurement and Payment Services (PPS) conducts many Invitations to Bid to establish contracts for use by departments and schools. These contracts may be for use by all departments and schools, which are Preferred Vendors, or they may be contracts for use by specific departments and schools. Contracts are established based on the results of a formal, competitive Invitation to Bid process. See the Preferred Vendor List for more information on all vendor contracts.
Recent Contracts Established by PPS
Recent Contracts Established by PPS
Northwestern IT Operator Services - Parlance
Northwestern IT ACD Software – Talkdesk
NUIT Data Center storage – Dell
Parking equipment for Evanston campus
Medill CRM Software – Anthology
WCAS server RFQ – Single Particle & Exxact
Medill website development
Existing Contract Updates
Updates to existing contracts established by Procurement and Payment Services (PPS) may include new contact information for dedicated representatives, service updates, and newly available products. For questions about these updates, please view the individual vendor pages on the Preferred Vendor List or contact PPS at 847.491.8120 or procurement@northwestern.edu.  
Recent Changes Made to Contracts Established by PPS
Recent Changes Made to Contracts Established by PPS
New Dell Sales Representative
Dell has assigned a new Northwestern Account Executive. Kyle Stanko replaces Dave Muehling and can be reached at kyle.stanko@dell.com or 331.703.8310. Questions or quote requests can still be directed to the team-based Dell email address at northwesternuniversityteam@dell.com.
New Dell Customer Service Representative
Dell has recently re-assigned a new Inside Account Manager to our account. James Carranco replaces Luci Rojas and can be reached directly at james.L.carranco@dell.com or 512.513.9196. General questions to our entire account team, including ordering, pricing, or technical questions, can still be directed to the team-based Dell email address at northwesternuniversityteam@dell.com.
Qualtrics Renewal
Procurement and Payment Services has recently renewed the University-wide agreement with Qualtrics for their software research suite. This three-year agreement is funded via collaboration by over 20 different departments and schools at Northwestern, and provides unlimited access to all faculty, staff, and students. Additional information about accessing the Qualtrics survey tool can be found on the Northwestern IT website.
New Adobe Sales Representative
Adobe has assigned a new Account Executive to our account. Ryan Hively replaces Yaritza Jimenez, and can be reached at hively@adobe.com. Additional information on Adobe can be found on the Northwestern IT website, and most technical questions can still be answered by local IT staff or the IT Support Center.
American Hotel Register (AHR) Acquired by Consolidated Hospitality Supply
American Hotel Register/American Education Supply recently had their assets acquired by Consolidated Hospitality Supply.  The name will remain as "American Hotel Register" a CHS Company.  Procurement and Payment Services is working with the vendor during this transition, however recommends using Sysco Guest Supply as an alternate source for product.
Sysco Guest Supply can be found in NUFinancials under supplier ID number 0000220539 for non-catalog orders. End-users may search for items on Sysco Guest Supply's website, however please note that the online prices do not reflect Northwestern's discounted pricing, which is based on a competitively bid E&I contract. To obtain a quote, contact Rich Poli at rpolli@guestsupply.com or 630.728.6322.  We are currently working with Sysco to implement their catalog in iBuyNU.
If you have any questions, please contact Laura Norton at laura.norton@northwestern.edu.
Mark Vend Coffee and Pantry Supplies
As mentioned in our previous newsletter, please purchase all of your coffee and pantry supplies from Mark Vend, who is our preferred vendor for these supplies.  Mark Vend offers competitive pricing on not only coffee services, but also pantry items such as chips, sodas, juices, flavored water, and sweets.  They also provide and maintain coffee equipment at no extra charge.  They also are a small business with local ties.
If you have any questions, please contact Julie Maul at julie.maul@northwestern.edu or 847.491.5321.
Contracts We're Working On
Procurement and Payment Services (PPS) is always working to establish Preferred Vendor contracts that best serve the needs of all Northwestern departments and schools. These are a combination of new contracts and timely rebids of current contracts. For questions about these or other bids, please contact PPS at 847.491.8120 or procurement@northwestern.edu.
Northwestern IT Data Center General Contractor RFP
Northwestern IT Unstructured Research Data Storage Infrastructure RFP
Preferred Software VAR RFP
Northwestern IT Secure Enclave Services RFI
Hotels
Prequalified list of preferred vendors for Website Development
Prequalified list of preferred vendors for Staffing (refresh)
Prequalified list of preferred vendors for Facilities construction services (refresh)
Utility Bill Management System
Pest Control (rebid)
Relocation and Household Moves (rebid)
Internal Campus Move contract (rebid)
Commencement staging
Internal Audit services
Sysco Guest Supply
Travel Related
Travel Related Updates
Travel Related Updates
New Procurement Administrator for Travel

We would like to welcome Kathy Koestring, who will be our new Procurement Administrator.  She will primarily be responsible for travel-related contracts and tools and will be the new contact in PPS for travel-related questions.  Kathy comes to us from the Orrington Hotel where she developed extensive experience working on travel-related initiatives and also working very closely with Northwestern departments and schools.

We will be setting up a travel advisory committee meeting soon so she can start working with on strategic initiatives related to travel, such as issuing an Invitation to Bid to establish new hotel contracts and further enhancing Egencia.

If you have questions, please contact Kathy at kathy.koestring@northwestern.edu or 847.467.0590.
United Airlines Credits
For quite some time, Egencia was carrying credits from United for all travel that was booked but not taken during the pandemic.  It was recently decided that due to the uncertainty around how long those credits would be held and to ensure Northwestern does not lose the value of these funds, PPS worked with Egencia to obtain waivers and secured refunds for all eligible tickets cancelled during the Covid pandemic.  United's waiver allowed for a refund of the original ticket value, less a handling fee of $100-$300.  PPS will apply the net refund from United to the chart string used for the original purchase.  A few credits were not eligible for refund and travelers should check their Egencia profile (under Payment type) to see if they have a credit available for use.  This collaboration between NU, United and Egencia returned $175,000 in funds to the University.
If you have any questions, contact Kathy Koestring at kathy.koestring@northwestern.edu.
International Health Insurance for Employees
Are you planning to travel internationally? Northwestern faculty and staff traveling internationally on Northwestern/university business will be automatically covered by Northwestern's business traveler insurance plan provided by GeoBlue.  Before traveling, learn more about eligibility, benefits, and exclusions at GeoBlue for Employees.  Completing a one-time registration and downloading the GeoBlue app is recommended to access tools such as a healthcare provider and hospital search, medical translations, and prescription equivalents. For questions about the plan, contact the Office of Global Safety and Security.
Travel to Some High-Risk Locations Require Approval by Evacuation Provider
Northwestern's Political, Environment and Natural Disaster (PEND) evacuation and assistance provider is now requiring disclosure of travel plans to 22 countries/locations they deem high-risk, which is based on factors that may make non-medical evacuation services difficult, such as internal strife, terrorism, poor infrastructure, remote location or a weak/unstable government. Although COVID may likely be a problem in many of these locations, it does not factor into this assessment. See the OGSS Evacuation page for more information.
United Break from Business Promotion - Extended!
United Airlines is currently offering a 10% off discount for mileage plus members for personal travel.  This offer has been extended until December 31, 2022.  To learn more about the promotion and how to book, please review this flyer.
Sustainability Highlight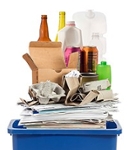 Did you know recycling is a critical element to Northwestern's sustainability efforts? Recycling reduces the amount of waste sent to local landfills and conserves natural resources by making products from existing materials. But putting the wrong items in the bin breaks down this effort. Please be sure you recycle it right by knowing what is, and is not, acceptable  in campus recycling collections.
General Updates
Fall 2021 General Updates
Fall 2021 Updates
Supply Chain Issues
As highlighted in the news for months, the pandemic has put continuous strain on the supply chain.  Our preferred vendors have done a great job prioritizing Northwestern to the best of their ability.  This is a reminder to departments and schools to plan ahead as much as possible when buying goods.  PPS will continue to update staff with additional information when it becomes available.  If you need assistance during these challenging times, please reach out to PPS at procurement@northwestern.edu.
Office Furniture Repairs
Northwestern's Preferred Vendors for office furniture provide more just furniture. Many departments dispose of chairs and other office furniture items due to broken arms, wheels, etc. However, furniture can typically be repaired (or even replaced) for little to no cost if the item is still under manufacturer warranty. If you have items that are in need of repair, please be sure to first reach out to the Northwestern vendor representative to discuss.
For repair needs, contact:
PPS Customer Service Update
PPS is implementing a new customer service unit.  The new customer service unit will be your first line of communication for all inquiries, questions, and concerns for Purchasing, Accounts Payable, Vendor File Management, Corporate Card, Travel, etc.  We are in the beginning stages of training, but you may have already had the pleasure of speaking to one of our Procurement Customer Service Specialist. This team includes Donna Stewart, Allison Buiser, and Patrick Nelson.  New software will also be implemented to assist us in answering questions in a consistent and timely manner.
We are excited to be able to increase our level of Customer Service.  Note that there are no immediate changes to how you currently communicate with the various units within PPS, so please continue with business as usual.  Any future changes will be communicated via email or through upcoming PPS newsletters.  For questions about this new unit, contact Keith Paddy at k-paddy@northwestern.edu.