Free
The following free goods are available.
---
Automobiles
No listings
---
Computers
Computer Equipment - Free
Xerox Phaser Printer Cartridges.  2 colors each are available 8 cartridges in all. Cyan, Magenta, Yellow, Black
Sandra Streeter - sstreeter@northwestern.edu
312.503.0120
The Center For Comparative Medicine
Posted on 2/28/20
---
Copiers
No listings
---
Furniture
Rolling Rectangular Table - Free
4ft x 2ft table on wheels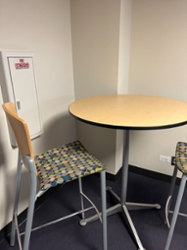 Rebekah Sigman - rebekah.sigman@northwestern.edu
847.491.7530
Communication Studies
Posted on 3/20/20
---
Medical/Lab Equipment
Gate valves - Free

Various high-vacuum gate valves (large)

Max Wisne - maxwellwisne2025@u.northwestern.edu
6146335348
Physics & Astronomy

Posted on 8/16/20
---
Hermle Z 360k Bench top refrigerated centrifuge - Free

Bench top centrifuge. Just tested -system turns on. Not sure if calibrated.

Dina Arvanitis - C-Arvanitis@northwestern.edu
312-503-7139
Cell and developmental biology

Posted on 6/10/20
---
Barnstead nanopure water purifiers - Free
Barnstead nanopure diamond water purifier. Has not been tested. Free.
Dina Arvanitis - C-Arvanitis@northwestern.edu
312-503-7139
Cell and developmental biology
Posted on 6/10/20
---
Rotary Evaporator - Free

Buchi Rotavap; unoperational

Tanushri Sengupta - t-sengupta@northwestern.edu
847.467.3616
Chemistry

Posted on 4/16/20
---
oligo synthesizer - Free
Mermade 6 Oligo synthesizer. Unoperational
Tanushri Sengupta - t-sengupta@northwestern.edu
847-467-3616
IIN
Posted on 3/26/20
---
Miscellaneous
No listings
---
Paper & Office Products
No listings
---
Printers & Scanners
HP Designjet Printer - Free

HP Designject 800PS Poster Printer

Jim Norton - j-norton2@northwestern.edu
3-0064
Medicine/Allergy-Immunology

Posted on 6/19/20
---
Projectors & AV Equipment
Video cameras/camcorders - Free

3 Sony camcorders and case

Rebecca Lonen - rebecca.lonen@northwestern.edu
8474674620
ECE

Posted on 1/31/20
---
Toner/Ink Cartridges
No listings
---