Packing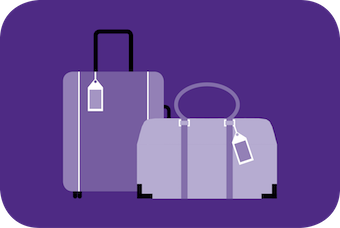 Packing lists are totally personal, but we have included some suggestions below. We recommend that you pack clothes that can be worn in layers: clothes of various weights in solid colors that can be mixed and matched. Also keep in mind that darker colors are easier to keep clean. Research cultural expectations and average temperatures in your host country to guide your packing choices.
Bring your passport (and copies of your passport), a copy of your GeoBlue insurance card, and a list of all of your local and emergency contact numbers and addresses. During the program, keep the originals and one copy safe in your suitcase and keep the other copy on you at all times.
Packing Tips
Less is more. Although the natural tendency is to overpack, you can't—and shouldn't—bring everything with you. You will also want to leave some room in your luggage for souvenirs, gifts, and other things that you will acquire.
Check the baggage policies and fees for your outbound and return flights on the website of the airline that you will be flying in order to avoid being charged for exceeding limits imposed by the airline.
In most program locations, you will be able to find just about anything you may need, but certain items like medication and toiletries should be purchased in the U.S. and taken with you. 

If you take prescription medications, bring a supply to last you throughout the program. Be sure to also pack the prescription note and/or original packaging for the medication. 

All carry-on liquids must fit in a quart size clear plastic bag and be 3 ounces or less. You can put larger items in your checked suitcase. 

It is common for students to suffer from common travel maladies, like gastrointestinal distress, diarrhea, cold/flu, fungal infections, etc., so plan to bring a personal first aid kit with common over-the-counter medicines.
You may wish to bring your preferred brand of toiletry items. Some feminine hygiene products, such as tampons, can sometimes be difficult to find abroad.
If you plan to bring any appliances, like a hair dryer or electric razor, make sure that they function within the local systems. Otherwise, you will need an adapter or converter. This is something you can purchase at a local electronics store.
If you have natural hair and have questions about what to do or how to access products abroad, check out this resource from IES Abroad: Traveling with Natural Hair

Think carefully before packing items of monetary or sentimental value. If you do not need them during your time abroad and would be very upset if they were lost or stolen, you should probably leave them at home. All valuable items should be packed in carry-on (not checked) luggage.
You will need your laptop to do work and communicate with home. Please take the necessary precautions, as your host institution and GLO are not responsible for lost, stolen, or damaged laptops.
You will want to bring a camera, since there will be some incredible photo opportunities. However, you will need to be careful and take proper precautions. Also, be sure to ask permission if you are taking a picture of someone or someone's property.
You may wish to bring gifts and/or souvenirs for people you will meet. These are welcome but totally optional. If you choose to bring gifts, please think about the practicality, sustainability, and durability of those items.
Specific packing lists and suggestions will be provided by your program. 
Luggage
Suitcase with Luggage Tag
Suitcases with a collapsible handle on the top and wheels on the bottom are easier to transport through the airport and city streets.
Airlines typically allow each passenger to check at least one bag for free on international flights.
Tie a piece of string or add a quickly recognizable ribbon or tag on your suitcase to easily identify it on the baggage carousel.
Remember to only pack what you need. You might see a weight limit of 50 lbs. 50 lbs is very heavy to carry up multiple flights of stairs, especially after a long (8-12 hour) international flight.
Carry-On Luggage (small suitcase OR a backpack OR tote bag)
There is typically no fee for carry-on luggage for international flights. Most airlines share dimensions on their website to make sure that the carry-on you bring will fit in the compartment over your airline seat.
Pack a change of clothes, underwear, and socks in your carry-on in case your checked suitcase arrives after you do. You will also want to bring some personal items - an empty water bottle (you can fill up after security), a book, and a toothbrush/toothpaste.
Carry all valuables (money, credit card, passport, identification, tickets, insurance card, laptop) and prescription medication with you in your carry-on luggage.