Student-Athletes
Studying abroad as a student athlete may require additional considerations. From ideal terms for your sport to gym access abroad, we're here to help.
Gym Access for Northwestern Programs
Berlin: Global City in the Center of Europe (summer)
Students often join the Superfit at Karl-Marx-Straße 66, 12043 Berlin, Germany. It is the easiest to access, near students' housing, the most affordable, and has the best equipment. The Superfit is the only gym in close vicinity of housing that accepts monthly plans with no annual payment. You have to pay for 2 months initially when you first sign up which works perfectly since the program duration is 8 weeks. The total cost is 80 euros: 30 per month and a 20-euro enrollment fee. From the students' housing it takes under 10 minutes to get there by train (about 2 stops).
Comparative Public Health: Serbia and Bosnia-Herzegovina (summer)
This program takes place in two cities: Belgrade, Serbia, and Sarajevo, Bosnia. In Belgrade, students must pay a fee to access an on-campus fitness center located in the student center/dorm area. In Sarajevo, students do not stay in the dorms and may not have access to student dorm gyms. In both locations there are several private gyms within walking distance of student residences. These would have an additional fee from the program cost.
Global Healthcare Technologies in South Africa (winter) and Public Health & Development in South Africa (spring)
For the programs in South Africa, Northwestern students do have access to gym facilities at Stellenbosch University. Visit Stellenbosch University's website for more information about its sports facilities.
Public Health in China (summer), China: Political & Economic Development (summer), and Energy Technology & Policy: Wanxiang Fellows Program in China (summer)
Students in Northwestern China summer programs must pay for access to Peking University's gyms and swimming pool. The gym charge is modest. For the pool, a 50-access pass costs 460RMB (about $80). (Other types of pool passes are also available.) Information about Peking University's comprehensive facilities (many were built to support the 2008 Beijing Olympics) can be found online.
Public Health in Mexico (summer)
Students don't have access to a gym at Universidad Panamericana and instead usually sign up for a gym membership at their own cost.
Spanish Language & Culture in Barcelona (summer)
There is no gym at Universitat Pompeu Fabra; students have free access to a bare bones gym in their dormitory. Some students choose to join a gym, but like in the US, that often involves paying an amount at the beginning as well as a monthly fee. There is a pool by the beach, which tends to be a bit pricey. Students usually just run outside.
Note: For programs where gym access is not included as part of the program, additional gym costs are not calculated as part of the overall cost of attendance of the program and thus would not be included in a financial aid package.
Student Experiences
Lauren Clem
Soccer | WCAS 2018 | Public Health & Development in South Africa
How did you make study abroad work as a student-athlete?
I was able to study abroad in the spring quarter of my senior year because I was a fall sport athlete and was done with practices. However, there was a junior abroad who was able to find time to swim while she studied abroad, so if you have a passion to go abroad communicate with your coach and don't let athletics prevent that.
Why did you decide to study abroad?
I wanted to gain a world perspective on the health care field as western medication varies greatly from the rest of the world. This program allowed me to receive credit, gain medical experience, and travel to a new country (with time to see other countries as well).
What was the biggest surprise of your study abroad experience?
The amount of free time and freedom we had to explore other areas/countries and try new activities like hiking, watching professional soccer and rugby games, go on an African safari, etc.
How did study abroad impact your experience at Northwestern?
Study abroad showed me there is a much larger world outside of Northwestern. There is a lot of pressure and stress when you are taking classes at Northwestern, but study abroad reminded me that the experience is what matters. I was able to see how my learning and studying impacted the community we were in which is what having a career in the real world is like as well. I am so glad I studied abroad – changed my perspective and allowed me to relax and enjoy my last quarter at Northwestern.
What advice do you have for other student-athletes considering studying abroad?
DO IT! You won't regret it. Meet people early on and don't hold back. I still keep in touch with people that I met both from Northwestern as well as from South Africa, and I would have never met them otherwise if I hadn't gone abroad.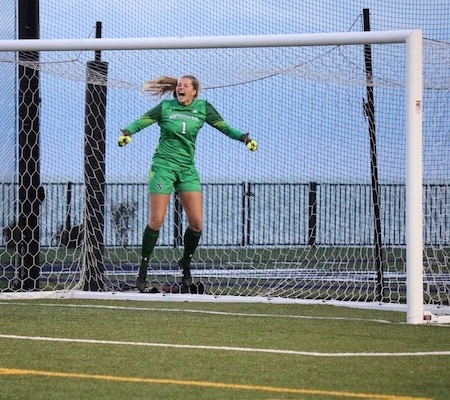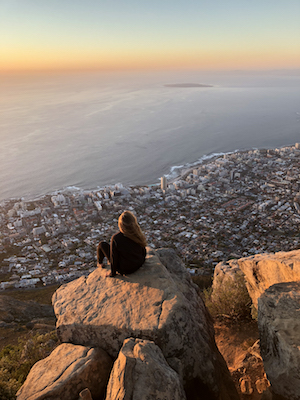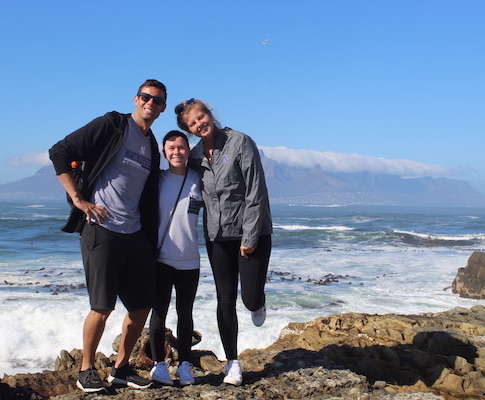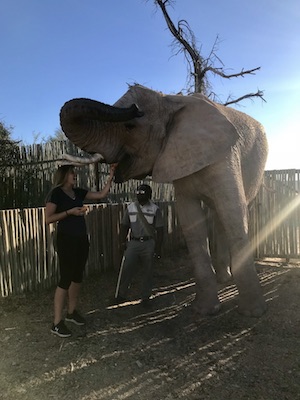 Kim Jerantowski
Soccer | SESP 2018 | Prague: Central European Studies
How did you make study abroad work as a student-athlete?
Considering that I played on the women's soccer team, a fall sport, I decided to study abroad during the winter and half of the spring quarter during my senior year (a typical semester schedule). For fall sport athletes who aren't pursuing a professional athlete career, the winter and spring are wide open in terms of sport obligations as we are no longer required to participate in our sport's duties. I debated extensively on doing it because I would be missing out on much of the second half of senior year, but I decided this was a great opportunity that I couldn't pass up.
Why did you decide to study abroad?
I decided to study abroad because I knew that after soccer was over, I would be bored and have nothing to do for the winter and spring quarter of my senior year. I also knew I would be experiencing some nostalgia and be jealous of my younger teammates who were still playing. I also felt like I needed to figure out who I was without soccer. I used my study abroad experience to keep my mind off of soccer, get out of my comfort zone, and be completely separated from Northwestern as a whole. Additionally, the program I was in was set like a semester schedule, so I didn't miss much while abroad. In other words, I came back from Europe in mid-May and was pretty much already graduated because my classes abroad were finished… and it was a month before graduation! There was a stretch of days where I just wished to be with my teammates, but everyone experiences homesickness at some point during their time abroad, plus social media and FaceTime really help people stay connected.
What was the biggest surprise of your study abroad experience?
The biggest surprise of my study abroad experience is that I didn't meet any other Division I student-athletes while abroad, and there were rarely seniors. Most of the students were not athletes or if they were, they were from Division III schools. At Northwestern, the student-athlete community is very tight-knit and so being surrounded by non-athletes was actually a refreshing and eye-opening experience for both me and my friends. The people that I met abroad thought it was cool that I was a student-athlete and it was interesting to hear about their experiences in Greek life or other clubs and realize there weren't that many differences in terms of relationships made and required obligations. I actually enjoyed not being around student-athletes for once.
How did study abroad impact your experience at Northwestern?
My study abroad experience was absolutely unbelievable. I ended up traveling to 12 countries and 26 cities! I enjoyed every minute of it and learned so much about myself that I wouldn't have learned if I didn't study abroad. I had a great experience being a student-athlete and my study abroad experience just contributed even more to my experience at Northwestern as a whole. I have no words to describe how much I loved it.
What advice do you have for other student-athletes considering studying abroad?
If you decide to study abroad during a time where you are still an eligible student-athlete, I recommend talking about it with your coach first. I had another teammate who studied abroad in the summer, a time where we are obligated to train for preseason, and she coordinated with our trainers to come up with a plan so that she could come in ready for preseason with the knowledge that she may not have the training resources she would have in the US. The only other advice I have is that if you're a student-athlete debating about studying abroad, DO IT! It was the best decision I ever made and was a great way to end my college career.