What is a Passport?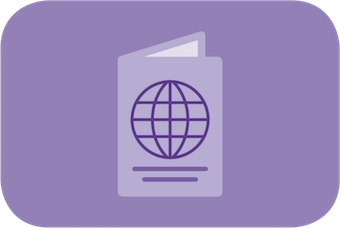 A passport is a document issued by your national government proving your identity and nationality. Almost all international travel requires that you have and carry a passport. For citizens of the United States, passports are issued by the US Department of State and allows you to:
travel or temporarily reside in a foreign country and access all lawful local aid and protection
access US Consular services and assistance while abroad
re-enter the United States upon your return home
For most international travel, a passport must be valid for a minimum of 6 months after re-entry to the United States. If you don't have a passport or it expires sooner than 6 months after your return, you should apply for one right away.  It is never too soon to get a passport. 
How Do I Apply for a Passport?
You can apply for a passport in person at the Evanston post office. In addition, you can find other locations using the US State Department's Passport Acceptance Facility Search Page.
First time applicants should follow the instructions listed on the US State Department's "Need a Passport" page. Applicants must bring their completed application, photos, required documents, and forms of payment to apply.
Those looking to renew an adult passport should follow the instructions on the US State Department's "Renew my Passport" page. For citizens over 16 years of age, a passport is valid for 10 years.
Typical processing time: 4-6 weeks
Photos: For passports, ID cards, visa applications, and to bring abroad. 


CVS: 1711 Sherman Ave
Evanston post office 
The fee to receive or renew a passport is between $130 to $165, depending on type (see the US State Department's Passport Fees). Apply for a passport as soon as possible; expedited services are an additional $60.
Special Note for Non-US Citizens
Contact the Northwestern Office of International Student and Scholar Services at (847) 491-5613 immediately to ensure you understand any INS requirements. Make sure you do not jeopardize your residency status by participating in a program abroad.