Navigate the Airport
Checking In
Follow the signs for departures as you enter your terminal.
If you have bags to check or still need to print your boarding pass, go to the ticketing counter or the check-in kiosk for your airline.
When it's your turn, the agent will want to see your passport and your confirmation number.  They will print your boarding passes and check your luggage. The agent will tell you your gate number, which will also be printed on your boarding pass.
Tips:

Do not lose your boarding pass!
Do not throw away the little stickers they give you that are keyed to the stickers they put on your luggage. These will help the airline locate your luggage should it get lost in transit.
As you progress through security and to your gate, it helps to check the display monitors regularly to make sure your flight has not been delayed or changed gates.
If there is less than an hour to your flight and you are in a long line, tell an employee of your airline that you have to board soon and see if they can help you get further up in the line.
Going Through Security
The airline agent will direct you to the closest security line. Keep your boarding pass and passport handy!
Show your boarding pass and passport to the agent at the podium, and get into line for the security check.
Make sure you don't have any full bottles of water (empty are fine) or other liquids over 3 oz

—

TSA will make you throw them away. Liquid items 3 oz or less should have been packed into quart-sized Ziploc bags before you left for the airport or packed in your checked luggage. 
When directed to do so, take off your shoes, unpack electronics, take off jackets and bulky sweaters, and remove all metal objects from your pockets. Put everything in the bins TSA provides and then place the bins on the rollers to go through the scanner.
Place your carry-on bags on the same rollers.
Go through the body scan or metal detector. You can always request an individual pat-down if you don't feel comfortable going through the body scan. You might also be randomly selected for a pat-down, so be sure to comply with the TSA agents directing you. It will depend on the status of international safety concerns at the time of your trip.
Make sure you collect all of your things from the bins and all of your bags.
Getting to Your Gate
Once you are through security, find the nearest monitor so you can again make sure your flight is on time and your gate has not changed.
Find an overhead sign that lists gate numbers and reorient yourself to how you will get to your gate. Very large airports often have trams within concourses to help you get from, say, gate A1 all the way down to gate A62.
Go to your gate so you know exactly where it is before you stop for snacks, drinks, or other sundries.
When you find your gate, check the display behind the desk to confirm your flight number and time—these displays might get updated before the monitors in other parts of the airport. You should also listen carefully to the public address system whenever you are near your gate, since the announcements they make are likely to affect your flight.
If Something Goes Wrong
Missed Flights and Connecting Flights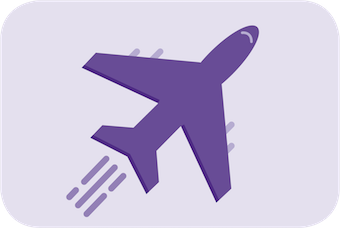 If you are through security but miss your flight for whatever reason, go to your gate agent and ask them to assist you. If you miss your flight before you go through ticketing or security, go to your airline's ticketing desk for assistance.
If you have a connecting flight, you might have received your boarding pass for the second flight when you first checked in, or you might have to get a boarding pass when you arrive at your connecting airport. If the latter, find out ahead of time where at the connecting airport you need to go to get your second boarding page. In either case, try to find out the gate number for your connecting flight so that when you land and de-plane you know whether you have to switch gates, concourses, or even terminals (which is likely with international flights).
Lost Luggage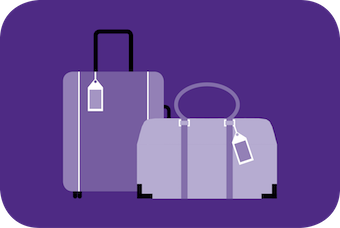 If your checked luggage is not at the baggage carousel for pick-up after your flight, follow signs in the baggage pick-up area to the place where you should report lost luggage. Be ready to show the sticker you received when you checked in your luggage, as this is how they will track your bag(s). You must speak with someone at the airport about your luggage before you leave the airport.