Current News
This page provides procurement-related news including featured stories from our Dollars & Sense newsletter, current updates related to our Preferred Vendors, and upcoming events. You can also view News Stories By Year or view Back Issues of our newsletter for more information. 
Featured Stories
Regular Features
New Contracts
Procurement and Payment Services (PPS) conducts many Invitations to Bid to establish contracts for use by departments and schools. These contracts may be for use by all departments and schools, which are Preferred Vendors, or they may be contracts for use by specific departments and schools. Contracts are established based on the results of a formal, competitive Invitation to Bid process. See the Preferred Vendor List for more information on all vendor contracts.
Recent Contracts Established by PPS
Recent Contracts Established by PPS
Alumni Relations and Development CRM Solution – Salesforce Core, Salesforce Marketing Cloud, and UC Innovation Ascend
Alumni Relations and Development CRM Online Giving Tool – GiveCampus
Alumni Relations and Development CRM Event Management – Blackthorn
Alumni Relations and Development CRM Implementation Partner – Attain Partners
Evanston and Chicago preferred hotels
Existing Contract Updates
Updates to existing contracts established by Procurement and Payment Services (PPS) may include new contact information for dedicated representatives, service updates, and newly available products. For questions about these updates, please view the individual vendor pages on the Preferred Vendor List or contact PPS at 847.491.8120 or procurement@northwestern.edu.  
Recent Changes Made to Contracts Established by PPS
Recent Changes Made to Contracts Established by PPS
Ready Refresh Contract Update
Northwestern University has agreed to a cost increase for the Preferred Vendor Ready Refresh for drinking water.  This is the 1st increase in over 5 years for the service.  The cost changes will be implemented on September 1st, 2023. The increases are primarily due to increase in wages for delivery drivers and internal personnel, as well as an increase in the cost for fuel and other resources.
In place of a delivery service for water, Ready Refresh also provides a filtration system that not only boosts the green initiative (reduction in fleet vehicle footprint, gas usage, and emissions), but could possibly result in a cost savings for the individual departments. It is encouraged by Northwestern University that departments adopt this water delivery method in lieu of bottled water delivery service.
Ready Refresh has made it easier for departments and schools to pay invoices related to the service through an on-line portal.  This will prevent delivery from being suspended to non-payment. Please visit Ready Refresh's Vendor Page and click on the link in "How to manage your account and invoices".
Ready Refresh also offers annual cleaning for a discounted price for Northwestern.  In order to receive this discount, departments and schools must contact the dedicated service representative, John Martin, to arrange service. 
If you have any additional questions, contact Julie Maul at julie.maul@northwestern.edu or 1.5321.
REACH Media Extension
The Preferred Vendor agreement with REACH Media (for digital signage software) has been extended for another three years. The new contract expiration is 9/1/26. REACH Media software can display customized information and content to television monitors throughout both NU campuses. In addition, widgets allow for integration with data feeds such as time/weather, maps (including the NU shuttle tracker & the CTA Bus Tracker), sports scores, social media accounts, websites, and the NU Emergency Notification provider. See the REACH Media Network Preferred Vendor page for additional information.
Business Cards and Stationary Print Items – Changes
Active company who we have a contract with for Business Cards and Stationery has been acquire by Envision. Envision will not honor the Active company contract as of August 31, 2023. Global Marketing and Communications is looking into other sources for all schools and departments. If you need business card for the Fall 24, you should place your order through Active before August 31, 2023.
Contracts We're Working On
Procurement and Payment Services (PPS) is always working to establish Preferred Vendor contracts that best serve the needs of all Northwestern departments and schools. These are a combination of new contracts and timely rebids of current contracts. For questions about these or other bids, please contact PPS at 847.491.8120 or procurement@northwestern.edu.
Desktops and laptops
Shuttles
Maintenance, Repair, Operational Supplies
Travel partners
Office supplies
Construction pre-qualified program refresh
Staffing pre-qualified program refresh
Electronic recycling
Alumni Relations and Development CRM Analytics Partner RFP
Northwestern IT Secure Enclave RFP
Northwestern IT Data Protection Platform RFP
Registrar Registration System RFI
Travel Related
For travel related questions, please contact Kathy Koestring.

Travel Related Updates
Egencia Training at your Fingertips!
 A link to Egencia's Training Hub is now available in the Favorite Links section of your home page in Egencia. There are modules for new users (Travelers) and new Arrangers. There are pre-recorded webinars on subjects including the new Guest Management process, how to manage groups and meetings, and how to create a case when something has not gone as planned and you need help. This is a great tool in your Egencia toolbox!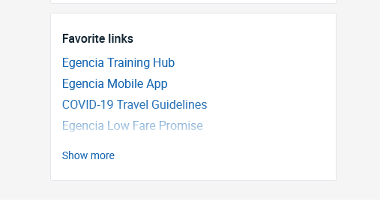 Egencia's customer service phone numbers are changing in mid-September. Stay tunes for new numbers in our Fall edition.
________________________________________________________________________

What to do if there is a mishap at a hotel check-in with an Egencia reservation? Have the front desk manager reach out to Egencia to receive a new virtual credit card number.

www.hotelsharedservices@Egencia.eu
GOING, GOING, GONE!
At long last, it's finally happening! On August 15, your Legacy Guest profile in Egencia will be deleted. If there is travel attached to your Legacy profile, the file will not be deleted until that attached travel is completed but you will not be able to book new travel with that profile. After August 15th, all guests must be registered in Egencia. Here's how to do it:
All Guests Must Now be Registered in Egencia
Egencia has a new policy requiring guests to be registered in Egencia. This means creating a profile for each guest in-order-to book their travel.
For those of you with "legacy" (guest) profiles, and you know who you are, you may still use these profiles to book travel for guests without registering them. Egencia is phasing out these coveted profiles and will no longer issue new ones.
To register guests in Egencia, you must be designated as an "Arranger" and a "Guest Manager (New)" in your profile. A "Travel Manager" can update these roles for you in Egencia. If none of your department admins have that designation, please send a message to travel@northwestern.edu and we'd be happy to do it for you.
There are three options for registering guests. Two of them involve inviting the guest to help complete their profile. This is convenient when you are registering grad students who will be booking their own travel, for instance, or for guests who may have sensitive information to input, like a passport number, who may prefer to add it themselves. The third method is to register the guest on your own without the assistance of the guest. This is great when registering VIPs, where it might be awkward to ask them to participate the registration process.
Steps for Registering Guests in Egencia:
Go to the "Tools" heading on the Egencia home page.
Under "User Management", click on "Guest Booking".
When that page opens, click on the "Create New Template" button in the upper right-hand corner.
When this page opens, complete all mandatory fields. Skip "Approver" fields.
Once complete, scroll to the very bottom of the page where it says, "Create Guest User Profile" and click on it.
You can use the same template for 90 days or 50 guests, whichever comes first.
Please contact us if you have any questions.
---
Egencia Promises Better Business Travel
The Egencia Promise is a pledge to you that every trip is as successful, rewarding and pleasant as possible. They are there to help every step of the way.
If you find a lower fare for flights booked through Egencia, Egencia will cancel the flight you booked and rebook you on the less expensive flight for no charge. See Terms and Conditions (Click on the Egencia Promise link at the bottom of the Egencia home page).
If you arrive at your destination and find your car or hotel reservation is missing or inaccurate, we'll work with the supplier directly to secure a hotel room or car that is comparable. In fact, if any part of the trip does not meet your expectations, we'll work with our partners to make it right.
If inclement weather threatens the safety of your trip, we'll contact you with advance warning, offer you the opportunity to change your travel plans and find an alternative itinerary that suits your needs and budget.
If you need assistance, we promise to make customer service our top priority by providing you with experienced corporate travel agents around the clock.
If you provide us with your personal information, we'll manage the security and confidentiality of your information. Egencia Privacy Policy
Sustainability Highlight
SustainNU's
Green Labs Certification Program
has kicked off and is accepting inquiries from labs on campus. The certification engages campus partners in best practices for sustainable lab management and operations, including sustainable purchasing practices.
Learn more here
!
Small Business Spotlight
Procurement and Payment Services has established an agreement with Multilingual Connections.  They are a small, woman owned business located right here in Evanston that provides translation, transcription, subtitling and captioning, voiceover, and telephonic interpretation services.  They are a leader in this industry and provides these services at a very competitive price.  If you find a need for these services, look no further than Multilingual Connections by contacting Carlos Hevia at (815) 993-8828 or carlos@mlconnections.com.  More information is available in the PPS Preferred Vendor List, as well as Multilingual Connections website.
General Updates
iBuyNU Updates
Apple: Some iBuyNU requestors were recently having trouble accessing the Apple punchout catalog. Some requestors were unable to see certain products or pricing, and some were unable to access the catalog. Apple added our email domain to their system which has resolved the issue.
Amazon or Evanston Marketplace: After checking out of Amazon or Evanston Marketplace catalogs, some Firefox users may be routed to a log-in screen in error. If you experience this issue, please follow our browser error solution steps, found on the iBuyNU webpage.
If you have any questions or continue to experience issues, please contact
Keith Paddy
.