Norris Events
April 17, All Day
Norris University Center, 1999 Campus Drive
Register now for Spring leisure learning classes. Most classes are virtual, exception- Beginning and Intermediate Wheel ...
April 17, 10:00 AM - 10:00 PM
Norris University Center, 1999 Campus Drive
Renaissance Forged points us to look forward to a new world. 
April 17, 1:00 PM - 2:15 PM
In this course learn how to draw character faces and eyes, expressions bodies and basic proportions along with hands and...
Announcements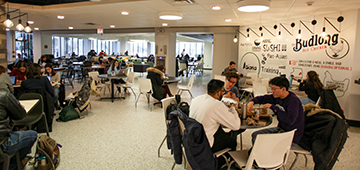 Monday - Saturday, 8:00 am  - midnight
Sunday, 10:00 am - midnight

Where Should I Go in Norris?
We have created this quiz to help you find your way. 
Answer these questions to help determine where you should go in Norris, based on your needs and interests. Will it be ARTica to paint bisque? The Gameroom to play pool? Starbucks to grab some coffee? Let's find out!