The space we occupy: Reflections on time in Peru and Bolivia
The Space We Occupy: Reflections on Time in Peru and Bolivia
By Gabi Czochara (Weinberg '21)
October 29, 2020
For Northwestern senior Ruby, study abroad was always at the forefront of her mind when applying to universities, "I've been thinking about studying abroad since I've been accepted into college...even before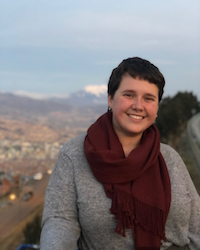 applying I'd check out Northwestern's study abroad page, it was such a priority in my undergraduate experience." When Ruby began looking through summer study abroad programs during her freshman year, she was certain she wanted the program to include complete Spanish immersion.
Northwestern offers several Spanish language study abroad programs in the summer, but Ruby was set on studying in the Americas. Much of the curriculum in Northwestern's Spanish department focuses on Spanish literature and culture, and while the Spanish language comes from Spain, she identified that it is also crucial to engage with Spanish-speaking neighboring countries in the Americas, especially because of the large Hispanic population in the US. While Spain is one of the more common study abroad destinations at Northwestern, Ruby points out that when choosing a location,
"People should really examine their own intentions and positionality and the systems that are at play."
Ruby finally found an unaffiliated Spanish language program located in Cusco, Peru to be her best fit for her first study abroad experience. She spent ten weeks with a homestay family and attended Spanish classes, fully submerging herself in Spanish language and Peruvian culture. She recognized how much she had been able to absorb during that period of time near the end of the program when she and her classmates went to watch a movie in Spanish at the movie theatre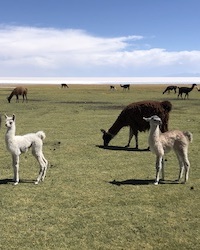 "It was this moment that I realized that all of it has been worth it because my level of improvement was at the point where I could just go out and go to movies with a group of friends."
            Upon returning to the US, Ruby already began thinking about her next study abroad experience. Throughout her first three years at Northwestern, she has taken all the courses focusing on Native American and Indigenous studies that she could, despite there not being an official minor until this year. She recognized the weight of taking these courses in her own home state of Arizona when, while taking a Kaplan course, she realized that her whole life she had lived only ten miles away from a reservation.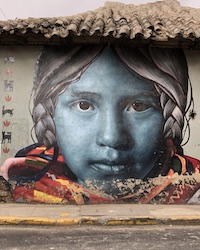 "Being 18 and in Illinois and learning that I lived 10 miles away from a reservation and I never knew because there was no conversation in my household, there was no conversation at all throughout elementary, middle school, high school in my public education...there was no mention whatsoever of Native peoples in the white bubble I was raised in… it radicalized me."
She decided to develop her interest and knowledge in Indigenous studies through studying abroad in Bolivia, a country with one of the highest indigenous populations in the world, during the fall quarter of her junior year. During that time, however, Bolivia was beginning to experience political turmoil due to the upcoming presidential elections. President Morales, who was the sitting president, was running for his third consecutive term, one over the legal limit. Morales brought his reelection case to court and they ruled that not allowing him to run violated his constitutional human right. 
This ruling caused Bolivians to grow uneasy, including those who had previously voted for and support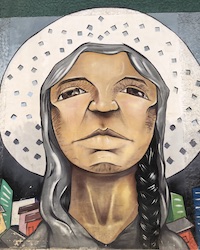 ed Morales," as Ruby pointed out, "these people had lived through a dictatorship." Initial unease quickly escalated as live ballot count updates went dark for 24 hours and rumors began circulating from the confusion. Soon after, people began blockading and protesting in the streets, demanding answers. A few days later Ruby and her study abroad peers had to move to another location in Bolivia in a Catholic retreat center, away from the protests and their host families. As tensions continued rising, she spent her 21st birthday at the center and had to say goodbye to her host family that same day:
"It was so sad, they met me at the Catholic retreat center and they brought gifts, some art I have hanging up and my host mom brought me a mango… it was the best gift," Ruby remembers.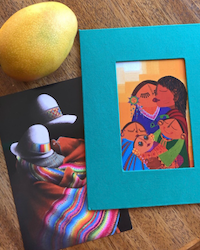 After only a week at the safer location, they had to fly out to Argentina, just as tensions and violence began to rise, and finished the program there. Ruby, however, wasn't quite ready to go home after such an abrupt goodbye.
"I went back to Bolivia for a week after the program ended and had so much closure with that… I'm so glad I was able to do that, " concluded Ruby. 
Upon returning to the US, Ruby thought a lot about both how to process her experience as well as how to talk about it to others. She identified a tension in the role she had when sharing her experience with others, stating 
"You have an opportunity to break someone's stereotypes, but then at the same time I shouldn't be presenting myself as a representative of everything Bolivia because I studied abroad there for two months."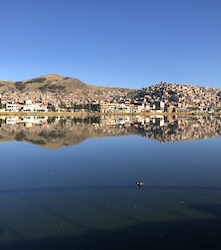 Becoming a GLO Ambassador helped Ruby find a structured space where she could have these conversations, where she would be able to talk about these things "in the full nuance" and share some of the other lived experiences that have been shared with her. Ruby encourages students who are thinking about studying abroad to really look into their specific situation and the resources offered at Northwestern, because it is often more accessible than people think. 
For Ruby, studying abroad allowed her to know a little bit more about what she didn't know by learning about other perspectives, reshaping her understanding of the cultures she engaged with.
"Studying abroad is so crucial...everyone should do it."