Talking Trash: Learning About Community Solutions Through Study Abroad in Guatemala
Talking Trash: Learning About Community Solutions Through Study Abroad in Guatemala
By Saya Federbush (SESP '22)
May 4, 2020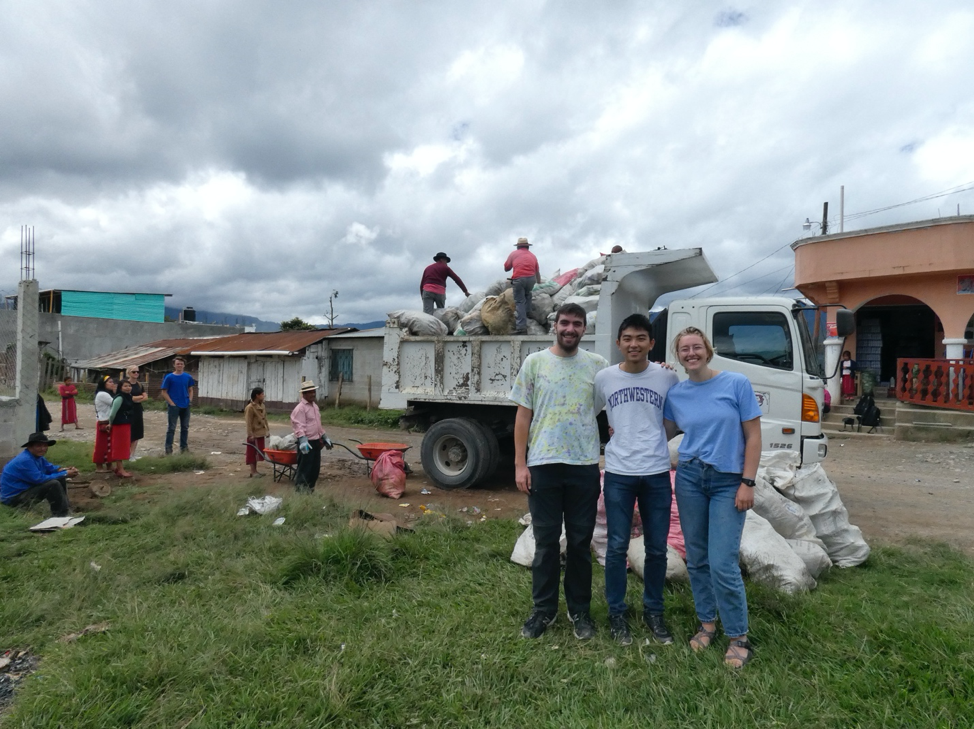 Northwestern students were excited to talk trash.  
During the summer of 2018, Leah Dunlevy (Medill & Weinberg '19), Amos Pomp (Weinberg '20), and Jason Kwon (McCormick '20) participated in the Global Engagement Studies Institute (GESI) program in Guatemala, where they partnered with community-based NGO Soluciones Comunitarias (SolCom) as interns while earning academic credit. The interdisciplinary student team learned about community consulting and local entrepreneurship, ultimately establishing a trash collection service in La Pista by working with local government and partner organizations.
A Unique Challenge
SolCom began in 2004 as a social enterprise that implements social innovations to improve the economy and health of community members around Latin America. SolCom's work ranges from training women entrepreneurs to sell life-saving technologies like eyeglasses and water filters to working with nonprofit organizations like schools to provide training in health contexts and more. With locations in Guatemala, the Dominican Republic, Haiti, Mexico, and more, the organization strives to achieve a level of auto-sustainability in each community they work with.
As the GESI Guatemala site director and Social Entrepreneur Corps Guatemala site director, Lucas Burchell welcomes, orients, and trains GESI interns each summer as they arrive in-country and begin to learn about the community's culture and goals. Burchell also serves as one of the students' supervisors throughout the summer. 
"Amos, Leah, and Jason demonstrated a high level of humility, resilience, and entrepreneurial spirit," Burchell recalled. For Burchell, this resilience and passion is essential to the fluidity and innovation SolCom needs to best support the communities, methods of communication, and infrastructure that continually evolve throughout Latin America.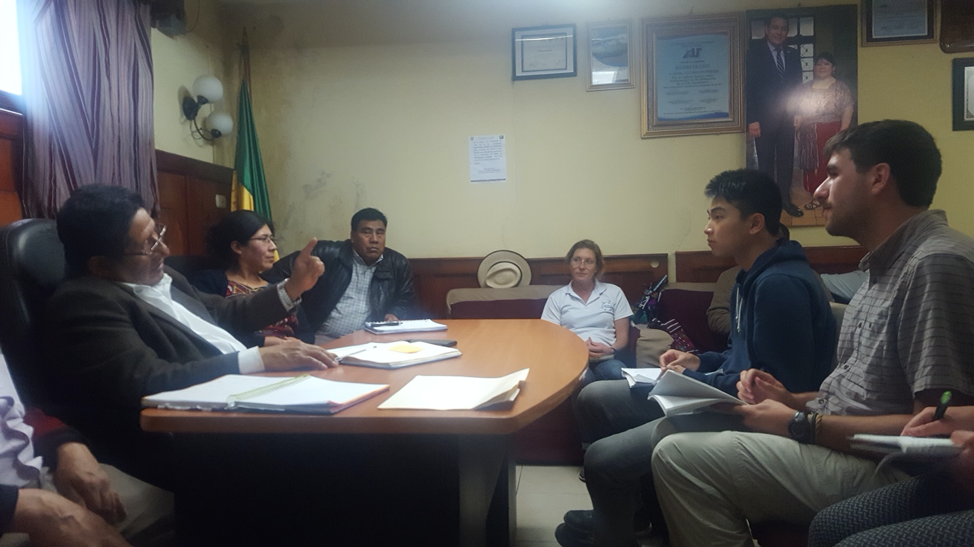 "At first, we were a bit overwhelmed," Pomp said. The interns had a lot on their plate upon arriving at the SolCom office in Guatemala, meeting with various community organizations and project leaders to determine what exactly their role would be as interns for their host organization.
The students learned that because La Pista, a small community near their host families in Nebaj, had never established a formal trash collection service, its residents were forced to burn, bury, or throw their trash in the streets, which causes a plethora of health and environmental problems. Through door-to-door surveys, the GESI interns learned that the residents of La Pista wanted a better, more sustainable way to dispose of their trash. The interns were tasked with making this vision a reality.
A Community-Based Solution
By working with SolCom, the mayor and community leadership in La Pista, the municipality of Nebaj, and Centro Explorativo, an education enrichment organization in La Pista, the students came up with a goal to initiate a pilot run of a sustainable trash collection service before their departure at the end of the summer. 
"It was challenging because there were so many stakeholders involved," Kwon said. "However, I think the challenge meant that there was also the opportunity for the program to be impactful and far-reaching in the community."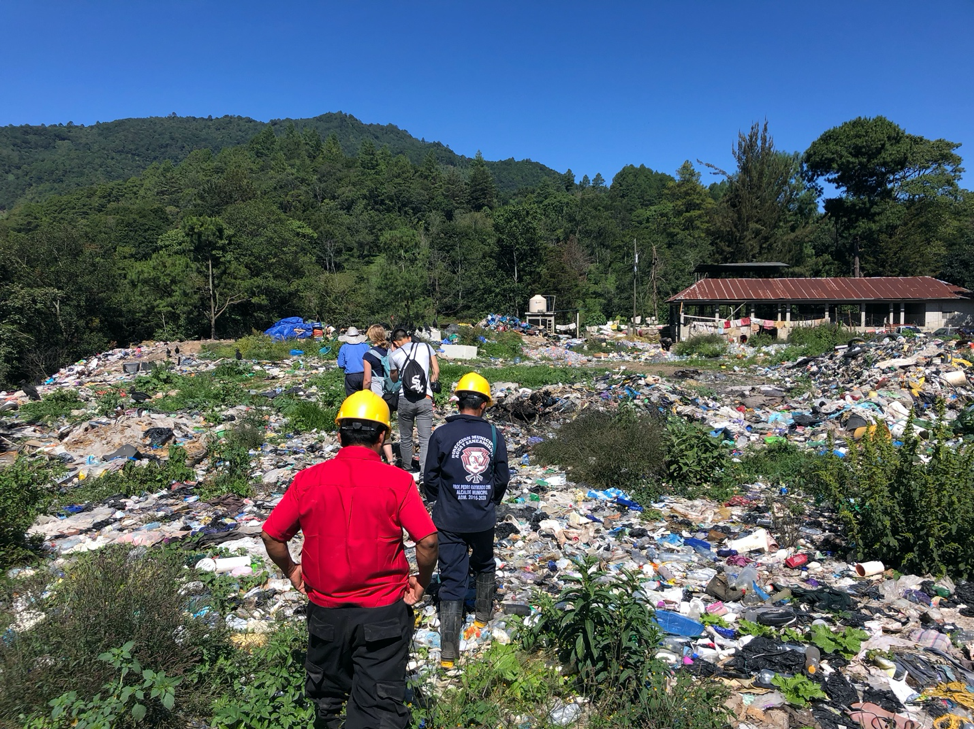 Over the course of two months, Dunlevy, Pomp, and Kwon observed and recorded how the current trash collection system in the nearby municipality of Nebaj worked, trying to figure out the best way they could build on the existing institutions to create a new, optimal program in La Pista. They created a deliverable document, written in English and Spanish, outlining the process of starting the service as well as suggested areas for expansion to be given to government officials in town.
The GESI team prepared for the launch by hanging signs throughout the town and collecting money from storeowners to support the effort. On the first day of the new trash collection pilot program, dozens of families in the village transported trash from their homes in tuktuks to the town soccer field, the designated central collection point.
La Pista's mayor, village representatives, and other community leadership were pleased with how the service went, and even more pleased with the students' strategy of community engagement, education, and incentivization. 
"En el pasado, ONGs internacionales vinieron aquí e hicieron algunas jornadas de recolección de basura. Todo fue gratis, y después de un mes se fueron y no dieron seguimiento. Los servicios se pararon," said Pablo Gallebo Coblo, mayor of La Pista. "El trabajo de los estudiantes fue diferente y nos involucró mucho, y con eso tenemos confianza que vamos a poder dar seguimiento y continuar el servicio para nuestra comunidad en el future."
Continued Engagement
Curious to learn how the program had continued after their departure and inspired by their summer work abroad, Dunlevy and Pomp received an Undergraduate Research Grant from Northwestern's Office of Undergraduate Research to return to La Pista four months later. They learned that although their trash collection service had been continued, increasing participation remained an issue for the town.
In their research project, Trash Collection Service Participation in La Pista, Guatemala: A Community Survey, Dunlevy and Pomp analyzed barriers to participation in the community and provided further recommendations to the government on how to improve the trash collection service.
Between trips to La Pista for surveys, Dunlevy and Pomp were thrilled to celebrate Christmas with their summer host families, marked by citywide fireworks at midnight, tamales, and visits from extended families. They also had the chance to reconnect with other people they had worked with during the summer.
"It was really wonderful to see that their dedication and passion to support Guatemalan communities led them back to Guatemala after the program," Burchell said.
Today, the trash collection service continues. Local community leadership and SolCom staff believe the current trash collection service will provide a platform to develop future initiatives and education programs.
"Movements usually take time to grow and nurture, which is why we don't frequently see immediate results in development work," Burchell said. "The efforts of Jason, Amos, and Leah laid the groundwork for an environmental movement unprecedented in La Pista and the vast majority of communities in La Pista. Because of their efforts there is a trash recollection service, and tomorrow, who knows!"
Future Directions
After graduating from Northwestern in 2019, Dunlevy continued her community-based development and research experience in Rwamagana, Rwanda as a Princeton in Africa Fellow doing environmental education. Dunlevy's experience with GESI "fundamentally changed my academic and professional trajectory. I developed a far more nuanced understanding of the challenges of working abroad and in different cultural contexts, and also gained pre-professional experience in a variety of different areas that I would have never gained otherwise."
Pomp, who has been working as a Program Leader for Chicago Voyagers since October 2019 and will be transitioning to full time after his graduation in 2020, also believes that the GESI experience will impact his professional career down the road. "Learning about my own communication strengths and weaknesses and patience levels and adaptability through my work with GESI [was] helpful," he said. Pomp also continued his connection to GESI as a Student Instructor, helping prepare the summer 2019 GESI cohort for their own in-country experiences.
Kwon, who also graduates in 2020, plans to work as a technical solutions engineer at Epic Systems. He believes his GESI experience had a profound effect on his career, as well as his outlook on life. "Learning how to use my strengths in the most impactful way possible is a skill I learned through GESI, and it has helped me tremendously since," Kwon said. "The experience of working collaboratively on a high-impact project has prepared me for any challenges I may face in the future."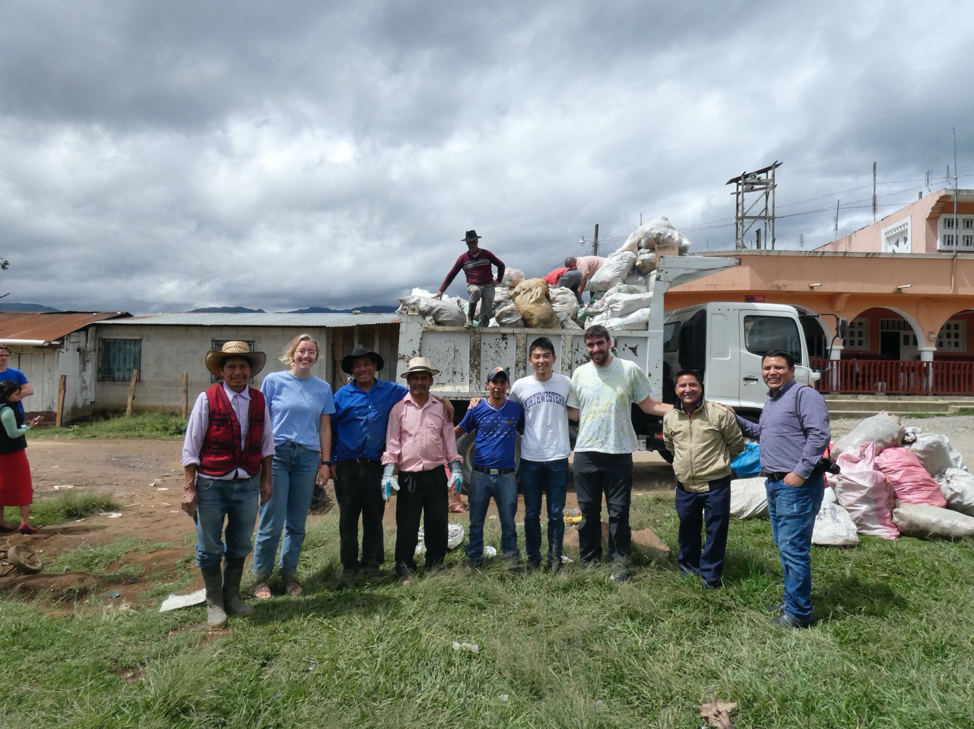 Captions for Above Photos:
Dunlevy, Pomp, and Kwon meet with the Mayor of Nebaj (left) to request permission to use Nebaj's dump trucks and access the Nebaj Municipal Dump.
The GESI interns visit the Nebaj Municipal Dump to listen to the workers discuss current challenges with the dump and how future plans might help waste control as municipalities across Guatemala seek to reduce waste by banning plastics and other non-biodegradable products, reusing shopping bags and other resources, and recycling.