Easy as 1, 2, 3: Gabriela Czochara Reflects on Multiple Study Abroad Experiences
Easy as 1, 2, 3: Gabriela Czochara Reflects on Multiple Study Abroad Experiences
By Margaux MacColl (Medill '20)
Oct 26, 2020
When Gabriela Czochara (Weinberg '21) first arrived at Northwestern, she didn't think she would be able to study abroad, and she certainly never dreamed she would study abroad three times.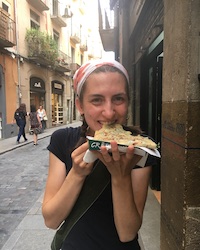 "I was looking at the price tags," she said. "And I was like, I need to figure this out."
Czochara began attending workshops and accessing resources from the Global Learning Office aimed at helping students find funding for study abroad. She also worked with the Financial Aid Office
to learn how her financial aid package would apply to study abroad and applied for every scholarship she could.
"I was actually surprised at how easy it was," she said. "I realized how many options there are."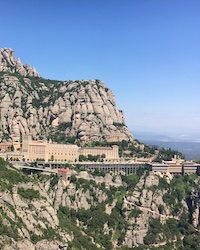 Wasting no time, Czochara received enough aid to enroll in the Spanish Language & Culture in Barcelona program during the summer after her freshman year. It was Czochara's first time traveling abroad alone, and a perfect chance to work on her Spanish minor. She had a great time, making new friends, going to museums, and improving her language skills. 
By the end of her six weeks in Spain, Czochara was hooked on study abroad. 
Growth Beyond Limitations
The following summer, Czochara studied abroad in the Ixil region of Guatemala through the Global Engagement Studies Institute (GESI) program, in which students earn credit while interning with community-based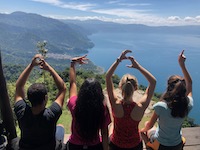 nonprofits and NGOs across the world. Czochara, who received a scholarship that covered her program fee and international flights, matched with an organization called Soluciones Comunitarias and worked with the community to increase environmental awareness.
Unlike her experience in Spain, in Guatemala, Czochara was counting down the days until she went home. There were the physical challenges—the culture shock, the food poisoning, the struggle to communicate with her host family. And then there were the mental challenges.
GESI places an emphasis on critical thinking; the program asks students to constantly reflect on how to ethically work at nonprofits abroad. Challenging questions often ensue.
"We talked a lot about what we felt comfortable with and what we didn't," Czochara said. "What is the purpose of us being here? Why does this NGO need us? Or do they even need us?"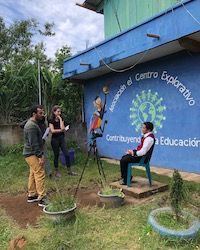 Czochara spent much of her time in Guatemala grappling with these big questions. But although she found GESI more personally difficult than the program in Barcelona, Czochara doesn't regret a thing.
"What I previously thought were my limits ended up not being my limits. I was capable of more than I thought," she said. "In the end, it was honestly the most rewarding experience."
Czochara's cohort of six became extremely close and formed a supportive environment that would help each other through culture shock and homesickness. She remembered a triumphant moment at the end of the program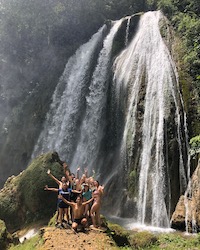 when they all hiked through nearby mountains.
"It was super sunny and everyone was in a really good mood. We were walking with one of our program instructors, and he stopped us and said 'listen,'" she said. "We could hear the Quetzal singing."
The Quetzal, Guatemala's national bird, is often elusive, hiding in foggy areas. Czochara described the moment as "beautiful"— finally hearing the turquoise bird's song after seven weeks in the country.
She still talks with her GESI cohort regularly, reminiscing about their time together.
"We'll just be laughing the whole time because of how many crazy adventures we had," she said. "I'll be talking about it forever."
A Shift in Mindset
A few weeks after she completed her second study abroad program, Czochara hopped on yet another international flight. However, this time her motivations for studying abroad were different.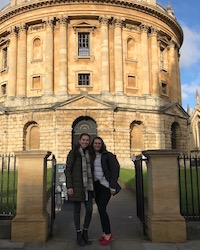 "I didn't feel very confident in my writing skills," Czochara said. She wanted a program that would push her academically. "My main goal was to come back a better writer."
She decided on the Oxford University Visiting Student program because of its tutorial system, in which every student works a tutor one-on-one. Czochara understood it would be intense—course requirements often include writing two essays a week—but she believed it would be a good fit for her academic goals.
That didn't mean she wasn't nervous. On her first day, she couldn't stop shaking.
"I was like, oh my god, this is some amazing professor and I've never met him and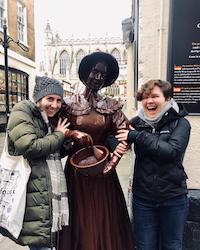 it's a one-on-one tutorial. It was so intimidating," Czochara said.
But her fears were quickly eased. Her tutor noticed she was struggling with her writing and put her essay to the side.
"He was like, okay, let's just talk about you. Who you are as a person, why you study English," she said. "It felt so nice to have someone who's supposed to be this intimidating instructor talk to you like you're a human being, and genuinely be interested in making you a better student and a better writer."
This interaction prompted a shift in Czochara's mindset, from writing for a grade to writing to truly improve her craft. She described a happy few months of constant writing, tucked away in corners of Oxford's towering library or sipping tea at the many cafes.
Initially planning to stay at Oxford through the fall, Czochara enjoyed her time there so much that she received special permission to extend her studies at Oxford through winter quarter.
"It was hands down my favorite program," she said.
"Worth It"
Czochara credited her multiple study abroad experiences with opening her mind and introducing her to lifelong friends.
"In each of the study abroad programs, I was able to grow in a different way and realize something about myself," she said.
If there's any main takeaway she has from her three programs, it's that anyone can study abroad.
"There are so many resources and so many opportunities," she said. "It's worth it."
More information about financial aid, scholarships, and other resources for study abroad is available on the GLO Money Matters webpage.