Student Perspectives
Internships & Research
Internships, Research, and Service-Learning
Some study abroad programs offer students the opportunity to complete credit-bearing internships, research, or service-learning projects. Additionally, some students choose to supplement their academic coursework with volunteer internships abroad. Through these hands-on learning experiences, students develop a wide range of intercultural and professional skills that translate back to Evanston and beyond.
Nefertari Bilal
Amman: Middle East Studies & Morocco: Multiculturalism and Human Rights
"In Jordan, I worked in the editorial department for an NGO that seeks to build peace between communities by using sports, arts etc. I published a blog once a week and interview volunteers of the program to show the work being done and help the organization get more visibility. I also studied abroad in Morocco, where I interviewed black women from Sub Saharan Africa about their experiences in Morocco and wrote about how color blindness hid the rampant discrimination against them. Studying abroad taught me to put my trust in complete strangers and that one must stand up for others, even if everyone else is silent."
Tara Krantz
Ecuador: Comparative Ecology & Conservation
"This program was one of the best academic quarters I spent at Northwestern. I met amazing people and got to have once in a lifetime experiences like designing my own research project, bonding with an incredible host family, and traveling to unique parts of Ecuador. Thanks to study abroad, I found myself in the middle of the Ecuadorian Amazon birding at 5 in the morning, chasing monkeys at noon, and swimming in the river in the afternoon. I would have never had such a unique and valuable academic experience that focused on environmental and ecological issues without School of International Training and GLO."
Adam Mahoney
Vietnam: Culture, Social Change, & Development
"My project detailed the effects of colonialism and capitalism on Viet Nam's food map. I enjoyed this experience the most because it allowed me the freedom to travel throughout the country and interview people across different sociopolitical lines. Studying abroad allowed me to learn more about myself and the world around me. It gave me a greater sense of understanding my powers and privileges as an American, while also challenging my own domesticated opinions of the world. I believe that I am a more thoughtful, critical and understanding human being because of it."
Anne Parker
South Africa: Social & Political Transformation
"I was able to intern and research at Asiye eTafuleni, and it was the most life changing experience ever. I am absolutely dedicated to their mission and hope to do something in transformative architecture, infrastructure, and/or city planning because of them! Asiye eTafuleni is an NGO in Durban, South Africa that is focused on working with informal traders to change policy and build lasting structures in Warwick Triangle. Studying the political transformation of South Africa in Durban was an amazing experience. I loved it so much I am going back with my family this summer to show them everything I did and introduce them to my lovely homestay family."
Hannah D.
"Studying in New Zealand was an awesome way to finish up my time at Northwestern. While in New Zealand, I conducted independent, unpaid research in a geology lab focused on diatoms and paleoclimate. Taking classes and doing research abroad was a super valuable experience as I gear up to start grad school, and being in a new country with so much natural beauty and outdoor recreation was really a breath of fresh air."
Michelle Zhou
Paris Field Study & Internship Program
"I had a fashion consulting and event management firm internship in this program. My internship experience and my interactions with the teachers at the IFE center are the most positive aspects of this program. I felt very integrated at my internship site and my boss really challenged me to the same tasks as the full-time employees. In addition, the teachers and staff at IFE are always very warm hearted and nice to each student. They are always there to support each student."
Ava Serra
"As part of my program in New Zealand, I studied the effect of temperature on nighttime emergence and activity in Otago/Southland geckos. This program was absolutely perfect for someone like me, who had taken the classes they needed to at NU and was looking to branch out. The program administrators were so kind, I made incredibly valuable connections with faculty members, and I got to travel around New Zealand. Additionally, as a STEM major, you're entrusted with much more responsibility in labs which, in my experience, provided fantastic experiences I couldn't have gotten at the labs at NU." 
Housing
Different study abroad programs offer different types of housing, which can be something to consider when choosing a program. To help you compare the various options, Northwestern students reflect on their housing experiences abroad.
Kate Salvidio
"My homestay with a large family in Amman, Jordan was integral to gaining a deeper cultural experience during my study abroad experience. My family was a source of help for homework, regular community meals, and cultural wisdom that would have been impossible to find elsewhere. In between raising several children and cooking for ten, they found time in their routine to encourage my linguistic growth and cultural appreciation. Adapting to and learning from their lifestyle enabled me to feel like a part of the community, which was one of my ultimate goals for studying abroad." 
Sayeed Sanchez
"In my Northwestern program, I stayed with other Northwestern students in a college dormitory in Barcelona. I enjoyed the autonomy afforded to me by living in a college dormitory as opposed to a home-stay. That being said, I did have to be more intentional and direct about seeking friendships and connections with locals, as I didn't have a host (and thus immediate) connection to Spanish locals!"
Jailene Ochoa
"While studying abroad in Korea, I stayed in a goshiwon, which is basically a very small room that either includes a bathroom or has a communal one for the floor, because it was extremely inexpensive and very convenient for its location near campus. Staying at a goshiwon allowed me to meet people from all over the world and get tips on where to shop and places to go. I was also responsible for cooking my own meals, which has its own challenges, especially since many Korean homes do not have ovens and other appliances that are more common in America."
Evonne Pei
"It was not easy trying to find an apartment in Paris, especially with all the specific details we had in mind. We were trying to look for a reasonably priced apartment within walking distance from our school. We used Airbnb, and it was nice at first since we could look through the images and amenities. However, it's important to keep in mind that hosts can cancel your booking if something comes up – which can get pretty stressful if you have to find another apartment last-minute. In terms of living on our own, it was nice because we could use the kitchen freely and explore things like farmers markets and local supermarkets."
Madeline Meyer
"I like to think I had the best of both worlds: I lived in a Kollegium, which is a Danish dorm, full time with other Danish and international college students but I also had a visiting host family. This meant that I was able to experience the whole spectrum of cultural immersion from cooking in our shared kitchen with my Danish floor mates to visiting the zoo with my two younger host sisters. I developed an incredible group of friends while also having the support of the most welcoming, caring, and loving host family whenever I felt unsure or stressed."
Nathan Legault
"As we moved around Australia, we were in a new housing situation every few days, from ritzy, suite-style apartments in Sydney to old, 'summer camp style' cabins in the Daintree Rainforest. Living together the entire experience, we grew very close over our time there. All our travel and 'unique' housing led us to become a group of twenty best friends on the adventure of a lifetime."
Language
From language courses to homestays, local friends, and other cultural immersion, students learn or improve language skills while abroad in a variety of ways. Northwestern students share how learning language affected their study abroad experience and offer advice for future study abroad students.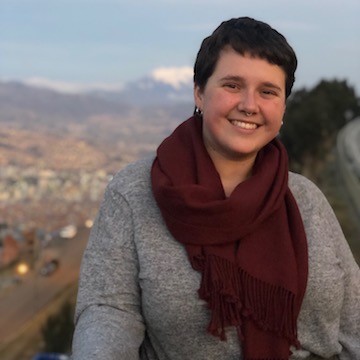 Kaitlyn Rubinstein
"While studying in Bolivia, I improved my Spanish through a homestay, Spanish language courses, courses taught in Spanish, and immersion. Knowing Spanish made it easier to travel and interact with local people and to participate in and understand Bolivian society. After study abroad, I have continued to take language courses and engage in conversation groups. I encourage future study abroad students to dive in, abandon the internalized belief that your self worth is your intelligence and your intelligence is how you speak, lean into the discomfort and put yourself out there!" 
Brianna Bilter
"While studying in Morocco, I improved my Arabic through a homestay, friends, and my courses. Learning a language helped me make friends, made it easier to travel, and helped me understand the culture. Even speaking in broken Darija made people very willing to engage in conversation and try to help me learn. After study abroad, I'm still taking Arabic classes, and I FaceTime my friends in Morocco and converse in Darija. If you are starting at the beginning level, you don't have to prepare before, but it will put you miles ahead if you do. Especially for Arabic, learning the alphabet beforehand goes a long way." 
Antonia Young
"I learned German through a beginner German course and Rosetta Stone, and improved while abroad through a conversation partner and immersion. Learning German gave me a perspective on the most common phrases each country uses and made me think about how different cultures have constructed their languages. Back in Evanston, I am taking LING 250, and German pronunciation seems more contingent with IPA pronunciations than English. I encourage students to be comfortable being uncomfortable! It is such a fantastic opportunity to learn a language in a country in which it is the official language. I learned the language of my host country significantly faster than my second language I learned in high school because I was so immersed in the culture."
Melana Ellingson
"I developed my Spanish while studying abroad through courses, a homestay, and an internship. Learning Spanish helped me engage with and understand the culture on a deeper level and allowed me to be more confident engaging with the country as a whole. I was able to count courses to multiple of my degrees, not just Spanish, and I was able to be confident applying to bilingual professional opportunities. There is literally no reason why you should not take advantage of learning the language of where you are studying; you will have no better time to be fully immersed and have the same opportunities to use the language and engage with the culture than during study abroad."
Braden Pomerantz
"I feel like I got a much better understanding of Danish culture through my Danish language course and living with a host family. It was really rewarding to be able to start picking up certain words when people spoke and having the ability to read signs at the store and around the city. Because I was surrounded by the language, I felt like I had a much more genuine and rewarding experience by learning it. To students considering learning a language while studying abroad, I would say do it!!!! On one hand it's really fun, because the expectation isn't that you become fluent in 3 months. Instead, you're able to pick up on the little things that make your abroad experience all the richer."
Rachel Fimbianti
"My Italian improved through immersion, courses, and Italian roommates. Learning Italian helped me understand the culture, form a closer connection with abroad family, gain a deeper understanding of how language functions in the world, and develop compassion for those learning a new language. It also made it marginally easier to travel because I understood the structure of the languages in some of the countries that I visited so I was able to decode them. When I returned to campus, I continued to take language courses, added an Italian minor, and used it on my resume and in job interviews. To future study abroad students, I would say know that it isn't easy but with some hard work it is possible, there will be some days when you can't seem to make a coherent sentence no matter how hard you try but there are others where you can speak for days on end without stopping. By the end I was mixing Italian words into my English without realizing which kind of blew my mind."
Joanna Sherman
"In Barcelona, I learned Spanish through courses and immersion, and knowing Spanish made it easier to travel, find my way around, order off menus, communicate with people, and understand the culture. I was also able to complete my Spanish minor while studying abroad. In my opinion, study abroad and immersion is THE best way to learn and improve your language, so if language is something you want to work on, I cannot recommend study abroad enough."
Academic Culture
In some programs, students directly enroll in universities abroad, often choosing from a wide variety of course offerings and learning alongside local and other international students. For many students, this offers greater cultural immersion and firsthand insight into another country's academic systems and culture. Students reflect on the biggest differences and challenges they experienced and offer advice to future study abroad students.
Keyla Carvalho
"Grades in France are way lower. It was kind of a shock getting a 13 out of 20 and that be a good grade. Also, professors don't hold office hours. You have to be way more independent. My program (I went with Sweet Briar) really helped me adapt. We had French professors in the program who helped us with our other classes and essays for the actual university. Advice for future students: Know what you're signing up for! Do some research! It was challenging and surprising but I was prepared for it."
Brandon Enriquez
"There is a lot less homework in the UK than I expected. Much more of the responsibility is on you as the student to keep up with the material and be prepared for essays and exams. To adapt, I spoke a lot with locals and my program advisors to get acquainted with the new academic structure. Advice for future students: Be prepared to do more work independently than you're used to as well as a bit less time in lecture each week."
Judith Roeder
Consortium for Advanced Studies Abroad (CASA) in Barcelona
"The biggest challenge in the Spanish academic system was long lectures in a different language. Advice for future students: Follow along with powerpoints, look up words during lecture, ask other students, and take notes in the same language that you are learning in."
Jonathan deBruin
Nantes: French Language Immersion & Area Studies
"It was challenging to adjust to different academic standards and pace. The type of support you receive from foreign institutions differs greatly from an American collegiate environment. To adapt, I read all the materials I could and asked the professor when I needed help or clarification. Advice for future students: Read all the materials your program gives you! They're normally pretty helpful. Also, always ask for help when you don't understand something or are unsure, whether you're asking professors or other students."
Tess Russell
"One of the biggest differences was the lack of day-to-day work and weekly assignments. I had to be a bit more on top of doing work when it wasn't due the next day. However, I really liked this difference. I felt less stressed overall. To adapt, I depended a lot on fellow classmates for my science-based class. I didn't read the textbooks too much, but I did read all the papers required for my discussion-based class. I think my biggest resource was myself - I just worked solo, wrote my papers, and hoped for the best :) Advice for future students: Definitely if you are struggling, find friends to help you. I was used to doing engineering-based work at my home university which ALWAYS required friends and group work. Going abroad was a bit different, based on the humanities courses I took for the most part, so I actually enjoyed working on my own for once. But I think that definitely depends what you are used to and what types of classes you take abroad. Having friends to rely on is never a bad thing though!"
Meet People
One of the best ways to immerse yourself in your host country's culture is by meeting people from your host country! Developing friendships with people from your host country can help you better understand cultural situations and expose you to new experiences within the host country/city. Students share their tips for meeting people while abroad and offer advice to future students.
Amos Pomp
"I met people in Guatemala through my host family, at work, conducting community surveys, and playing soccer. Our work required us to go out and meet community members and talk to them about our projects, but we also went to events organized by people we knew or worked with and talked to people there. As people got to know us, there was more two-way support and communication. Working with the community became easier as we began to recognize each other and learn about each other's interests and activities. Advice for future students: Say yes to things! as long as they aren't dangerous or whatnot, go along with any opportunity!"
Luke Cimarusti
"I met people from my host country both in the classroom and out. A lot of the Germans I stay connected with I met in local spaces like galleries, music venues, and cafes. I attended as many cultural events in Berlin as I could, like lectures, performances, gallery openings, club nights, local concerts, etc. I also lived in an apartment with two Germans, which let me practice my German and gave me some insight into the local scene. I felt much more at home in Berlin when I was experiencing the culture with actual Berliners. Being part of the culture, if only briefly, let me feel a little bit less like a foreigner. Advice for future students: Don't count on the classroom to be a place where you'll meet friends from your host country. Go out and find spaces where people share your interests and values, and ultimately your foreignness will matter less than your commonalities."
Taylor Brown
"I met most people my age through my host brothers! My host brothers and I played volleyball with some of their friends every couple of weeks, and I traveled about half of the weekends to learn more about the country. I also tried almost every type of food offered to me. The benefits of meeting people in Bolivia were making friends and understanding more of what life is like for people my age somewhere else. Advice for future students: Don't be afraid to make friends with people who are very different from your friends back home!"
Eric Spector
"While studying abroad in Hong Kong, I met people through classrooms, clubs, sitting with locals in dining halls, and going out into the city. Through meeting people in Hong Kong, I gained new friends and the ability to partake in new activities. Advice for future students: Speak to every single person around you for the first two weeks."
Bevy Daniel
"I met people abroad in the classroom, through Northwestern friends, and at clubs/bars. My strategies for cultural immersion were speaking as much German as humanely possible (even when I looked like a fool, this helped me make a TON of progress on the language/immersion) and never saying no to an adventure around the city. Advice for future students: "If it's scary, grab a friend and initiate meeting people together!"
Recruiting & Interviews
Recruiting & Interviews While Abroad
Many students apply for jobs or internships while studying abroad! Northwestern Career Advancement and career advisers in each school have excellent resources to help you through the recruiting or application process. Below, students reflect on various logistical considerations, such as explaining your study abroad situation, setting up video interviews, and accounting for WiFi connectivity, time differences, and more.
Maxwell Salit
"I found the Consulting Newsletter from an advisor and I found it to be incredibly useful. It helped to keep me accountable with dates/deadlines as well as provided me with crucial information. While abroad, I interviewed with a couple of firms. The process ended up being a lot easier than I initially anticipated, as the companies were pretty accommodating for the most part. However, it but it still required diligence and care on my end to ensure things went smoothly. The key word is preparation. The earlier you start to organize/network/prep, the easier the process will be when it is actually happening."
Eileen Herbers
"I had 2 interview calls while abroad. The most difficult part was figuring out the time difference and finding a time that worked best. Additionally, I could only call over wifi, so I had to make sure that my interviewer could call via Zoom or WhatsApp, rather than a cellular phone number. I was in South Africa and interviewing for a job on the west coast, and so there was an 11 hour time difference, which made our schedules literally opposite of each other. Reach out to specific contacts at companies if possible, and explain your situation. They will 1) be interested in what you're doing abroad and it can be a good conversation starter and 2) if you're upfront about logistical issues, it shows that you're a good communicator and organizer."
Mary Tucker
"I reached out to my career advisor several times whenever I had questions about the process and she was always super helpful and responsive. I applied to basically every job through Handshake so using that was crucial. I had over 10 interviews while abroad and I was constantly worried about finding a good space to do it. My dorm building had a lockable room that I used most of the time, but the WiFi sometimes was spotty and that made me nervous—I did have one interview where I literally could only hear every couple of words from my interviewer (somehow it still went okay). I really just had to be proactive about talking to my RAs and program director to make sure I had the space I needed, and I was always prepared with a backup charger and my phone in case my computer died or I had to make a call to complete the interview."
For more information about finding an internship while abroad, including recruiting timelines, applying while abroad, and handling interview logistics, check out Ben Chase's blog post for NCA.