I-94 Record
Travel in and out of the U.S. is recorded electronically by Customs and Border Protection (CBP) through the I-94 Arrival/Departure Record for all international non-immigrant visitors to the U.S. This important record lists your entry date, port of entry, and visa status in which you were admitted to the U.S. The I-94 record may be required as proof of status for F-1 or J-1 benefits applications, employment verification, and other official purposes.
When you travel through an air or seaport into the U.S., you may or may not  receive an entry stamp in your passport. Your admission information will be recorded in your electronic I-94 record. Students who come through a land border crossing will receive a paper I-94 card. If you receive a paper I-94 card, keep the card stapled in your passport at all times.
How do I access my electronic I-94 record when arriving by plane?
After you arrive in the U.S. by air travel, you should download and save a copy of your electronic I-94 record from the Customs and Border Protection website. It's important to check that your electronic travel record is accurate and accessible. Keep the I-94 record with your other immigration documents in your electronic files. New students will need to submit the "Most Recent I-94" to complete the OISS check-in upon arrival to Northwestern. 
Below is a photo of the section you will need to select on the CBP I-94 website to request your most recent I-94: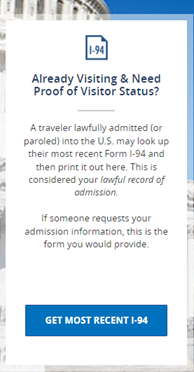 How do I obtain my I-94 Record if I arrive by land?
Customs and Border Patrol does not issue an I-94 automatically when you enter the United States by land border. When you travel via airline, the cost of the I-94 is included in the ticket price. When traveling by land, it becomes the traveler's responsibility to request the I-94 be generated and to pay the fee (currently $6). 
To obtain a Form I-94 when entering the U.S. by land:
Click on "Apply for New I-94" in in the box titled "Visiting the U.S. & Arriving Via a Land Border or Selected Ferry"
Complete the required information and pay the I-94 application fee (via PayPal of credit/debit card)
Please note the I-94 you apply for in this manner is provisional. You will also need to:

1.  Appear at a port of entry within seven days of completing this online application. If you do not appear within seven days or are not issued an I-94 for any reason, there are no refunds.

2.  At the port of entry, submit your biometrics (if required) and complete an interview.

3. Please bring the documents you entered into the application with you to the port of entry.



4.  Be prepared to show evidence of your residence, employment and/or travel plans, if asked by the U.S. Customs and Border Protection (CBP) Officer.
Important Note:
We recommend you apply in advance (within 7 days) of your planned entry into the U.S. by land so that you can complete the above requirements at the time of your entry. 
What does D/S stand for?
"D/S", or "duration of status" will appear on the I-94 record for the "Admit Until Date" line. This means that the individual may remain in the United States as long as they are properly maintaining status and their I-20 (F-1) or DS-2019 (J-1) program end date has not passed. Students on F-1 OPT and J-1 Academic Training are also granted "D/S" because they are still on F-1 or J-1 status during those practical training periods.
How can I correct a mistake on my I-94 record?
Sometimes Customs and Border Protection (CBP) officers make errors in students' electronic I-94 records. Some errors, especially those regarding visa type or date of expiration, can impact your immigration status.
How to request a correction to  your I-94 record if there is a mistake:
If your U.S. Port of Entry was Chicago, send an email to i94chi@cbp.dhs.gov
If your U.S. Port of Entry was somewhere other than Chicago, refer to this CBP Site to find the correct email address for your U.S Port of Entry. You must contact the site where you where you entered the U.S.
Subject line: I-94 correction request
Body of message: be sure to include your full name (as listed in your passport) and a clear explanation of the error including date of arrival to U.S. and city/airport of arrival. 
Attach images of the following:
1)  United States F-1/J-1 visa page from your passport
2)  Passport bio/photo page
3)  Copy of flight itinerary with the airline and flight number for the entry to the U.S. with the error
Please allow 10 business days for this issue to be resolved. If it remains unresolved after 10 days, please contact your
OISS advisor
for further guidance.