H-1B or E-3 Check Request Process
H-1B or E-3 Check Request Process
These instructions are intended for Northwestern department administrators who are supporting an H-1B or E-3 (Australian National) visa petition. Below you will find the steps to request a Northwestern check payment of DHS fees. The OISS requires the checks be requested in the following manner so that the checks can be accurately paired with the H-1B petition to file with U.S. Citizenship & Immigration Services (USCIS).
We recommend the NU department request the check at the time of the H-1B (or E-3) submission to the OISS.

Please refer to

OISS Visa Types, Fees and Processing Times

for fee table

Create the check payment request in 

NU Financials in the "Payment Request Center." There are 4 steps to the process in NU Financials: 1) Summary, 2) Supplier, 3) Invoice Details, and 4) Review and Submit.
STEP 1: Summary
1.  INVOICE NUMBER field: Please include the following information, in this order
Beneficiary's last name, first initial

Type of DHS fee (filing, fraud or premium)

Year of check

OISS scholar advisor initials
See examples:
| | |
| --- | --- |
| Zhang, Q_filing_2022_JM | for $460 check for filing fee |
| Zhang, Q_fraud_2022_JM | for $500 check for fraud fee |
| Zhang, Q_premium_2022_JM | for $2,500 check for premium processing fee |
2.   DESCRIPTION field, please note:
DHS check for _______________ (amount and type of fee) for _________ (scholar full name)
3.  NOTES/COMMENTS field: "Please intercampus mail directly to OISS (scholar Advisor Initials) at 1902 Sheridan Rd., Evanston IL 60208
4.  PAYMENT HANDLING field:  Hold in Evanston (code HE)
5.  ATTACHMENT:  You must include an attachment (see upper left corner). Include the completed H-1B Check Request Form. NOTE: Use the same form for an E-3 check request.
See example: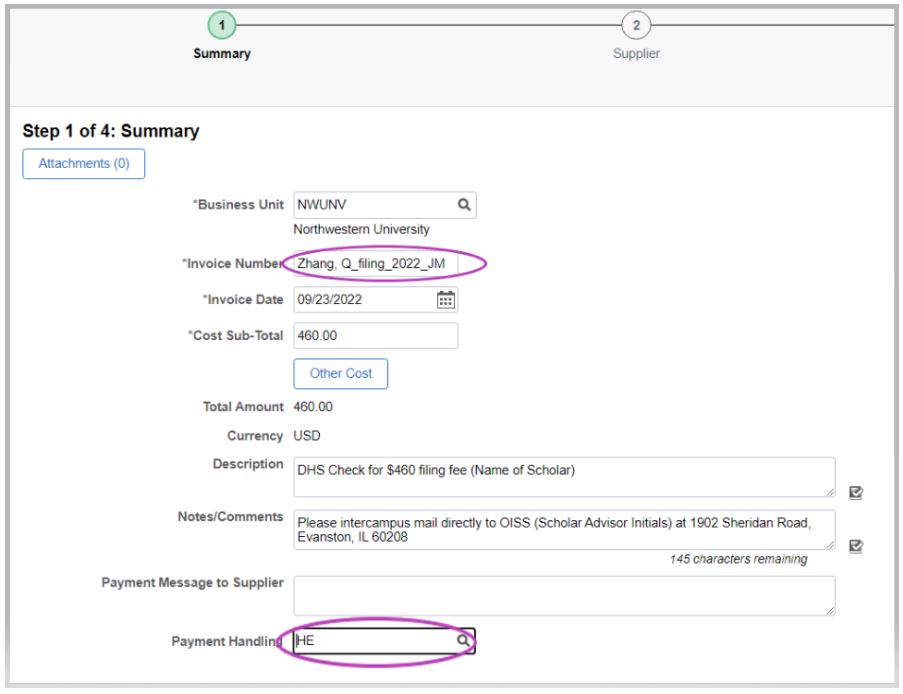 Step 2: Supplier
Search for Department of Homeland Security in the supplier field
Select the Laguna Niguel, CA location
See example

Step 3: Accounting Details
Enter your department and chart string information
The "Account Code" at the far right of this page is Account Code. Enter 76780 which is assigned to "Int'l Office Visa Process fee"
Step 4: Review and Submit
Review your information and click the "submit" button in the top right corner. If you need to make adjustments, use the "previous" button to go back.
See example: