Norris Technical Services
What We Do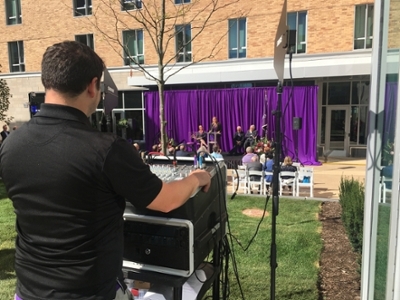 We provide audio/visual equipment, production assistance, and technical support within the Norris University Center, Norris Satellite Venues, and other locations across campus.  We also provide self service rental of equipment. 
*Please note, we typically do not operate, service, or connect to existing AV equipment in any non-Norris run spaces.
Tiers of Service:
Norris and Norris Satellite Venues
Standard Service:  Rental includes the equipment installed in the space.  Additional equipment is priced a la carte.  Our production staff, comprised of student employees, will setup the AV equipment you have reserved.  One of our Production Supervisors will check in with you prior to the start of your event, to check that everything is set to your satisfaction.
Dedicated Technician:  If your event needs a technician dedicated from start to finish, we will assign one of our Tech Specialists or Student Technicians.  Certain events require a Dedicated Technician.  This includes any event in the Louis Room, McCormick Auditorium, or the Guild Lounge.  Events with complex AV needs, or VIP attendees or presenters, may also require a Dedicated Technician.
Non-Norris Venues and Outdoor Events
Self Service Pickup:  Available for use almost anywhere on the Evanston Campus (excluding certain outdoor locations).  Includes no service component.
Hours
Technical Services Manager | Office Hours, Monday - Friday: 8:00 a.m. to 4:00 p.m.
AV Pickups By Appointment | Daily: 8:00 a.m. - 4:00 p.m.
All other scheduled hours are based on Norris hours of operation, and your individual event times.
Where To Find Us
We're located within the Norris University Center:
1999 Campus Drive 
Underground Level (U)
Evanston, IL 60208
If you're picking up equipment or need assistance outside of hours, please stop by the Center Desk to request assistance.
To Request AV
At a Norris Venue
Non-Norris Venues and Outdoor Events
Policies
For events held in Norris Meeting Rooms, basic/built-in Audio/Visual equipment is included in your rental at no additional cost.  If additional equipment must be added, or for other locations within Norris and across campus, additional charges apply.
For events within McCormick Auditorium, Louis Room, and Guild Lounge, and other performance and satellite venues, the request of Audio/Visual equipment must be made 10 business days in advance of the event.  
For events within other Norris meeting rooms, the deadline to request basic av equipment is 2 business days. 
Staffing requests for all locations must be made 10 business days in advance.
Cancellations made after the reservation deadlines above are subject to cancellation fees.
For the purposes of weekends, 9am Friday to 9am Monday will count as 1 business day, or a 24 hour equivalent. The same logic applies to holidays.
Once equipment has been picked up, delivered, and/or setup, all charges apply.
There are no refunds for equipment not used.
See our policies page for additional policies and more information.
Contact