Food & Drink
October 2021
October 2021 Arts Calendar
Monday
Tuesday
Wednesday
Thursday
Friday
Saturday
11

Baking Basics - Cake and Cookies

12

Wine Appreciation C*

13

14

Wine Appreciation A*

Wine Appreciation B*

15 
16

 

18

Baking Basics - Cake and Cookies

19




Wine Appreciation C*

20

 

21

Wine Appreciation A*

Wine Appreciation B*

22

 

23

 

25

Baking Basics - Cake and Cookies

26

Wine Appreciation C*

27

 

28

Wine Appreciation A*

Wine Appreciation B*

29




 

30

 
November 2021
November 2021 Arts Calendar
Monday
Tuesday
Wednesday
Thursday
Friday
Saturday
1

Baking Basics - Cake and Cookies

2

Wine Appreciation C*

3
4

Wine Appreciation A*

Wine Appreciation B*

5

6




 

8




Baking Basics - Cake and Cookies

9




Wine Appreciation C*

10

 

11

Wine Appreciation A*

Wine Appreciation B*

12

 

13
15

Baking Basics - Cake and Cookies

16

 

17

 

18

 

19 
20

 

22




 

23

 

24

Thanksgiving

25

Thanksgiving

26

Thanksgiving

27

 

29

 

30
*You must be 21 and over to enroll in this course.
---
Baking Basics - Cake and Cookies
Mondays, October 11th – November 15th (6 Sessions)
7:00 - 8:30 p.m.
Instructor: Paula Evans
Location: Zoom 
No early registration special
Regular registration: NU $47, Public $57
Do you want to bake from scratch, but don't know where to start? Or are you a more practiced baker looking to step up your game? Led by an experienced home baker, this virtual course brings the learning experience right into your own kitchen. Over the course of four weeks, you will learn baking fundamentals as well as lots of tips and tricks. Working step-by-step with the instructor, you'll put those skills to use making and baking some delicious treats.
*Special Baking utensil kit is available on loan for use during the class. Email the Mini Course program at minicourses@northwestern.edu to request a kit.
**All students must purchase food ingredients. The list will be provided after registering.
Wine Appreciation*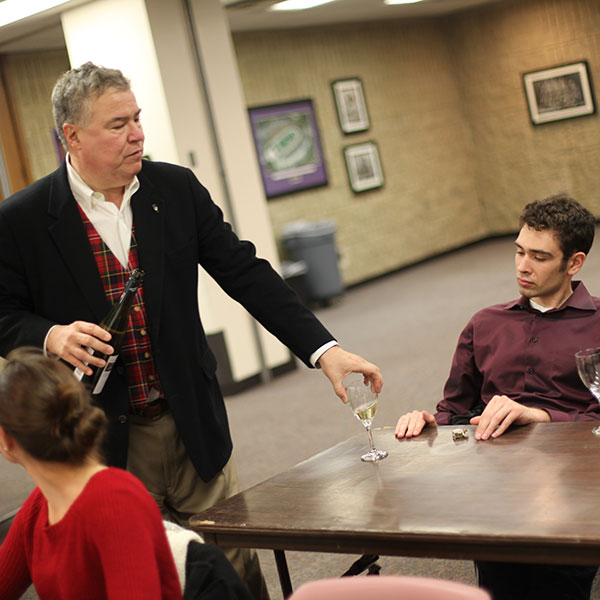 Thursdays, October 14th – November 11th (5 Sessions)
Section A: 6:00 – 7:30 p.m.
Section B: 7:45 – 9:15 p.m.
Tuesday, October 12th – November 9th (5 Sessions)
Section C: 7:30 – 9:00 p.m.
Instructor: Kathleen and Mark Gruber
Location: Wildcat Room

Early Registration: NU $107, Public $117
Regular registration: NU $117, Public $127
Welcome to the world of wine!  Whether you're new to wine or an old hand, there is always something new in the wine world. During each class, students will learn to taste and describe wines just like the professionals. Vinicultural areas in California, France, and the Southern Hemisphere are always featured along with new discoveries. Wine and food matches are heavily emphasized. Finally, a night of sparkling and dessert wines ends the five-week course.
*You must be 21 and over to enroll in this course.