Request a Refund
Use this lesson to request a refund from your account.
Step 1
Navigate to the CAESAR login page and sign in using your NetID and password. The Home Page appears.
Step 2
Click the "More Student Financials" link in the Student Financial Services pagelet in the right column or use the dropdown Main Menu and navigate to Student Financial Services > Request a Refund.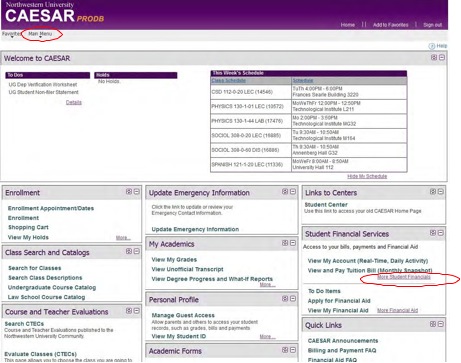 Step 3
Click the Request a Refund link that appears in the Student Financial Services pagelet. The Request a Refund page appears.
Note: You must have a balance on your account to request a refund.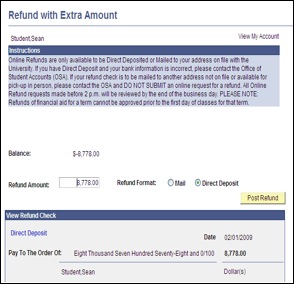 Step 4
Your refund amount defaults to your account balance, but you can change the refund amount by deleting the amount and typing in a new amount. Enter in the amount you wish refunded. For this exercise we will use the amount $5,000. Enter the desired information into the Refund Amount field.

You have two options for receiving your refund: US Mail or Direct Deposit.
Direct Deposit is the default value. Your Direct Deposit needs to be set up prior to posting. Please see the user guide on "Setting Up Direct Deposit" if you have not set up your Direct Deposit. Once you have entered in the amount you wish to have refunded, make sure the Direct Deposit option is selected and then click the Post Refund button.
To receive your refund via the mail, click the Mail button.

Select the address type you want the refund mailed to. Click the drop down menu to see the address types available. When you select the address type, the address associated with that address type will display.

Step 5
When you are ready to proceed, click the Post Refund button. You will receive a message that your request has been submitted for approval. Click the OK button.


If you need further assistance, please contact the Office of Student Accounts: