Entering Midterm Feedback
Step 1
Login to CAESAR using your NetID and password.
Note: If your default view in CAESAR is your Student Home Page, you will first need to click on the Instructor/Advisor tab, at the top of the page, in order to access your Instructor Home Page.
Step 2
Click on the class roster icon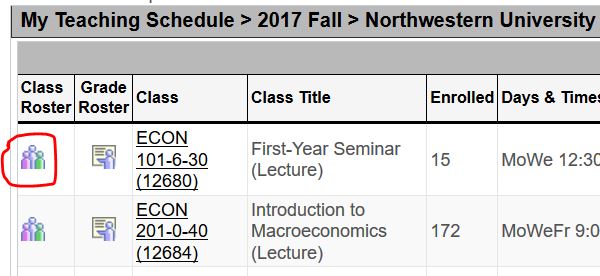 next to the class for which you would like to enter midterm feedback.
Step 3
Click on the Midterm Feedback link in the row of a student for whom you would like to leave feedback.
This will bring you to the Midterm Evaluation entry page for that student.

Step 4
Select a midterm grade (if applicable) from the dropdown.
Step 5
Enter your comments (if applicable) in the text box.
Step 6
Click the "Save and Return to Class Roster" button to save your feedback or click the "Cancel and Return to Class Roster" button if you do not wish to leave feedback at this time.

Note that this feedback will be viewable to the student's advisors, but it is not accessible to the student.

To edit or add to existing feedback, repeat the steps above.