Search for Classes
Before your registration appointment, it might be useful to have an ideal schedule, a list of alternative classes, and the 5-digit class numbers ready. Class offerings and numbers are in both the PDF schedule and on CAESAR, but class information on CAESAR is most up to date.
Step 1
Login to CAESAR. The Home Page appears.
Step 2
Click on the Search for Classes link in the Class Search and Catalogs pagelet OR use the dropdown Main Menu and navigate to Class Search and Catalogs > Search for Classes. The Search for Classes page appears. [Note that the Term and Course Career fields are defaults based on your user preferences, located in your Personal Profile.]
Step 3
Enter a Course Subject and Course Number criteria (if appropriate) and press Search. OR un-collapse Additional Search Criteria or Class Attributes/Requirements to expand your search options.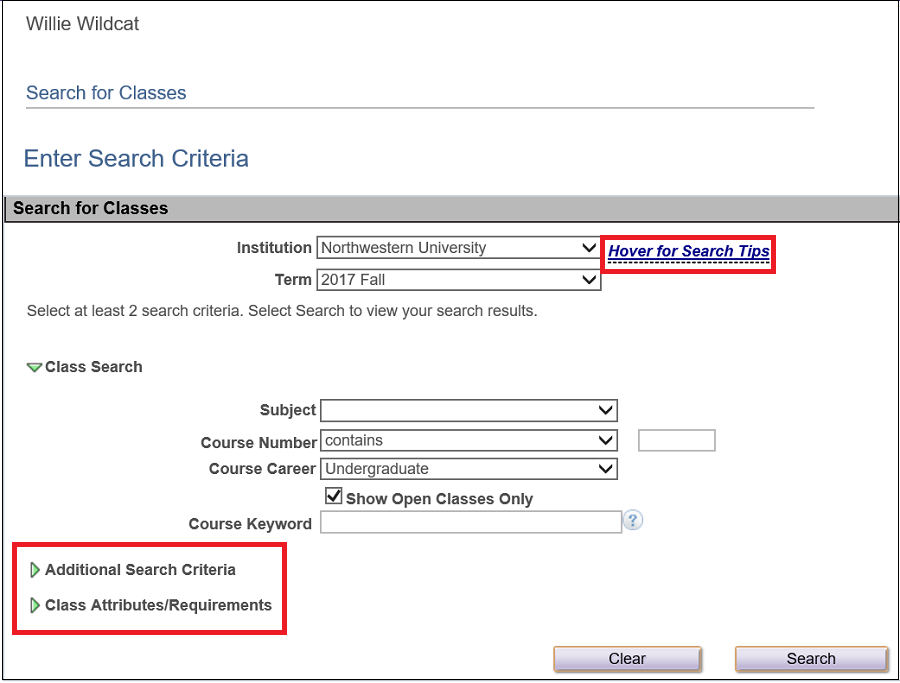 The Hover for Search Tips rollover provides ideas for searching for SCS classes, particular instructors, distribution requirements, and closed classes.
You must select at least two criteria to perform a search.
The more restrictive your search, the faster your results will appear.
To view more information about a class on the search results list, click on the section link and then the Class Detail page appears.
To ensure account security, click Sign out on the top right of the CAESAR banner to close your session and then quit your browser.
If you need further assistance, please contact the IT Information Center helpdesk located at 1800 Sherman Avenue in Evanston or call 847-491-HELP.