Onboarding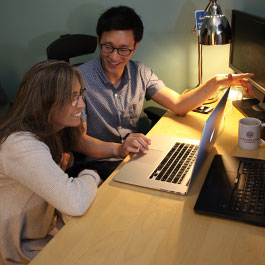 Welcome to Student Affairs! We are very excited to have you aboard. Below is a list of required items and helpful resources as you navigate your first couple of weeks and beyond.
HR Platform
Get familiar with myHR and enter personal information, direct deposit, sign policies, and sign up for benefits (if eligible). 
Review and attest to the following in myHR: Staff Handbook; Acknowledgment of Mandated Reporter Status 
W-4 Tax Forms
Update your Federal W-4 form in myHR 

State W-4 forms are submitted separately. Details on how to modify your state tax withholding can be

found here.

 

 
Timekeeping
Get familiar with and begin tracking your time in NU's timekeeping system Workforce (WCS)
NU Wildcard
Obtain your 

NU Wildcard

 by uploading a picture, scheduling an appointment for pick-up, and requesting facility access.   

  
Required HR Paperwork
(to complete by day 3 of employment)
I-9 Section 2 and State Tax Forms
New hires must stop by the Evanston HR office no later than the third day of work to submit onboarding paperwork. This includes completing I-9 Section 2 and dropping off state tax forms. 
If you are unable to go to the Evanston office to submit onboarding paperwork, I-9 Section 2 must be completed by identifying a remote agent. Instructions on how to use a remote agent can be found here. 

For new hires completing these required items remotely, tax forms can be emailed to 

hroperations@northwestern.edu

. We highly recommend emailing a password-protected PDF. More information about submitting and changing state tax forms 

can be found here.

 

 
Required Trainings 
Resources to Get Started
Benefits
You have 31 days from hire to make your insurance benefit elections in myHR. 
Your coverage begins on the 1st of the month after your date of hire. If you are hired on the 1st of a month, your coverage begins on your date of hire. 

Attend a live

Benefits Orientation

 to hear an NU Benefits Counselor discuss health, retirement and tuition benefits, answer questions, and help you select the coverage you need. 

Questions about benefits? 

Find and contact your NU Benefits Counselor.

 
New Employee Orientation
Tune into the recorded New Employee Orientation webinar within your first 30 days. 
Payroll Schedule
Familiarize yourself with NU Payroll Schedules.
Time Off
Campus Transit - Evanston and Chicago
Review the NU campus map and parking/transit information or check out the virtual tour of the campus. If you plan to drive and park on campus, information on parking permits can be found here. 
Each role has different needs, so if you have any questions about how to best prepare for the arrival of your new hire, please contact SAHR. We'd be happy to review your plans! 
 
Here are some recommendations to help you get started: 
Before Your Employee's Start Date
First Day Details
Be sure to connect with the new hire by phone/email/video call to discuss first day details. Where should they report to on their first day? What time? How long will they be working? Should they bring a lunch? Be specific. 
Workspace
Set up the new employee's workspace (computer, phone, office supplies, office keys, key cards, etc.) 
Set up the new employee's office or workspace – Ensure there are office supplies and that their landline, computer, etc. are ready for them. Contact SAIT for specific hardware needs.  
Schedule
Create a structured onboarding schedule for their first 1-2 weeks.  
Norms
Think about and document your team norms – Are there certain expectations when it comes to communication? Accessibility during core hours? 
SAIT
Submit a request to SAIT for tech set-up and software/application access.  
NetID
Send the NetID activation code to your new hire's personal email address. This email contains instructions on how your new hire can set up their NetID and is sent to your NetID Coordinator. If you are not certain who your NetID Coordinator is, you may contact your department administrator or review the latest department list online. 
Wildcard
New hires should submit a photo online to expedite the process. 
Within Your Employee's First Week
On Day 1  
Provide a tour of the office (workspaces, conference rooms, restrooms, break areas, etc.) 
Discuss communication preferences and expectations regarding time off requests and absences. 
Discuss their onboarding schedule, team norms, first week expectations, etc.  
 Intros
Introduce the new hire to co-workers and schedule brief intro meetings or video chats with other colleagues from other departments whom they will work with regularly. 
Goals
Discuss the performance goals you created for the role. What would you like them to achieve within their first 60-90 days? Schedule a check-in with them ~60-90 days into their new role. 
Check-ins
Schedule a recurring 1-on-1 check-in meeting with the employee, and have them come up with a schedule and agenda that works for you both. 
Benefits
Remind your employee about enrolling in benefits and registering for New Faculty and Staff Benefits Orientation. Information about benefits eligibility can also be found in the email your employee received from SAHR. They have 30 days from hire to make their benefit elections. 
Access Forms
Inform the new employee about the system access they will need and contact SAHR and SA Business & Finance for forms:  
Student Enterprise Systems (SES) 
Finance, Facilities, and Research Administration (FFRA) 
MyHR and Access to HR reports or Temp panel if supervising students/staff 
Within Your Employee's First Month
Trainings
Ensure your employee has attended various required trainings and courses. They can review the separate email they received from SAHR which contains a list of resources and required action items. 
Goals