Get to Know Us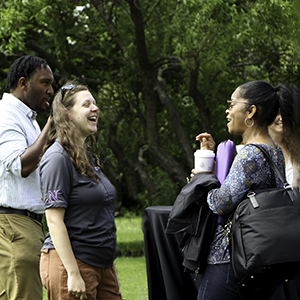 We are the Division of Student Affairs at Northwestern University! Our division cultivates student programs, services, and skills; disrupts barriers; and partners across Northwestern and neighboring communities to create a culture in which all students can thrive. 
 
Equity, justice, and belonging are foundational principles for our division as we work toward our vision of building just, healthy, and meaningful student learning experience. We strive to center the voices, experiences, and needs of our most marginalized communities.
Learn More
Join our team of highly dedicated and mission-driven individuals today! 
Benefits
At Northwestern, we are proud to provide meaningful, competitive benefits, including high-quality health care plans, retirement benefits, tuition discounts, and more!  
 
To learn more, visit the Northwestern Human Resources site.
Work-Life and Wellness
Northwestern offers comprehensive programs and services to help you and your family navigate life's challenges and opportunities and adopt and maintain healthy lifestyles. We support financial and mental wellness programs and help you locate and pay for quality, affordable childcare and senior/adult care.  
 
To learn more, visit the Northwestern Human Resources site. 
Workplace Flexibility
The Division of Student Affairs is committed to cultivating organizational health and recognizes that staff have competing demands from work and personal lives. Flexible strategies like remote days and flextime are key components of work/life effectiveness and a source of many added benefits, such as improved productivity, enhanced staff engagement, and opportunities for cross training. Specific strategies vary by role based on departmental needs.
 
To learn more, visit our Workplace Strategies page.
Staff Recognition and Awards
Each year, we recognize individual staff members, departments, or groups who have done exemplary work in the Division of Student Affairs. The recipients of these awards are announced at the annual end-of-the-year celebration. These awards are directly related to the Student Affairs values as stated in the Division's Strategic Plan.  
 
To learn more and to see past awardees, visit our Staff Awards page.   
Student Affairs All-Staff Gatherings
The Division of Student Affairs brings our staff together for presentations, trainings, an annual assessment conference, and quarterly gatherings/breakfasts to share divisional updates about new hires and promotions, our strategic plan, and upcoming events.  
 
To learn more and to view slides and recordings from previous gatherings, visit our Staff Gatherings page.
Staff Development
The Student Affairs Staff Development Committee hosts an annual series of programs and activities for staff in the Division of Student Affairs. These programs and activities are aligned with the Division's strategic priorities, consider the professional development needs of staff, recognize outstanding work in the Division, and build community. This work is carried out by three subcommittees: 
Professional Development Committee, which plans and implements programs and activities for staff that increase their professional knowledge, skills and competencies. 
Staff Engagement Committee, which plans and implements the fall celebration, annual awards event, and other activities that bring the Student Affairs community together.  
Book Club, which invites staff to engage in conversations about books, articles, and podcasts.   
Professional Growth & Development
Northwestern supports employee career development in all circumstances whether your workspace is on campus or at home. If you're interested in developing your professional potential or continuing your formal education, we offer a variety of tools and resources.  
 
To learn more, visit the Northwestern Human Resources site.