Reservation: Sewing Machine
Reservation: Sewing Machine
Reservation Information
We offer sewing machines for use in-studio or for rental outside-of-studio. Reservations cost $5/day for in-studio use and $15/day for outside-of-studio use.
Reserve a sewing machine here.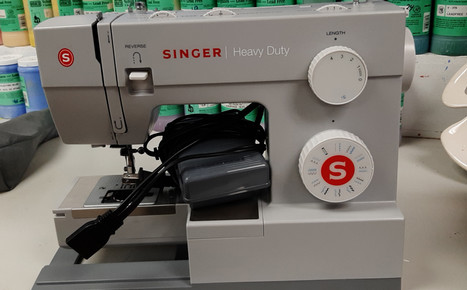 In-studio reservations include:
1 working machine.

3 needles.
1 bobbin spool.
1 kit with rotary cutters, fabric scissors, pins, and more. 
Out of studio reservations include
1 working machine
3 needles.
1 bobbin spool.
Out-of-studio use requires approval in advance. You must know how to properly work a sewing machine.  Please email articastudios@u.northwestern.edu for approval. 
We do NOT provide thread or fabric. 
NOTE: We expect our machines to be thoughtfully and carefully handled. If the machine is returned with damage or pieces missing, you will be charged with repair or replacement. 
How To Videos
If you are unfamiliar with sewing machines, please take a moment to watch these set-up videos of the machines we have in-studio.