---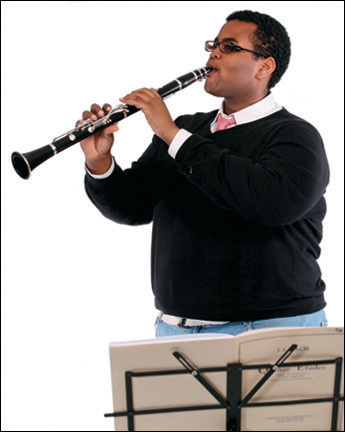 DeMarus Allen-Batieste will try anything once.
Despite never having picked up a megaphone, he earned a spot as a varsity cheerleader as a freshman. Even though he isn't Jewish, he found one of his most spiritually rewarding experiences while volunteering for Fiedler Hillel Center's Kids on Campus, where he served as a mentor for children with learning disabilities.
"Once I got to Northwestern, I just wanted to try everything," he says.
Yet one thing has remained consistent in this clarinetist's life: music.
Allen-Batieste, of Lafayette, Calif., first fell in love with the clarinet almost a decade ago when he went to a music shop and picked up the instrument he thought looked "cool." Now after years of musical training, he's played in Carnegie Hall in New York City and as a principal clarinetist at a music festival in Lucca, Italy, among other high-profile gigs.
But none of those experiences could compare with playing alongside his mentor, senior lecturer Leslie Grimm, a clarinetist in the Chicago Sinfonietta.
He's getting a taste of playing in a professional orchestra during a two-year Project Inclusion apprenticeship with the Sinfonietta, which bills itself as the nation's most diverse symphony orchestra. The Project Inclusion program provides one- to two-year apprenticeships to African American, Asian and Latino musicians.
Next year Allen-Batieste will study education at Columbia University and music at the Manhattan School of Music, both in New York City, as part of a dual master's degree program. After completing his degrees, he hopes to teach music on the college level.
"Teaching will help me understand how to become a better musician," he says.
— Alice Truong (J10)
Photo by Andrew Campbell