---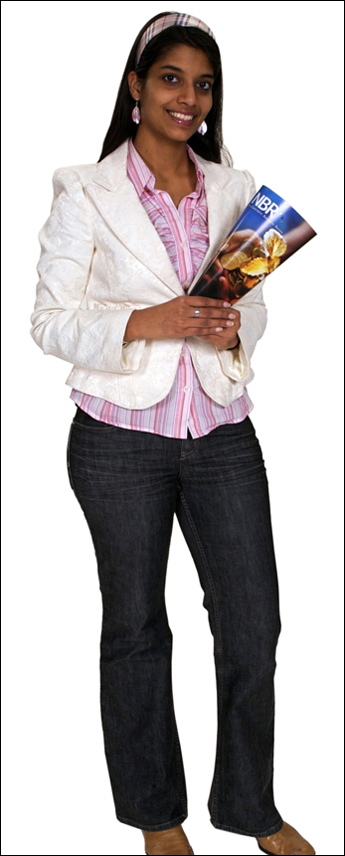 Video: Shradha Agarwal (J08) discusses the changing landscape of the media business, the development of Northwestern Business Review magazine and the increase in corporate social responsibility. For more video visit our channel on YouTube.
For some, the corporate world conjures up images of CEOs beholden only to profit margins, where companies employ cutthroat cost-cutting measures regardless of the human toll. But Shradha Agarwal, co-founder of the undergraduate magazine Northwestern Business Review, says businesses can and do achieve higher goals than simply boosting their bottom lines.
"Business has the power to really make the world a better place," says the broadcast journalism major from Kolkata, India. "I think the idea of a 'for-benefit' company is very important — a company that is for-profit but also focused on social benefit. What I find unique is the ability to embed giving back to the society through any career one chooses. I don't believe in helping at the Sunday soup kitchen while ignoring these issues throughout the rest week."
Agarwal combines that drive for success with a sense of conscientiousness in many of her endeavors here at Northwestern.
The words "corporate social responsibility" monopolized the cover of the premiere issue of NBR in spring 2006. The concept was one of the major themes peppered throughout the debut issue of the publication, which chronicles business innovation, industry trends and budding entrepreneurs. The magazine covers topics on a national level, often with insights from Northwestern professors and students, in addition to profiles and features on alumni. (The most recent issue featured David Kabiller [WCAS85, KSM87], a member of the Northwestern Board of Trustees, and John Livingston [KSM93, L93], managing partner of McKinsey & Co.)
"There are a lot of exemplary, precedent-setting businesses out there," says Agarwal, the magazine's former editor in chief. "We wanted to create a platform where we can really identify those role models so other people can follow in their footsteps."
Agarwal and magazine co-founder Rishi Shah (SESP08) exchanged ideas with business-oriented undergrads from across the country. They eventually distributed 10,000 copies of the first issue of the now biannual magazine to 60 college campuses.
To finance such a large-scale project Agarwal and Shah put their entrepreneurial skills to use and devised an original business plan. They teamed up with other student groups on campus, piecing together a marketing package to draw in advertising dollars from corporations. The package proposed to reach students on multiple avenues including through magazine ads, banners at conventions and through campus-wide corporate event marketing.
Aside from pioneering NBR, the media-minded Medill School senior has worked as a reporter for the Northwestern News Network and as a disc jockey on WNUR-FM for a South Asian show called Lotus Beat. She also co-founded a contemporary Indian dance troupe on campus called Mirch Masala as a first-year student.
Agarwal, who graduated after winter quarter, handles media and marketing for ContextMedia Inc., a startup company, and for Global Girls Inc., a nonprofit, both in Chicago. Eventually she hopes to integrate her skills in journalism and business to satisfy her desire to better society. Her dream is to address the shortage of quality schools in India, making education more accessible and holistic.
— Lauren Price (J08)
Photo by Bill Arsenault