---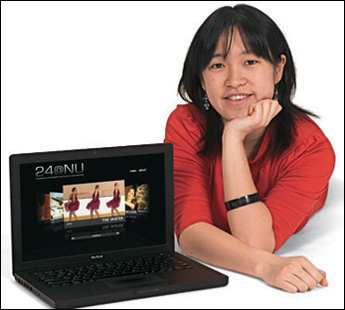 Video: Steph Yiu (J08) discusses her work with 24@NU, a multimedia slice-of-life look at Northwestern, and her career plans beyond a summer internship with the Boston Globe. For more video visit our channel on YouTube.
Like most seniors, Steph Yiu worries about her future.
"It's hard to find a job when you don't fit in a box," she says, ruefully.
That's partially true — this journalism and art history major certainly doesn't fit in a box. The senior from Singapore, who was born in Hong Kong and carries a Canadian passport, is a multitalented journalist, print and web designer, and artist who also likes to break dance.
For Yiu, writing, designing, dancing, choreographing, creating — it's all about telling stories. She coordinated production of the dynamic multimedia project "24@NU." Inspired in part by Chicago Public Radio's This American Life (hosted by Ira Glass [C81]), "24@NU" offers a multimedia slice-of-life look at 24 different members of the Northwestern community at hourly intervals throughout the day.
Yiu coordinated content for the monumental collaboration between campus news rivals the Daily Northwestern and North by Northwestern, a student-run online and print newsmagazine. Yiu, the Daily Northwestern's multimedia editor and an editorial intern with Northwestern magazine, and NBN editor Tom Giratikanon, a junior from Edmonds, Wash., pulled the project together with a squad of volunteer reporters and a borrowed video camera. "It ate up my life, but it was so worth it," Yiu says. "Isn't it the coolest thing in the world when you get to tell people a story?"
This summer Yiu will work as a visual journalist, designing innovative ways to tell stories as an intern with the Boston Globe. She is skilled in both print and online design, and the Boston Globe intends to use her in both areas.
Yiu earned the opportunity by finishing second at the Society for News Design's "The Intern" competition at the society's annual workshop and exhibition in October. The win came as a surprise to Yiu, who didn't really have a design portfolio and only reluctantly applied for the competition after some serious arm-twisting by Susan Mango Curtis, an assistant professor of journalism.
"I had people coming up to me after the convention, saying, 'Do you have other students like her?'" Curtis recalls. "They would bottle her and sell her on the shelves if they could. They said, 'We want one like her in every newsroom.'"
— Sean Hargadon
Photo by Bill Arsenault