---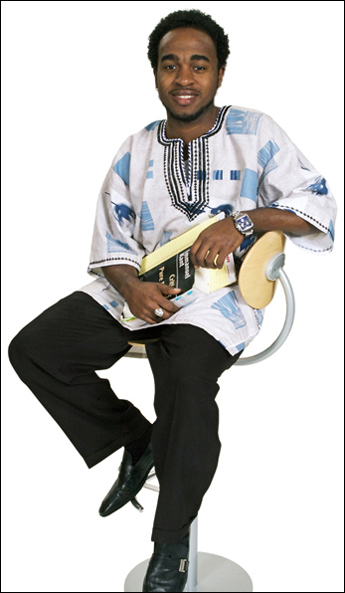 A student activist, Julian Hill has never been one to shy away from change.
In his four years at Northwestern, Hill has tried to bring Northwestern students together to solve issues relating to diverse student groups. He revitalized Northwestern's Black Student Alliance and reached out to African American student leaders from other Chicago-area universities to address communication gaps and other issues among the schools.
The philosophy major from Kankakee, Ill., brought a new outlook to For Members Only, Northwestern's Black Student Alliance, when he took office as the organization's coordinator, or president, during his junior year. Hill, who calls Malcolm X his idol, restructured the organization, expanding communications and exploring partnerships with other student groups on campus.
Hill then put the group's mission on paper and ensured that every FMO activity contributed to the organization's goal — the political, social, intellectual and cultural growth of Northwestern's black community. Hill also worked to increase membership and expanded FMO's relationship with African American alumni. A year earlier, as vice coordinator of FMO, Hill kick-started the group's defunct programming committee and ramped up its community service efforts.
After leading FMO, Hill set his eyes even higher. He ran for Associated Student Government president but lost a close race to Jonathan Webber (see "The Politician").
As a freshman, Hill volunteered as a mentor at the McGaw YMCA. He later participated in Dance Marathon and served as a counselor for the Freshman Urban Program (see "Urban Exposure," winter 2005). He interned with Northwestern's African American Student Affairs and served as logistics team co-chair for the first Minority Male Leadership Conference and co-chair for the Northwestern Community Building Initiative, a student-led seminar on community development. He also worked to install two student director positions on the Northwestern Alumni Association's board of directors, and he served as one of the first in the position during his junior year.
In his academic career, Hill worked on a study of Chicago public housing through Northwestern's Institute for Policy Research. Since then, Hill spent two summers as a member of the highly selective Institute for Responsible Citizenship, a two-year program for African American men that includes academic courses at Georgetown University, internships with government entities or other Washington, D.C.–based agencies and opportunities for mentorship and professional development. During his summers in the nation's capital, Hill interned with the U.S. Department of Labor and the Criminal Justice Clinic at Georgetown University's Law Center.
Hill won the Student Laureate Award for 2007 from the Lincoln Academy of Illinois, which recognizes outstanding seniors from each of the four-year degree-granting institutions of higher learning in Illinois. A Truman Scholarship finalist, Hill plans to spend two years with Teach for America before moving on to Harvard Law School.
He plans to work with African nations in disputes against transnational companies over environmental and labor resources. Hill hopes to one day serve as a U.S. ambassador to an African country.
— Marcelino Benito (J10)
Photo by Bill Arsenault