---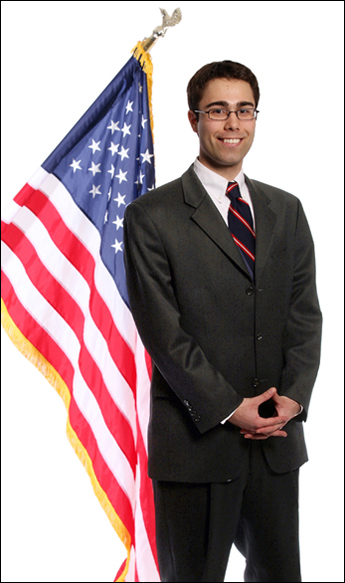 It's often said that politics and religion make strange bedfellows. But that's not true for Mike Breidenbach, whose Catholic faith influences his politics.
"There are just and unjust laws," Breidenbach says. "The only way to make those differentiations is by some sort of moral code, and my morality happens to come largely from my faith."
At a young age Breidenbach felt a strong sense of civic duty, leading to his interest in politics. Both of his parents were heavily involved in local campaigning in his hometown of Cedarburg, Wis., as well as with their church, and he followed suit.
"We have to engage in the process," Breidenbach says, "not just sit on the sidelines."
At Northwestern Breidenbach made a strong push to revitalize Students for Life, the University's pro-life organization, by bringing in speakers, organizing events on the anniversary of Roe v. Wade and volunteering at a crisis pregnancy center.
"Abortion is an issue that in no small part defines our generation," Breidenbach says. "The group is about advocacy and education, but it's also about service to our community."
The American studies and history double major received multiple recognitions for his scholarly pursuits. In 2007 the Phillips Foundation named him one of the top 100 conservative activists in the nation. He also received a Publius Fellowship from the Claremont Institute in addition to fellowships from the Center for the Study of the Presidency and the Intercollegiate Studies Institute.
Breidenbach interned in the White House's communications office in 2006. Last year he traveled to China on an Summer Undergraduate Research Grant for his senior thesis, "Hua Qi, or American Flags Made in China." He interviewed numerous Chinese manufacturers, distributors and exporters of American flags in a firsthand look at globalization. He wanted to investigate how they reconciled their own nationalist sentiment in an age of globalization.
"There's so much talk in the United States about China's rising role in the world, but I wanted to see it in person," Breidenbach says.
Breidenbach says the controversy in the United States about American flags made in China — including laws that seek to ban the sale of these flags — suggests that economic nationalism is on the rise and that these anxieties reflect a larger concern about the economic position of the United States in the world.
Back on campus, Breidenbach taught a spring seminar on conservative political thought that juxtaposed conservative and liberal texts.
Now Breidenbach plans to earn his master's degree in political thought and intellectual history from the University of Cambridge. Afterward he plans to teach and write books, columns and speeches.
"I want to engage students, engage the public and ultimately put ideas into action," he says.
Breidenbach's ultimate goal is to work closely with top-ranking politicians, from Congress to the White House. He says he would even embrace working for a chief executive on the left.
"That would be a valuable public service," Breidenbach says. "You can get so isolated from other views inside the White House. In a very polarized country, you need to at least understand different policies just to be fair."
—Ryan Morton (J08)
Photo by Andrew Campbell