---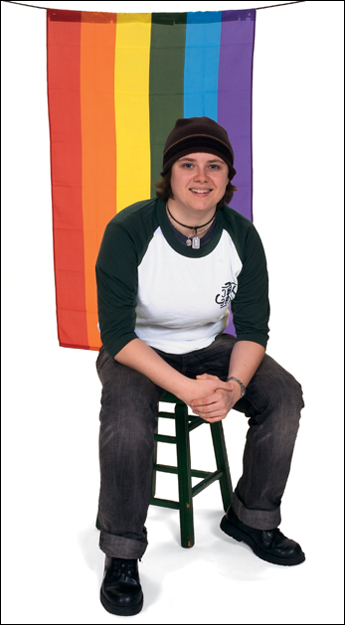 Kelsey Pacha is not afraid to stand up and let her voice be heard. That might explain how she has successfully served back-to-back terms as co-president and spokeswoman for Rainbow Alliance, the main lesbian, gay, bisexual and transgender student group on campus. In the past four years, the human development and psychological services major from Iowa City has fought to shine the spotlight on LGBT issues on campus and far beyond the Evanston city limits.
In fall 2006 Pacha made headlines when she and fellow gay rights advocate Rob Fojtik (WCAS07) (see "Senior Watch: A Force for Gay Rights," summer 2007) spearheaded a Chicago-area demonstration protesting the United States' ban on openly gay men and women in the military, known as the "don't ask, don't tell" policy. As part of the national Right to Serve campaign in August 2006, Pacha, Fojtik and Rachelle Faroul (WCAS07) attempted to enlist in the U.S. Army Reserve as open homosexuals. After a Chicago recruiter turned the three gay students away, Pacha and Fojtik led local supporters in a two-day sit-in protest. They were arrested and released without charges.
Pacha, who was raised Catholic, has wrestled to reconcile her religion with her sexuality. As part of her spiritual exploration, she began an LGBT Bible study at Northwestern and ultimately came to the conclusion that Christianity does not condemn homosexuality.
Pacha worked to spread that message during the spring of her junior year, when she took a leave from classes, boarded a bus and embarked on an 11-state tour to promote dialogue on the intersection of gay rights and Christianity. The campaign, called the Equality Ride, took Pacha and more than 30 other young activists to conservative religious colleges and universities to create a discussion on the negative impact of policies that label homosexuality as a sin.
"I think so many people are so deeply damaged by these negative messages about who they are, and that's such a distortion of the message of Christ," says Pacha. "That's what I need to dedicate my life to."
Eventually Pacha intends to earn a graduate degree in counseling. She aspires to help homeless youth, many of whom are gay young people turned out by their families.
— Lauren Price (J08)
Photo by Bill Arsenault