---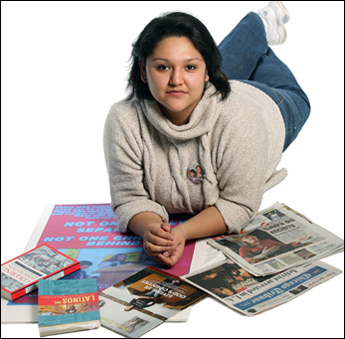 Almita Miranda was one of the many voices in Washington, D.C., calling for immigrant rights outside the office of Speaker of the House Nancy Pelosi in September 2007
"What do we want?" the group chanted. "Justice!"
"When do we want it? Now!"
As part of her senior thesis research last fall, Miranda made the 13-hour drive to the U.S. Capitol and joined fellow student activists and families with pending deportation cases in a protest to keep immigrant families intact. The anthropology major from the Chicago neighborhood of Hermosa, near Humboldt Park, is studying mixed-status families who are lobbying to stay together in the United States. Typically these families include a parent who is undocumented and one or more U.S.-born children.
Miranda, "a working class Latina," is committed to the immigration rights movement, thanks in part to her cultural background.
"As a second-generation American, you grow up in two different worlds," says Miranda, whose parents immigrated to the United States from Mexico during the 1970s. "You have trouble defining your identity. You are technically a U.S. citizen, but the culture you grow up in is not deemed to be 'American.' I now see myself as simply Chicana or Mexican American."
Her parents settled in Chicago, where they took up factory jobs. But when employment became unreliable, her parents spent more time at work to keep food on the table for the family. Her parents encouraged Miranda and her two older sisters to focus on their studies.
"Unlike them, we have real opportunities to become educated and achieve social and economic mobility," Miranda says.
When Miranda first arrived at Northwestern, she studied to become a doctor, hoping to one day work with nonprofit programs such as Doctors Without Borders. Eventually she discovered a passion in social science classes, such as Asian American studies and anthropology, areas in which she had little background.
Though Miranda once thought of anthropology as "digging up the remains of old civilizations," she soon realized that the things she was learning in the classroom were applicable to the society in which she lives.
"It completely changed my worldview," she says. "I learned to use my study of culture and political economy to write about the social injustices that are happening in my community."
Miranda will be a first-year graduate student in anthropology at Northwestern in the fall.
—Alice Truong (J10)
Photo by Andrew Campbell