---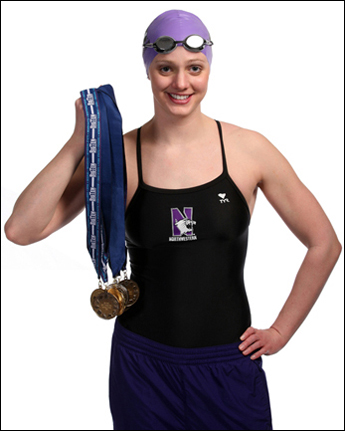 Soft-spoken, wide-eyed Andrea Hupman has a quiet confidence, with good reason.
In her four years at Northwestern, this senior swimmer has left most of her Big Ten Conference competition in her wake. The 22-year-old is the best sprint freestyler in Northwestern history.
She broke three conference records and earned Big Ten Swimmer of the Championships honors at the conference championships in February. In March the senior from Lawrenceville, Ga., competed in the NCAA Championships for the fourth time in her career. Later this summer she will compete in the U.S. Olympic Team Trials.
This swimming success is nothing new. Hupman won gold at the World University Games in Bangkok last summer, earning a spot on the USA Swimming national team for her efforts.
Still, the biomedical engineering major is facing the typical senior question: What do I do now?
A few local Chicago middle school students may have given her the answer.
Hupman volunteers with "Get A Grip," at Bateman Elementary School, a module developed by Northwestern biomedical engineering professor Suzanne Olds, that aims to inspire middle school students to try engineering by practical application. Hupman and other McCormick School of Engineering and Applied Science students present a scenario, such as a young girl losing a limb, and then show the students how using basic engineering principles a scientist could build a prosthesis.
Hupman's eyes light up as she talks about the kids, saying it's made her think about volunteering with Teach for America. But she just can't narrow her options yet.
"I envy those people who know exactly what they want to do," Hupman says, "because sometimes I think it'd be simpler if I knew specifically that this is it. … There are just too many interesting things out there."
For now, her first priority is preparing for the Olympic trials.
After a high school swimming career that included five Georgia state championships, Hupman missed the 2004 U.S. Olympic trial cut by five-hundredths of a second. When she decided on Northwestern, she used that memory as motivation.
"I really got it in my head that I wanted to be a Big Ten champion." Hupman says. "When I signed with Northwestern I knew I belonged in the Big Ten."
Four years later, Hupman has achieved her dream, along with captaining Northwestern to one of its most successful women's swimming seasons ever.
— Trisha Faulkner (J11)
Photo by Andrew Campbell