---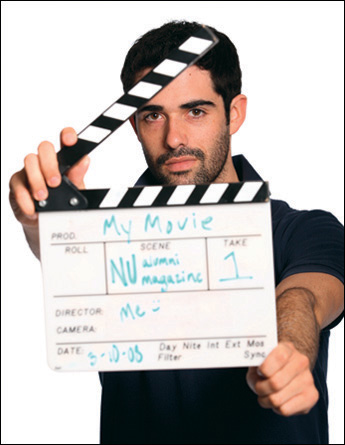 Video: Jason Heymann (C08) discusses his love for acting and his work with the a cappella group Thunk in Cape Town, South Africa. For more video visit our channel on YouTube.
Jason Heymann knew he wanted to act before he knew how to read. The senior theater major from Lexington, Ky., made his debut in a mall fashion show — at the age of 2.
Since that fashion show he's been nominated for the Lexington equivalent of the Tony Award, acted in two cheesy after-school specials "that you watch in health class," performed in more than 10 Northwestern productions — including the leads in the musical Carousel and the play Holiday — and sung for four years as a member of the a cappella group Thunk. These are all impressive feats for a guy who never had any formal voice lessons before coming to Northwestern.
"I still don't know how to read music," he says. "I've taught myself my own way, a way that I made up. I did it all by listening to the radio. People said I sounded like a Backstreet Boy."
Last year Heymann spearheaded Thunk's Cape Town Project, during which the group traveled to South Africa and performed at various churches, hospitals and prisons in the region. They also held a three-day arts education camp for underprivileged children. Group members taught classes in dancing, acting and music. Heymann's goal is to expand the camp to two weeks and hold it every summer.
For now, though, Heymann continues to act and sing in musical theater. This summer he'll play another lead, Marco Venier, in the American Music Theatre Project's next original musical, Dangerous Beauty, about the 16th-century Venetian courtesan and poet Veronica Franco.
And he recently expanded his résumé to include student films. It's all part of his dream to become more versatile as an actor and follow "the George Clooney path" upon graduation.
"My dream is to be on a television show for 10 years and then break into film," he says.
— Scott Sode (J08)
Photo by Andrew Campbell