---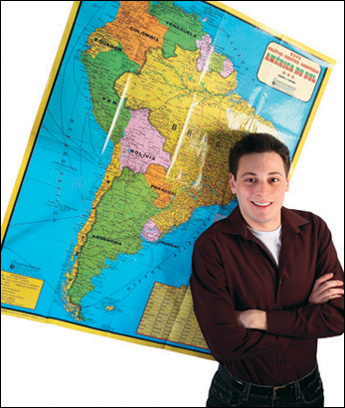 Video: Northwestern senior Alexander Hertel-Fernandez (WCAS08) reflects on his advocacy work on campus and around the world, including his work on infant mortality in Chile. For more video visit our channel on YouTube.
In the field of international health there is a world war at hand, and Alexander Hertel-Fernandez has enlisted on the front lines.
Since coming to Northwestern, the political science major concentrating in public health has fought to break down inequities in medical care for the poorest and most vulnerable people across international borders.
Hertel-Fernandez, from West Lafayette, Ind., carried his interest in world health with him to Santiago, Chile, his mother's native country where he studied abroad his junior year. He spent nine months as a researcher with the World Health Organization in Chile, investigating the nation's infant mortality. His work exposed increasing rates of infant death in the poorest regions of the country and among uneducated segments of the population. The research, published in the October 2007 Bulletin of the World Health Organization, offered the Chilean government policy recommendations to help those groups achieve a higher standard of health care.
When not crunching numbers with WHO, Hertel-Fernandez experienced Chile's health care challenges firsthand, volunteering at a girls' orphanage and the public polyclinic in Santiago.
"I saw a lot of mothers come in and talk about how they had stillborn children, or I saw infants who were sick with preventable diseases that could have been cured if they received proper attention," says Hertel-Fernandez. "That really put a face on the issue."
On campus the student leader has sought to pull other Northwestern students into the international health care discussion. As president and founder of two student groups, Northwestern University Students for International Development and Global Health Alliance, he organized programming to engage and inform his peers on global health crises and encourage them to volunteer in developing nations.
In recognition of his work, Hertel-Fernandez was featured in USA Today as a member of the newspaper's All-USA College Academic First Team, and he received a Howard Hughes Medical Institute Undergraduate Research Fellowship for research at Northwestern on influenza. He also earned a Rotary Foundation Ambassadorial Scholarship to research strategies for reducing infant and maternal mortality in the highlands of Peru.
Next year Hertel-Fernandez, a Fulbright Scholar, will live in Buenos Aires while researching how to provide health care for Argentina's massive uninsured population.
— Lauren Price (J08)
Photo by Andrew Campbell