---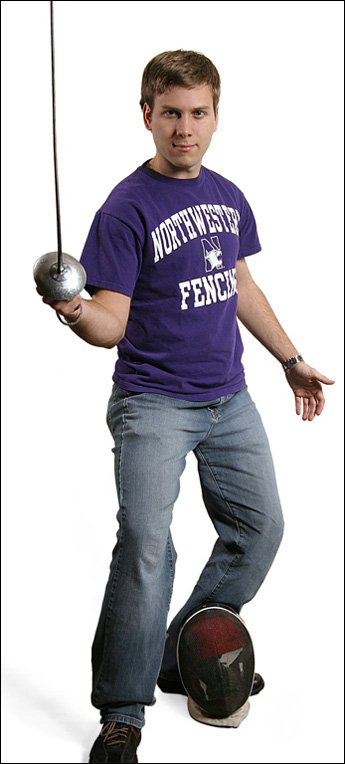 Corey Grigg didn't have to beg for fame — it just came to him.
The fifth-year senior from Bridgewater, N.J., didn't even audition for his first paid performance in The Beggar's Opera, part of the Châteauville Foundation Castleton Residency in Castleton, Va., last March.
When Northwestern alumna and famed opera soprano Nancy Gustafson (GMu80) (see "The Soaring Soprano," fall 2002) heard that the opera's directors couldn't find just the right baritone, she immediately recommended Grigg. Gustafson had heard Grigg perform master classes at Northwestern and knew that the versatile singer would be perfect for the part.
The directors had already auditioned singers from across the country, but the 23-year-old was immediately offered the spot.
"It was a stroke of luck," Grigg says, "but I'm really happy it worked out."
Even though many young people think of opera as an antiquated form of musical theater, Grigg is quick to emphasize that interest in opera among youth is growing.
"It's singing and acting. For me, it's really the perfect marriage," Grigg says. "Opera is coming back."
Grigg, a double degree student in vocal performance and mathematics, had performed in numerous operas at Northwestern, including an operatic depiction of A Midsummer Night's Dream, before he left for his four-week residency in Virginia last March.
While logging more than 20 hours a week in rehearsals, voice lessons and preparation for roles this year, Grigg interned at Milliman Inc., a financial consulting firm in downtown Chicago.
He also gave up his other passion — fencing — this year after four years to be able to spend more time on performance and his internship.
Grigg will return to Northwestern's School of Music next year as a graduate student in voice. He intends to pursue professional vocal performance after his graduate studies and later in his career hopes to work in the business side of the opera industry.
— Trisha Faulkner (J11)
Photo by Nick Infusino (WCAS08)