---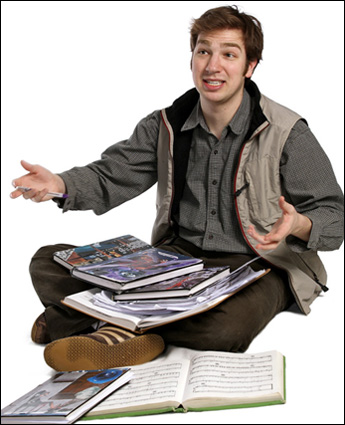 Video: Tyler Beattie (C08) talks about his favorite Northwestern student theater experiences and then plays one of his musical adaptations on the piano. For more video visit our channel on YouTube.
A performance studies major who doesn't like performing, Tyler Beattie directed his first production sophomore year and hasn't looked back since. He's gone on to direct nine shows at Northwestern, including the 66th annual Dolphin Show, Carousel, last winter.
Just don't ask him to put up The Glass Menagerie anytime soon. "I'm not as interested in pieces that are very naturalistic, like people talking around a table," says the senior from Brookfield, Wis. "I like doing work that's more visual and functions in a world that's a little off-center from our own."
Those interests have compelled him to tackle plays and musicals with noticeably darker themes. In Carousel he had the unenviable task of making an abusive main character appear sympathetic, and in The Sandman he created a world where a man is continually haunted by a monster — in his dreams.
But he enjoys taking on lighter fare as well. A big fan of Rudyard Kipling since he was a child, Beattie adapted several of The Jungle Book author's short stories into a musical called Just So. The production was so successful on campus that he later directed it again professionally at a children's theater in Wilmette.
And when Tony Award–winning playwright George Furth (C55) came to Northwestern to see a student-produced production of Company, the musical he co-wrote with Stephen Sondheim, he interrupted his own question-and-answer session to praise Beattie for the way he staged the show.
"I'm always very critical of myself," Beattie says. "So to get some validation from someone I respect, that was pretty cool."
Beattie says he can't envision a future that doesn't involve "creating."
"I just hope that I'll be able to contribute to the world in a way that's artistic and that's more than just putting on a show," he says. "I think that's what Northwestern theater is about, and I hope that's what my life becomes about."
—Scott Sode (J08)
Photo by Andrew Campbell