---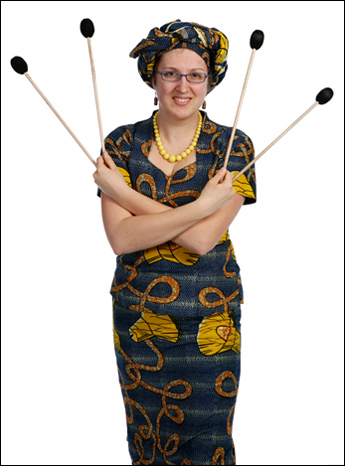 Video: Percussionist Catherine Barnes (Mu08) talks about her research on elements of time in traditional music in Ghana. Then she plays a few beats on a bell and a rattle. For more video visit our channel on YouTube.
Catherine Barnes found it oddly refreshing to live in a world where people weren't stressed out about running late.
While studying the traditional music and dance of the Anlo-Ewe society in the southeastern Volta region of Ghana, Barnes says she saw vast differences between Ghanaian and American lifestyles. She found those differences played out in music-making as well. For example, while American classical musicians spend hours alone in a practice room perfecting their pieces, Ghanaian musicians cannot perform, or even practice, without the entire ensemble.
"It was very, very humbling," says Barnes, a classically trained percussion performance major from San Diego. "The way they teach music, nothing is written down. The way they learn is through experience."
In her effort to incorporate Ewe rhythms into her own music, she studied the perception of time and the organization of time in Ewe music and society drum and dance styles. Barnes, who went to the West African nation on an Undergraduate Research Grant (see "The Sky's the Limit," spring 2002), spent 11 weeks learning five different dances with eight rhythms and five songs for each dance, just a tiny fraction of the hundreds of dances, rhythms and songs that exist.
Barnes says she came home with lots of drums and rattles and bells in addition to the musical experience that she employed as vice president of Northwestern's African Drum and Dance Ensemble, a group founded in 2006 by Habib Iddrisu, a doctoral student in performance studies from Ghana. Barnes, who says she finally learned how to dance in Ghana, also performs in the University's Symphonic Wind Ensemble, Symphony Orchestra and Percussion Ensemble.
Barnes received a Fulbright Scholarship to continue her study of international rhythms after graduation in Rio de Janeiro, Brazil, where she will study Brazilian samba percussion and the famous samba schools of Rio. She sees a similarity between Ghana's and Brazil's distinct musical traditions in being "community music-making groups."
— Alice Truong (J10)
Photo by Andrew Campbell