---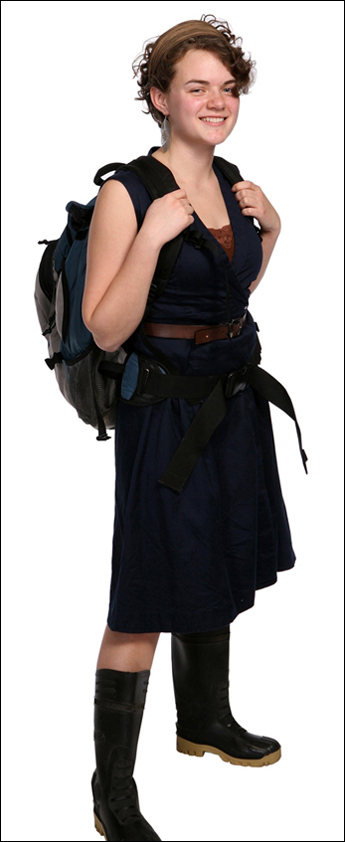 Nearly two years into her studies at the Medill School, Margaret Adsit decided she needed to set journalism aside to pursue a career in environmental science. A summer in Alaska and a quarter in Costa Rica convinced Adsit that she had made the right decision.
She spent the summer before her junior year at Wrangell-St. Elias National Park and Preserve, the nation's largest national park, located about 200 miles east of Anchorage in southeastern Alaska. While there she worked on salmon counts on the Batzulnetas, a tributary of the Copper River.
A year later she studied human impact on the environment through the Organization for Tropical Studies in Costa Rica, focusing on tropical biology. The experiential field-learning program sent students into the rain forests, the mountains, the mangroves and the marshes to learn about plant-animal interactions as well as human interactions with their environment. They traveled from Palo Verde to Monte Verde to the La Selva Biological Station, even venturing into Nicaragua for a week to learn about freshwater ecosystems.
Even though she's not an engineer, she became actively involved in the student group Engineers for a Sustainable World, serving as co-president with Tom Cohlmia (see "The Sculptor" ). During her time as the head of ESW, Adsit, from East Troy, Wis., worked on several projects focusing on education and outreach to increase sustainability awareness. She helped write and produce a short film, Everyday Actions Video, which teaches college students how to make their everyday lives more sustainable. The environmental science major hopes to include the film, which is still in production, as a part of the new student orientation in fall 2009. It will also be uploaded to YouTube.
Currently Adsit is working to revise a curriculum program for a sixth-grade science class at Chute Middle School in Evanston with fellow senior Laura MacDonald, an environmental engineering major from Dallas and ESW's former education and outreach chair. The program, which began last year, is part of a three-day, in-class exercise that emphasizes the significance of climate change and sustainability.
This summer Adsit plans to split her time between China and Alaska. In China she will conduct research on water resource management issues through a National Science Foundation–funded Michigan State University initiative looking at China's ecological restoration programs. Adsit, two other students and a professor will conduct most of their research in Shaanxi Province in north-central China but will spend time in Beijing and travel the Silk Road.
At the start of July she'll begin her work as a watershed education coordinator for the Friends of Mat-Su, a group that promotes sustainability among residents of the Matanuska and Susitna valleys in Palmer, Alaska, located about 40 miles northeast of Anchorage. The position is funded by the Alaska Conservation Foundation.
In the future Adsit hopes to attend graduate school and get an environmental management degree. One day she sees herself working on water issues for the National Park Service or an international development agency.
— Marcelino Benito (J10)
Photo by Andrew Campbell