---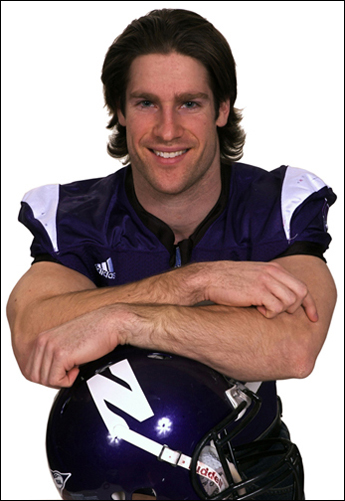 Ben Rothrauff had always dreamt of playing college football. But in 2002, in the first game of his high school season, he tore two ligaments in his left knee. The injury sidelined him for the remainder of his junior season, a time when college recruiters are crisscrossing the country looking for upcoming talent.
"It was a huge setback, and things were up in the air," Rothrauff says. But former Wildcat football coach Randy Walker gave him a chance.
Rothrauff, who attended St. Francis DeSales High School in Columbus, Ohio, has spent the last four years taking advantage of opportunities both on and off the field at Northwestern.
"I am forever indebted to Coach Walker for the chance he gave me to join a Big Ten football team," Rothrauff says.
Walker, who died suddenly in June 2006, had invited Rothrauff to walk onto the team during his freshman year, and Rothrauff responded by earning significant playing time on special teams.
In 2005 the former walk-on earned a scholarship. Rothrauff spent the next three years improving his game. He expanded his role, earning a spot as a backup safety.
His success on the field has translated to success in the classroom. Rothrauff, a psychology major, maintained a remarkable 3.97 grade-point average during his collegiate career. In a span of 12 quarters at Northwestern, he's never earned less than an A-minus.
Rothrauff's nearly perfect academic record earned him Academic All-Big Ten honors three years in a row, and he was one of two Northwestern students named to the National Football Foundation's Honor Society. He also received Northwestern's Randy Walker Wildcat Warrior Award, for work ethic, toughness and attitude.
As to where he'll be in five years, "still in school, still in school," jokes Rothrauff.
In September he'll begin a yearlong master's degree program in exercise science at the University of Glasgow in Scotland. Ultimately he plans to earn a medical degree and doctorate where he can combine research and work on neuromuscular injuries. As an academic physician he wants his work to one day bridge the gap between athletic preparation and rehabilitation in the event of injury.
— Marcelino Benito (J10)
Photo by Bill Arsenault