---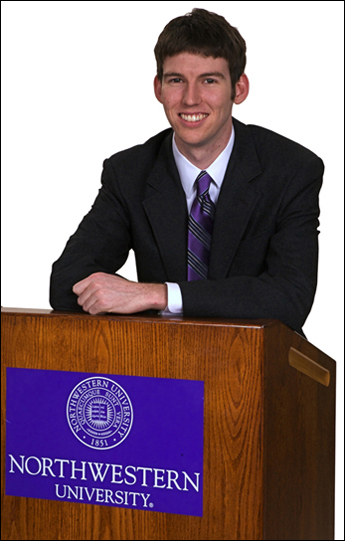 Finally, election day had arrived. After two weeks of nervously stumping on campus, Jonathan Webber had reached the moment of truth in his bid to become Associated Student Government president. It was a pivotal time. He had turned 21 two nights before, and his brother was on his way home from Iraq.
Webber points to the two-week campaign as the time of his most dramatic personal growth at Northwestern.
"He had doubts at times about what he was going to accomplish," says Paul Takahashi, a Daily Northwestern reporter and a Medill School sophomore who followed Webber on the campaign trail. "But as the campaign progressed, and he talked with more and more students, he began to realize his leadership potential."
As ASG president in 2007–08, Webber didn't take his position for granted. From building a set in the fall for the theater performance of The Trestle at Pope Lick Creek, to serving as treasurer of the Northwestern Community Development Corps, to dancing Bollywood style in the annual South Asian Students Alliance show, Webber led Northwestern's student body by getting involved.
As a sophomore, Webber started NUOnlinebooks.com because he was frustrated with the lack of affordable textbooks on campus. The site announces course texts before the start of the quarter to give students alternative purchasing options. Students can then purchase the books through NUOnlinebooks.com (which redirects users to Amazon.com). NUOnlinebooks donates a percentage of the referral commissions to Family Focus Evanston and a Northwestern student group of the buyer's choice.
To date, NUOnlinebooks has donated more than $25,000 to local charities and has expanded to Harvard University.
The mathematical methods in social sciences and political science double major also regularly volunteered at Reba Early Learning Center as an assistant teacher. It was also one of his favorite experiences in college. Playing with kids "got me out of the Northwestern bubble," he says.
Having been a research assistant for three different political science professors, Webber hopes to go into politics someday and is currently helping his brother, Stephen, run for a seat in the Missouri House of Representatives.
"Politics is an area where you can make huge changes and differences in the lives of ordinary Americans," Webber says, "and that's really appealing to me."
—Steph Yiu (J08)
Photo by Bill Arsenault